Are you 18-30 and looking for employment? Are you interested in a career where you can make a difference? Read below!
About this Event
Live interviews for entry-level Health & Social Care roles!
Are you 18-30 and looking for employment in the Preston or Chorley area?
Are you interested in a job in domestic services (cleaning)?
Domestics services staff work across all areas of the NHS, making sure that all areas are clean and safe places where staff can care for patients while reducing the risk of infection.
It's a vital role in every healthcare environment; domestic services staff provide an environment where vulnerable people can get better.
There are different levels in the domestic services team, which means opportunities for career progression, or it is common to move between different teams in the NHS.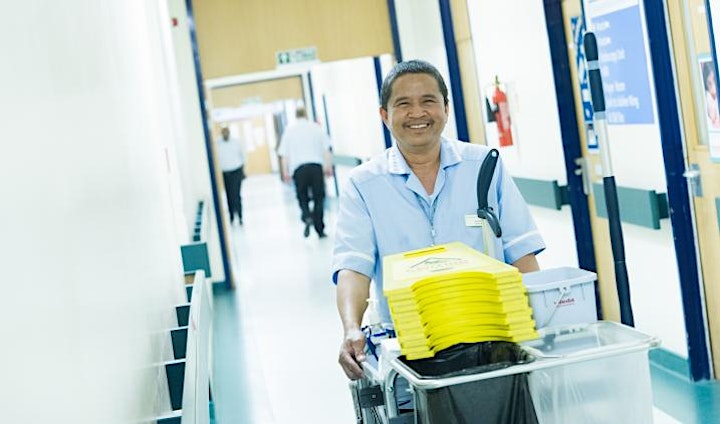 WHO: Young people aged 18-30 who are motivated and ready to work!
WHEN: 10th -13th November (you must participate on all four days)
WHERE: Take part remotely from home using your phone or computer!
STEP 1 - GET READY
Once you sign up, you will be contacted by a Prince's Trust Executive , who will give you the full low-down about the programme and what to expect during the week online.
STEP 2 - GET HIRED
On Days 1 & 2 (10th, 11th November) we will be looking at employability skills, interview prep, and gaining a deeper understanding of the role and potential career paths.
On Day 3 (12th November), you will have the opportunity to take part in pre-interview online sessions. In these sessions, you will learn how to use Teams for video and telephone interviews, and learn tips for coming across well virtually.
On Day 4 (13th November), you'll be interviewed by people hiring from Lancashire Teaching Hospital Trust who are recruiting for live vacancies in the hospital.
We'll call you to let you know the outcome of your interview. Even if you have not been selected, you will get feedback from every interview to help you improve and ongoing support to secure work.
STEP 3 - YOUR CAREER
We will continue to support you in all your applications. You will also have access to a dedicated Prince's Trust employability contact to coach you on your journey to employment for up to 6 months.
PLEASE REMEMBER THAT WE WILL CALL YOU TO CONFIRM YOUR PARTICIPATION, SO MAKE SURE YOU ANSWER YOUR PHONE!