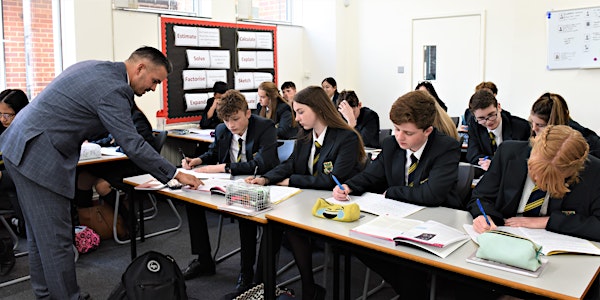 Get into Teaching Webinar for Teaching Assistants and Support Staff
Sales Have Ended
Registrations are closed
Ticket sales have now ended for this event. For details of other i2i Get into Teaching events please visit the events page of our website: https://www.i2ipartnership.co.uk/443/upcoming-events
Online webinar aimed at helping those currently working in a school to train to become a qualified Secondary school teacher
About this event
Transform, Lead, Inspire - Teach
This free webinar is aimed at anyone currently working in a school, either as a Teaching Assistant, Learning Support Assistant, Cover Supervisor, Technician or similar, or within an Administrative role.
During the webinar, we will look at:
- how to make the transition and become a Secondary school teacher,
- the qualifications needed,
- how to fund the training year,
- what it is like to train with the i2i SCITT,
- how to apply.
You will also have the opportunity to ask questions to our panel of teaching and recruitment professionals.
Please note that in order to train to teach you need to hold a Degree.
Why teach?
Imagine a career where you are immersed in your subject every single day and are making a lasting difference to young people's lives. From helping a student get to that "light bulb" moment to helping shape the lives of the next generation – teaching is a challenging but incredibly rewarding profession that is full of meaning.
Your classroom is where it all happens- excitement, discovery, awe and wonder. As a teacher, you will face a host of competing demands and challenges, but for every challenge you will find an equal or greater reward.
Shape the lives of the next generation
Teachers inspire and educate, and help create well-rounded individuals with a love for learning. You never know, one day your students may become Nobel prize winners, top business people, leaders, and great artists, scientists or sportspeople !
Working with inquisitive minds, teachers are influential in students' lives, inspiring and motivating them to achieve their potential. Watching young people learn and grow is amazing; there is no greater reward than witnessing that "light bulb" moment.
Continuously improve and grow your skills
Ongoing professional development and regular observation provide opportunities to grow and learn from more experienced practitioners. A growth mindset is part of the foundation of teaching.
Excellent ongoing career progression
Whether you see yourself as a future CEO, head teacher, pastoral leader or expert practitioner, the career opportunities within the profession are huge. Teachers are also in high demand around the world and with an internationally recognised PGCE you can make a global impact.
Every day is different
Whether classroom teaching, running a trip, collaborating with peers, getting involved with extra-curricular activities, managing student wellbeing, researching trends and best practice or quietly reflecting, no two days in teaching are the same. Teaching offers a richness of experience and opportunity like no other career.
Inspired? Then join us online and find out more about the routes into teaching and how our Surrey based SCITT can support you in gaining your QTS and PGCE.
Once you have registered you will receive access to full joining instructions on the Digital Page
The i2i SCITT is committed to safeguarding and promoting the welfare of children and young people and expects all staff and volunteers to share this commitment.