Stop the unhelpful bullshit you tell yourself about leadership and business. In conversation with Dan Kirby.
About this Event
Entrepreneur, founder and innovator Dan Kirby will share his frank and honest reflections on his experiences of leading the Tech Dept; MCing the tech off; and setting up getahead festival. Our conversation will cover the highs of being filmed as his alter ego MC Danimal to the lows of burnout, depression and self-sabotage. Dan will get you thinking deeper about the cost of success and what it really means to be a human at work.
During this live conversation there will be an opportunity to ask Dan questions about his experiences.
Expect honesty, strong language and dark humour.
The key themes
Burn out is a massive issue for success driven, ambitious founders and leaders. Living up to expectations of what we should be; or must do to become successful, can consume us. This year has found our 'work persona' butting uncomfortably against our 'home-self' as we run our businesses from our kitchen tables.
Dan found out the hard way that the classic definition of success is bullshit.
"Success nearly broke me. You can't control everything and the more you try, the more you'll struggle".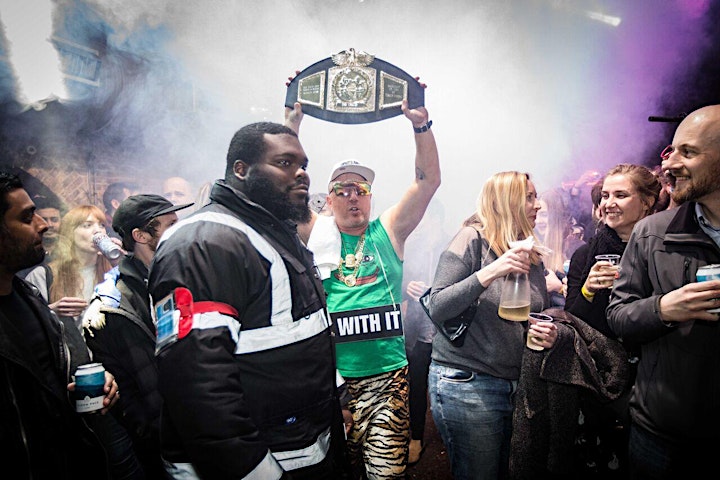 "Modern life has abundant choice and opportunity. We're safer, richer and healthier than ever before in human history. Yet despite all the good stuff, this world seems to fry our minds. Mental health issues are increasing. Wouldn't it be good to get ahead in life without burning out?"
Who is this talk for?
If you'd love to be an authentic leader but wrestle with the idea of bringing your whole self to work; if your ambition seems to be costing more than you'd like; if you don't like who you have to be at work , then this talk is for you.
What to expect
Dan challenges the accepted wisdom that we need to leave our personalities at the door and be that dull 'linkedin' version of ourselves to get a head. Leaders that show humility and open up to what's below the surface, enable the people they lead to do the same. Dan suggests the more you let go of the bullshit and share who you really are, the more people will trust and connect with you and the better leader you will become.
Dan says "You can boil all the advice about culture, strategy and leadership into the fact that to be able to connect with others you need to connect to your true self. If you can chisel through ego and the defence mechanisms of 'being professional'; all the musts and shoulds we tell ourselves we have to be at work; as a leader; as a founder - then you can get into the interesting bit of life".
Who is Dan Kirby?
Dan is co-founder and CEO of The Tech Dept (established in 2004) which helps business owners do things better by improving their technology. He went to art school before dropping out to become a techie and has only ever worked in startups. In 2018 he was listed as one of the 25 most innovative people in Europe, Middle East & Asia by The Holmes Report. He is also the creator and co-founder of 'getahead' He's married with 3 teenage daughters and lives in Bakewell with 2 rescue cats, a French Bulldog and a hamster.

What is leaders in Conversation?
Leaders in Conversation is an online community exploring more human ways to work. Through a thriving Linkedin Group and the live online conversation series, hundreds of leaders around the world share their insights on how to harness our humanness in digitally dominant workplaces.
If we wish to be big hearted leaders who encourage human centred working; what do we do when faced with the messy, chaotic and uncomfortable side of humanness? This is the theme for series 2.
Series 2: Exploring the untidy, uncomfortable side of ourselves.
Being human is complex, this complexity includes those parts of human nature that seem hard to deal with in the workplace. Navigating, managing and overcoming conflict, division and disengagement takes time and energy. These are the things that make the 'people piece' of any strategy so awkward and tricky.
Yet we know to lead with integrity and encourage engaged, committed and innovative working we need to embrace our whole selves; grow a human centred, high trust culture. Therefore, we must face the more uncomfortable side of ourselves.
Series 2 has gathered 6 international guests to help us discover what we gain by facing these difficult to manage elements of humanness?
To access information about the other events in the series visit our Eventbrite page
Who are the hosts
Leaders in Conversation is a transatlantic initiative, co-hosted by two leaders who know that people and relationships make all the difference when it comes to solving today's big business challenges.
Amanda Cookson, UK
Coach and Founder of Northern Value Creators. With over 20 years experience in the creative and Edu-Tech sectors, leading award winning multi-site teams. Amanda combines this experience with accredited coaching practice, helping businesses thrive by focusing on their people.
Connect with Amanda via Twitter @AmandaCookson and Linkedin AmandaCookson
Ken Blackwell, USA
For 24 years Ken has had the privilege to help leaders and teams from some amazing companies. Those companies range from big to small, in a variety of industries, across the U.S. and around the world. Ken speaks and presents on team and leadership development, coaching, and has appeared as a guest on Comcast Network's Money Matters and ABC's Good Morning America.
Connect with Ken via Twitter @K_Blackwell and Linkedin KenBlackwell