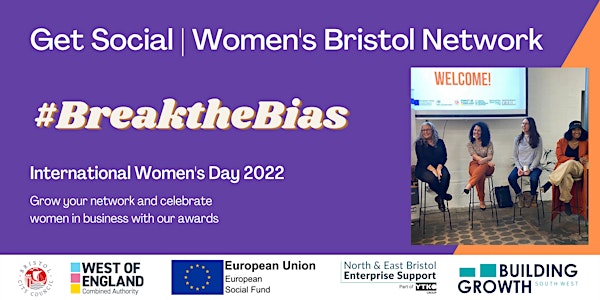 Get Social | Women's Bristol Network | International Women's Day
Event Information
Location
Runway east
1 Victoria Street
Redcliffe
BS1 6AA
United Kingdom
Join YTKO West of England in Celebrating International Women's Day!
About this event
Looking to grow your Bristol business network and gain start-up or existing business advice?
Join us on Tuesday 8th March to meet inspirational small and medium business owners, chat to others who are just starting a business, going self-employed or have an idea for a business and want to meet like-minded self-identifying women!
In line with the International Women's Day 2022 theme, breaking the bias, we'll be celebrating your big and small achievements, and inspiring others through our inaugural Get Social awards! Find out more about the categories and nominate yourself or others here.
Who can attend
You are invited to join this free networking group if you are a self-identifying woman living in Bristol who either has, is starting or thinking about starting a business, CIC, charity, social enterprise or becoming self-employed across any industry. You are also welcome to attend if you are part of a community organisation, charity or institution supporting local business.
Additional information
This network group is hosted by YTKO, who offer free business support to anyone looking to start or grow an existing business, charity, CIC, social enterprise or become self-employed. All event attendees must been enrolled onto the programme prior to attending the event. Enrol now to gain completely free access to workshops, 1:1 mentoring, events, networking and e-learning on marketing, finance, grants, strategy, forecasting, business planning and so much more.
Date and time
Location
Runway east
1 Victoria Street
Redcliffe
BS1 6AA
United Kingdom