Get to grips with the ins and outs of digital marketing and how to build your audience online.
About this event
So, you've got a brilliant idea for a business, side hustle, or creative project that's going to change the world – now you have to sell it.
At a time when we're online more than ever, the digital world can be a noisy and crowded place. With so much content at our fingertips, it's hard to know where to start in building a brand that stands out and creating content that really lands with your audience.
Join digital marketing expert Emmanuel Balogun and his team of industry professionals as they break down strategies that will allow you to build your online brand and leverage digital tools to better understand and cater to the needs of your online community.
In the session, you will:
Take a deep dive into audiences, demographics, psychographics, and how they intersect
Decode the secrets to effective social media marketing and how to leverage the different platforms
Understand when and how to use organic and paid socials to your advantage
Pick up top tips on creating engaging digital content that sticks
Learn about SEO and how to attract more traffic
This event is part of Creativity Works, a Mayor's Fund for London programme supported by Citi Foundation and delivered by Create Jobs at A New Direction.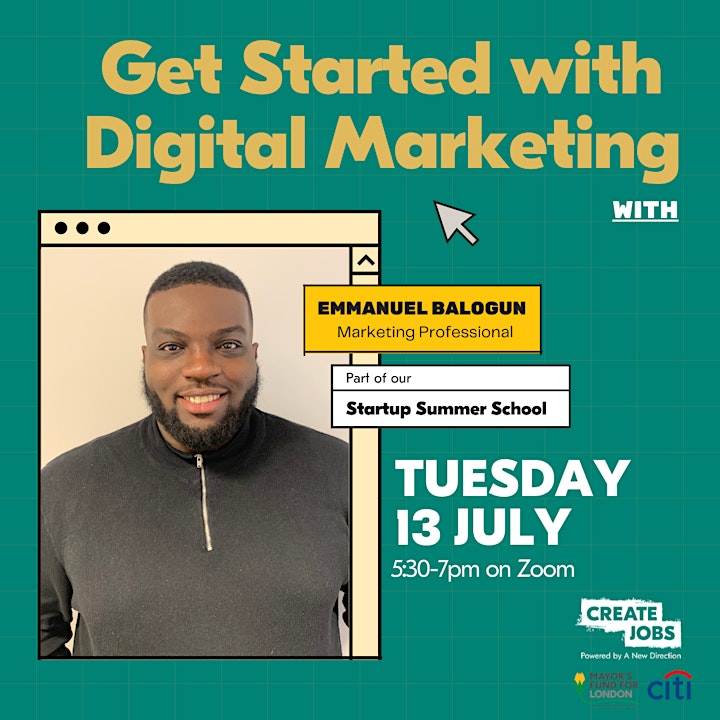 Organiser of Get Started with Digital Marketing with Emmanuel Balogun