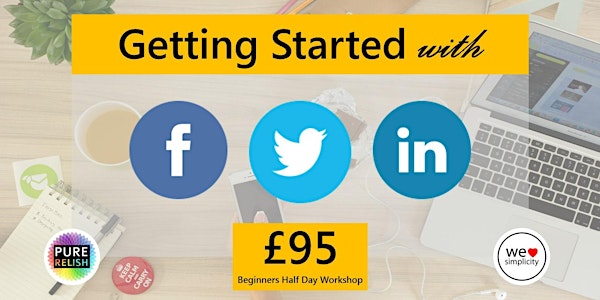 Multiple Dates
Get Started with - Facebook, Twitter and LinkedIn - Half Day Beginners Work...
Description
Get Started with - Facebook, Twitter and LinkedIn for business
A Beginners Half Day Workshop with Catherine Simpson
Get yourself quickly started with the world's three largest social media platforms !!!
In three and a half hours you will learn everything you need to get started on Facebook, Twitter and LinkedIn confidently and professionally.
You will leave the workshop feeling inspired and eager to get started on maximising your business opportunities with these leading Social Media tools.
The workshop is friendly, fun and interactive and with Catherine's help, you will find learning a positive and rewarding experience.
Designed for complete beginners and those with a little experience.
About Catherine
Catherine is a former Social Media & Digital Marketing Trainer for the East Midlands Chamber of Commerce "eBusiness Club".
She loves helping people new to social media get to grips with it, understand it, get the best results and even enjoy using it. Her approach and style is friendly, approachable, jargon-free and above all fun!
---
Your workshop covers...
The basics you must get right for each platform and why they are very different from each other

Terminology and jargon for each site

Creating Bio's (biography) that have impact

Learn the secrets of writing posts that get results on each site

How and what to post on the different networks

Understand the difference between created and curated content and learn why you don't have to write everything from scratch

When, why and how to use hashtags

Get inspiration from case studies of how other businesses make clever use of social media
---
Your workshop is focussed on what you want to achieve and includes…
Presentations

Live demonstrations

Discussions

Question and answers

Case studies and examples

Hands-on help with perfecting your profile

Fun and enjoyment
---
Social Media Marketing is an effective way to grow your business but for beginners it can also be confusing, daunting and even a little scary.
Pure Relish offer you a range of effective and affordable workshops for the complete beginner or those with just a little experience so you can get the best results…
Organiser of Get Started with - Facebook, Twitter and LinkedIn - Half Day Beginners Workshop - Long Eaton
PURE RELISH focus and specialise in helping your business thrive and grow by fully harnessing & exploiting the internet and digital marketing tools.

We help you get the best results by using the very latest and most effective technologies blended with outstanding graphic design all mixed together with proven sales and marketing processes and "customer journeys" that delight and work.
Our Beginners Training
We have partnered with Catherine Simpson (a former Chamber of Commerce trainer) and Erewash Partnership Limited to bring you a range of effective and affordable workshops and "drop-in" clinics in Ilkeston and Long Eaton.

Our other services include...

WEB SITES - New Build & Renovations - Design, Build, Hosting, SEO & Management
LANDING PAGES - Optimum results using the market leading "Unbounce" platform
SOCIAL MEDIA - Marketing Campaigns - Setup, Integration, Planning & Execution
FACEBOOK 360 - 3D "VR" Photography, Video and Campaigns
GOOGLE Streetview -  360 Photography
TRAINING & SKILLS Development - Social Media Training
For quotations and information please contact us...
EMAIL - thehotdesk@purerelish.com
PHONE - 07768-558844