GET SUMMER READY! DETOX DAY RETREAT- 9 JUNE- WINDSOR
Description
Get summer ready!
Join us in Windsor for a full day retreat to kick-start your summer in full mojo!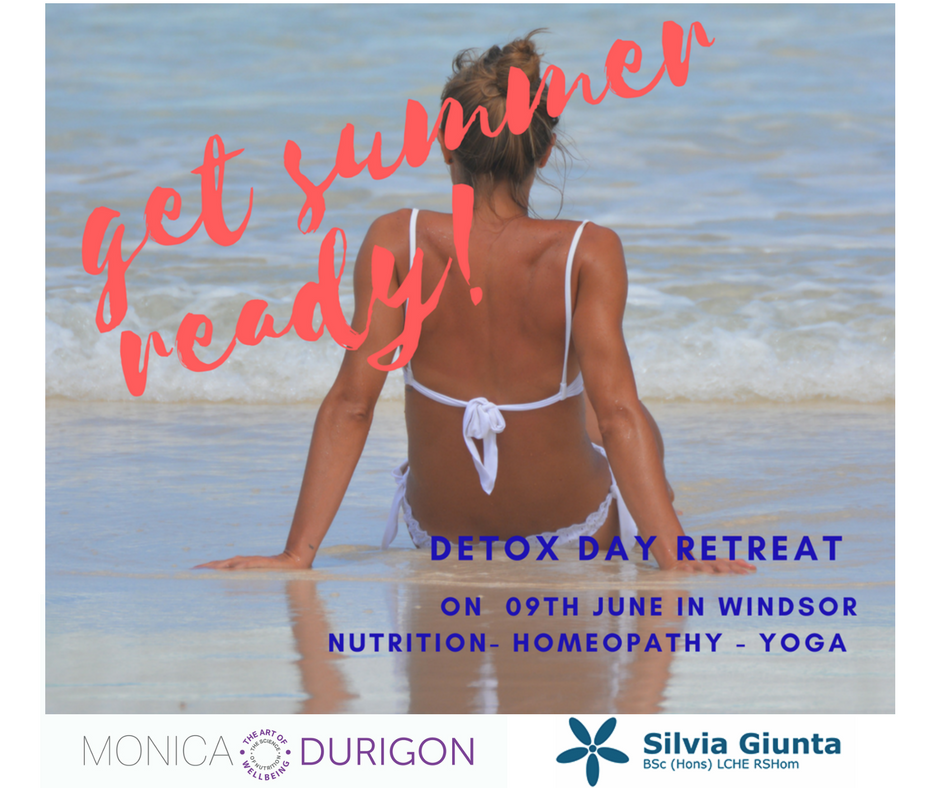 You will learn:
How toxicity can affect your health and weight
How to recognize and avoid harmful toxic substances in your environment
How to support your detoxification using homeopathy and nutritional therapy
You will enjoy:
Super delicious organic juices, teas and treats throughout the day
A three-course nutritious and delicious organic lunch
The company of a group of fantastic like-minded women
Your will relax with
A yoga class and a crystal singing bowls relaxation class with master yogi Lucy Jackson
You will receive
A complete 2-week detox recipes plan and nutritional supplement plan
A complete body composition analysis
Bio- Resinance Toxicity Test
A two week supply of individualised energetic remedies to support the cleanse
A fabulous goodie bag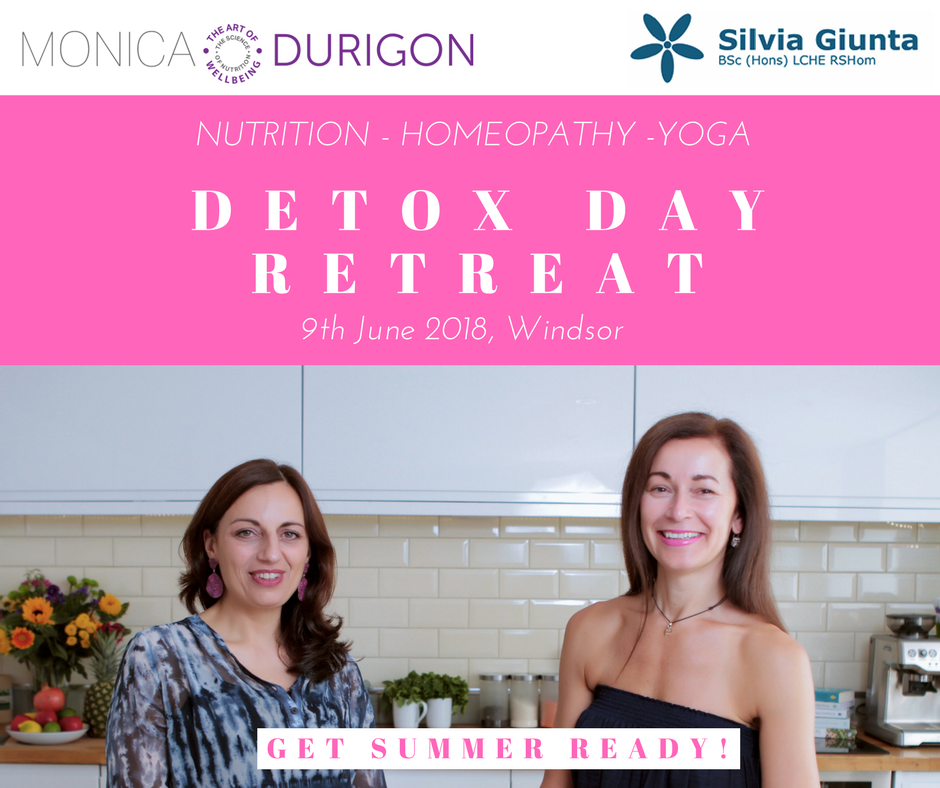 This is what previous guests said about this experience:
"From being greeted to being bid farewell with hugs, fully tummies, educated minds and happy hearts, I cannot recommend the Detox Retreat highly enough. Monica & Siliva brought to life, educated, encouraged and delivered a very professional and holisstic approach for the day. The food was absolutly delicious. Location was superb. Yoga and Gong bath were an absolute treat and very welcomed indeed. 10/10 experience, education, adventure.
Nichola Sutherland, Ascot
"I attended the first detox retreat in January 2017. I have previously seen Silvia for homeopathy treatment and also Monica for a nutrition program. Both Silvia and Monica have helped me so much with their personalised treatment so I was delighted when they decided to do a retreat day. Everything was perfect from the organisation prior to the day, the location, the delicious welcome treats, juices and teas and lunch. The presentation/ discussions re homeopathy and nutrition were really informative and really opened my eyes. Both therapists are very knowledgable and answered everyones questions and concerns with clarity. The yoga, gong bath meditation and the most delicious turmeric tea were the perfect most relaxing end to a perfect day. The retreat felt like a house in the country with friends and 3 fabulous chefs. If only it didn't go so quickly!If you want to learn more about alternative therapies, how to improve your health and your family's health and you need to relax I urge you to attend a retreat day. You won't regret it and I promise it will leave you refreshed, relaxed and wanting more!!!"
Victoria Kerr, Winsdor
"A lovely day of pampering ones self in a way that is unusual and thought provoking leaving you with an uplifting and positive feeling to approach eating, living and exercising in a invigorated way. Monica and Silvia are experts in their field and passionate about their 'craft'. They have designed this course with enormous attention to detail and ensure your every need is met.They give you the tools and resources necessary to take their ideas forward in your own life. The other people who joined the course were all lovely and there was a great sense of respect for each other. The food, location and facilitators were all excellent. This is a course for someone who needs to be reminded about themselves. An opportunity to refocus on the core essentials that are important for them as an individual. Thoroughly recommended."
Suzie Tuomey, Windsor
Don't delay, BOOK NOW, spaces are limited to offer you the best experience …and our retreats fill up quickly, do not miss this chance…
Monica & Silvia x