Refund policy
Contact the organizer to request a refund.
Eventbrite's fee is nonrefundable.
Frustrated by climate inaction from world leaders? Now that you understand climate science, it's time to explore climate policy solutions.
About this event
Now that you understand climate science, it's time to explore climate policy solutions. Frustrated by climate in action from world leaders? Have a go at setting climate policy in a group and see if you can limit warming to well below 2 degrees Celsius.
A set of ideas or a plan of what to do in particular situations that has been agreed to officially by a group of people, a business organization, a government, or a political party:
Why 2 degrees?
You will have learned in the Climate Fresk workshop that the Paris Agreement target of keeping warming well below 2 degrees is the only way we will avoid the worst effects of the climate crisis.
About this Event
👉🏽 Would you like to understand what climate policy is?
👉🏽 And how a blend of policies can reduce global warming?
👉🏽 Your local government has released a net zero strategy - will it be enough?
👉🏽 What might the world look like if we put in place policy that limits warming to below 2 degreess.
Using an interactive dashboard, pulling from the latest data, in small groups you will come to a consensus on how to get to a world living within 2 degrees of warming.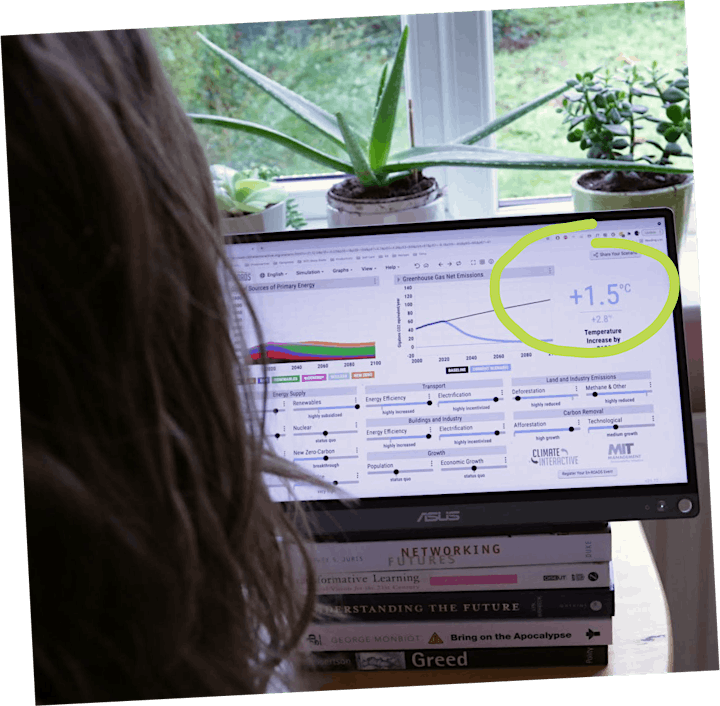 Logistics
For a rich discussion group size is limited to 7 people
Workshop takes place online using Zoom
Workshop is 2 hours with a break in the middle
⚠️ We ask that you have participated in a climate science workshop, called the Climate Fresk, before joining this workshop. When all participants have a firm understanding of the science behind climate change, discussions are more productive and enriching.
At the end of the workshop, you will have
A clearer understanding of the complexity and systemic nature of climate policy
An understanding of what it will take to meet the Paris Agreement targets
A deeper look at climate policy to consider fairness and additional benefits
A visual overview of the system dynamics at play
Tested your own knowledge and assumptions
A URL to your team's dashboard you can come back to for reference
What others have said
"Allison created a safe space for us to share our assumptions and knowledge about complex topics. It's a beneficial exercise for companies to understand where they are now and how their sustainability policies will look in the near future. The workshop is interactive, visual, and provides new perspectives on how our world functions today."
-Andreia, Sweden
"Great balance between giving us space to suggest/try things and giving us some guidance. So useful to be immediately able to see the impact of different things - I learned so much, and I know what I want to explore and advocate for next."
-LiLi, UK
"Allison was great! She encouraged all the participants to participate and explore ideas, she made sure we all understood the concepts of the simulator and explained when we didn't know something."
-Naira, Spain
Like detail?
The En-ROADS simulator is created by Climate Interactive in partnership with MIT Sloan. It is supported by data updated monthly and pulled from the best sources available, including the IPCC and the IEA.
En-ROADS has been used by members of the U.S. Congress, HSBC bank, the Hewlett Foundation, local community groups, the UN Secretary-General's Office, university professors around the world, leading science educator Bill Nye, and more than 92,000 people worldwide.
Your workshop will be delivered by Allison Whitaker, a trained En-ROADS Climate Ambassador.
"En-ROADS is quite simply a climate crisis game-changer for policymakers and people across the country. Everyone is hearing more and more about the science, but sometimes it takes a demonstration tool like En-ROADS for people to see first-hand that everyone of us needs to be on a war footing and mobilize to fight this crisis head-on… En-ROADS is the ultimate conversation starter. "
John Kerry, U.S. Special Presidential Envoy for Climate
You will work as a team to pick climate solutions that will achieve the Paris Agreement targets of 1.5°C-2°C. Collectively, together you will learn which policies are most effective, what system dynamics are at play, and just how much of a challenge reaching 1.5°C will be.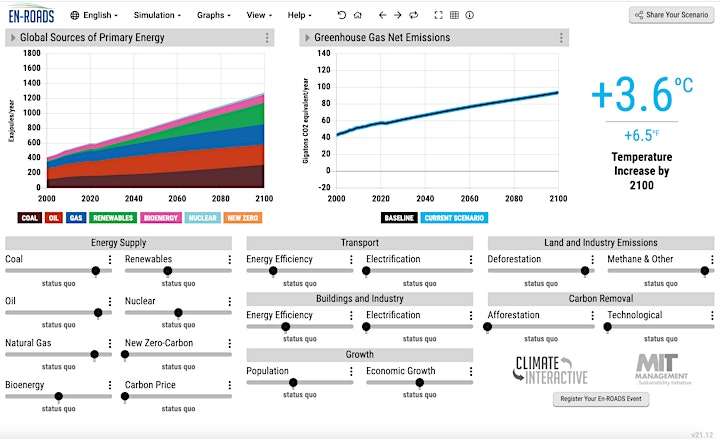 Is there a cost?
It's £5 deposit to reserve your spot. The small number of spaces is limited to bring about great discussion but when we offered community workshops for free folks didn't show up, taking away from the experience of those who did show up. These community workshops are subsidised. Our main objective is to reach as many people as possible. If you want to come but the fee is a barrier, email us and we will work with you.
There is no obligation to pay any more. We are however building a sustainable business so you will be invited to top up what you think the workshop was worth, if you can, at the end of the workshop - via Paypal.
Want to join as a group?
We offer bespoke workshops for teams at times convenient for you. Book a call.
We charge a corporate rate that allows us to run more free workshops for grassroots groups. Ten percent gets donated back to Climate Interactive, and as a business, we donate 10% of our profit to charitable organisations as part of the Giving What You Can Pledge.
Find out more about us the business at With Many Roots