Learn, share and discuss to improve mental health services in Hertfordshire.
About this event
Our Get Together forums are an opportunity for Viewpoint members to meet and share their views and ideas regarding mental health and drug and alcohol services within Hertfordshire. These forums, held via Zoom, will provide an opportunity to learn more about the mental health services in your community and give you a chance to share your views, based on your own experiences on your recovery journey.
Additionally, we will be regularly featuring special guest speakers, from a wide range of organisations across Hertfordshire, providing up-to-date information on projects and services that are available to you.
Our next Get Together is taking place on Wednesday 24 November and will feature guest speaker Naomi Duncan from Community Development Action Hertfordshire, talking about the COVID Recovery BAME Project.
---
About the COVID Recovery BAME Project:
As part of the response to the Covid-19 pandemic and its impact on Hertfordshire's BAME communities, Community Development Action are working in partnership with Herts Clinical Commissioning and Herts County Council to deliver the Covid Recovery BAME project (CRB) in a countywide project which is split into East and West Hertfordshire.
The aim of the CRB project is to address inequalities and improve the wellbeing and health of BAME individuals and communities in Hertfordshire, by implementing the following:
Facilitate social prescribing pathways for Black Asian Minority Ethnic (BAME) communities 
Support BAME communities to make better links with health and social care providers 
Work with commissioners + public health to guarantee that BAME communities' health inequalities are effectively reduced or prevented 
Improve access to advocacy services for BAME communities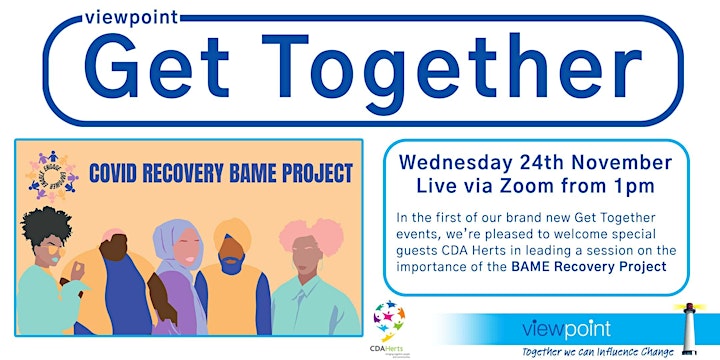 Organiser of Get Together
Viewpoint is a service user involvement charity that delivers training and is commited to mental health promotion.
www.hertsviewpoint.co.uk
The University of Herts is committed to involving service users and carers in their Health care training curriculums.
http://www.herts.ac.uk/