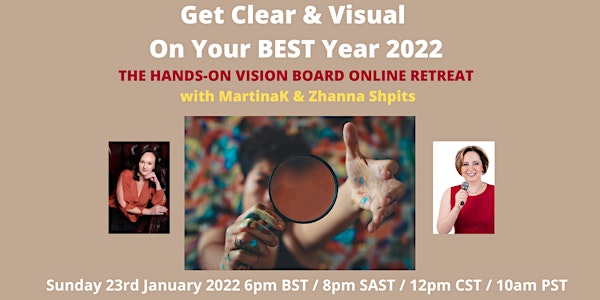 Get Visual On Your BEST Year '22 - Hands On Vision Board online retreat
Event Information
Refund policy
Contact the organiser to request a refund.
Eventbrite's fee is nonrefundable.
HandsOn empowering workshop for women to get clear and visual on the best year '22 by manifesting their true desires into a vision board
About this event
• How would you feel if you could start a New Year with clarity on what you truly want?
• How would you feel if you could start a New Year empowered and knowing that the next year is going to be YOUR year?
• How would you feel if you had the confidence, roadmap, and resilient mindset that you would achieve your desired goals with ease, fun and enjoyment of the journey no matter what
The last two years have been pushing all of us to grow like never ever before. Many are urged to uplevel their skills but mostly we all are pushed to upgrade the way we work and think to a completely new level of consciousness.
The world is changing and the new normal hasn't been developed yet…
That's a perfect opportunity for YOU to step up for yourself and create the life you truly desire.
Let me invite you to an online retreat to "Create Your Own 2022 Vision Board" a powerful workshop to create YOUR next best year by design. It will be hosted by myself and my dear friend – successful Entrepreneur Zhanna Shpits.
During this 4 hour retreat you will get:
- Clarity on what your next best move is
- Get your OWN Vision Board created by the end of the retreat
- Celebration party the end of 2021 and launch your new desires for 2022 on a high note with clarity, confidence & certainty
There's going to be music, dancing, meditation and lots of creative energy to rewire your body-mind and Spirit into the ease, harmony and alignment with YOUR desired lifestyle
By the end of this powerful workshop you will leave exhilarated, uplifted, fulfilled and READY to move forward!
To secure your space register here:
About Martina:
MartinaK is a Clarity Alignment Coach helping you become a clear, inspired, and empowered leader of life you love. Her personal search from frustration and misery has turned into a mission and today she is helping other women to find their unique path, calling, and build fulfilling careers they love and get handsomely paid for it.
She will be sharing with you the proven alignment formula she has developed over the years to master the inner you so that you can manifest your desires with ease while having lots of fun along the way.
About Zhanna Shpits:
Zhanna is an award-winning entrepreneur, inspirational speaker, Success Mindset Mentor and Trainer, Zhanna Shpits spreads the message 'Don't Wait to Create".
"The Power of a Vision Board" is Zhanna's one of the most popular and in demand workshops she conducts for both entrepreneurs and the corporate world. She personally has been using them for the last 8 years consecutively with continuous success.
It's a fun hands-on mini-retreat where you get the work done with the love, guidance, and support you need!
YOU deserve to turn your deep desires into reality!
This retreat will be hosted online and has limited places available, as we want to provide the most intimate and personalised experience to each and everyone of you.
Secure your place NOW!
We can't wait to get together in a festive safe, open and non-judgmental environment with other big-hearted women like you.
Get ready for YOUr vision board creation, celebrations, getting more clarity on what you really need and get empowered to start the new 2022 strong and ready to go full speed!
With love,
Martina and Zhanna
Date and time
Location
Refund policy
Contact the organiser to request a refund.
Eventbrite's fee is nonrefundable.