Description
To celebrate the recent launch of my Smiley Thought Cards, I've developed a workshop so everybody can share in their magic. Children often comment to me how clever the cards are as they seem to know the right message that needs to be heard at the right time.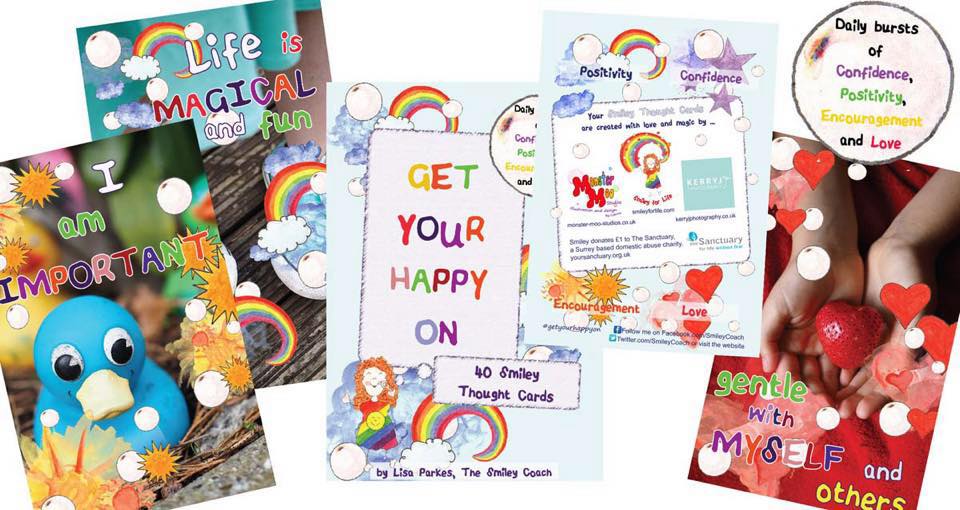 I have also been doing free Smiley Thought Card readings for my chosen charity,Your Sanctuary (every box of Smiley Thought Cards sold also donates £1 to Your Sanctuary).
What are Smiley Thought Cards?
A little box of cards that make a big difference! The Smiley Thought Cards are beautifully illustrated photos with uplifting words for the whole family. They are a quick and fun way to encourage positive thinking, self esteem, self confidence and self love.You can read more about the magic of the cards in my blog post 'Little Box that makes a Big Difference to Family Life' or watch a little video demonstration.
A Smiley for Life Workshop looks like this:
A 2 hour informal and fun workshop packed full of practical, easy and well-known coaching techniques cleverly disguised as fun. Your child will be learning through:-
Interactive games

role play and discussion

creative crafts

exercises and games

relaxation / mindfulness
GET YOUR HAPPY ON on is about:
Understanding and allowing your emotions

Learning to listen to your body and your emotions

Trusting your gut instinct

Focusing on the good stuff in life (glass half full)

Becoming an observer of our thoughts

Making sure we are using our brains to their full power
GET YOUR HAPPY ON is for your child if:
you want your child to increase their self awareness

you want your child to be more resilient to life's little hiccups

you are keen to cultivate the habit of positive thinking

you want your child to grow up to be emotionally intelligent

you want your child to be able to express themselves with ease
Just imagine your child............
Having a clearer sense of self

Developing emotional resilience to life's challenges

Affirming to themselves what is good in their life

Appreciating how unique and important they are

Being able to talk openly about their worries

Feeling empowered to learn that they are in charge of their thoughts

Training their brains to think more positively
A friendly, safe and supportive way for your child to grow!
Smiley for Life workshops create a safe and friendly environment which allows children to explore their thoughts and feelings with other children who feel the same. Places are restricted to 10 children per workshop so book early to avoid disappointment. This is so that children are able to feel comfortable in a small group exploring and expressing their thoughts / feelings around this topic.
Smiley workshops are delivered by my capable and amazing team of Smileyettes. They are trained by me and know everything I know and have strong backgrounds in working with children.
If you want to work directly with Smiley, you can find out more about 1-2-1 coaching or contact her directly for a free informal chat about your child.
Age Group: 7 – 10 years old Workshop Length: 2hrs
Cost: £37 EARLY BIRD TICKET or £45 per child after 30th November 2016
Do I need a deck of Smiley Thought Cards on the day?
No they will be provided on the day for the children to use. You may bring your deck along if you want to or purchase a deck here. Your child will need to bring a blanket, drink and snack but we will be in touch beforehand to give you the finer details.
You may also be interested in........
There are also other Smiley for Life crafty creative coaching workshops:
Friendship Know how

Get Your Worries Out

The Secret Ingredients of Self Confidence
You can find out about these other workshops here