Description
*FOR EVERY PAID TICKET PURCHASED, YOU MAY BRING A GUEST FOR FREE. It can be someone needing to make a life-change themselves or someone supporting a friend or relative who would benefit from the learning. Please email chris@beatmyaddictions.com with your guest's name, mobile number and email address to ensure they are registered.
Guest Speakers Confirmed: Chris Tuck & Brandon Block
'This workshop will teach you all you need to know to break free permanently from any addictions such as smoking, drinking, taking drugs and help you change any habits and actions that are negatively affecting your life. This includes anxiety, stress, compulsive behaviour and phobias'
Addictive substances such as nicotine, alcohol and sugar and addictive activities such as gambling, over-eating etc become programmed into your subconscious as 'your normal state' - they live within your comfort zone.
Any attempt to abstain, for example, using willpower to try to stop - will cause your subconscious mind to immediately panic and feel uncomfortable. It will, therefore, do its level best to keep you where you are.
Willpower is simply not enough to beat addiction or change habitual behaviour permanently. I will show you how to reprogram your mind to no longer need or want the substance, activity or feeling. This is the only way to ensure permanent change.
We will start off by learning how the subconscious mind works, how to build a case for the change you want to make and how to reprogram your subconscious mind.
This workshop will also help you deal with the withdrawal period and using the Law of Attraction concept teach you visualisation techniques to ensure you go home ready for a new life without the addiction or habit you want to let go of.
This includes:
Smoking, drinking, caffeine

Drug addiction

Sugar addiction

Over-eating

Gambling and/or over-spending

Anxiety

Understanding and reprogramming your subconscious mind

Setting goals and following through
So here it is – my SECOND Get Your Life Back workshop – Bigger and better than before.
More real life recovery stories (because you valued these so much)

More workshop exercises (because you enjoyed them)
I will teach you how to break free. I will help you to understand how the mind and body work once an addictive substance or behaviour is introduced and then I will show you how to reprogram your mind for permanent change.
I will then demonstrate how you can use the Law of Attraction and the power of visualisation to bring into your life everything that you want.
If you have tried other workshops and recover programmes and they've not worked – please don't be put off! Come to mine. It is very different than the rest.
What I teach is different.
The second GET YOUR LIFE BACK workshop follows the success of my first on 4th February this year.
30 people very kindly stayed behind to fill in the feedback forms and this is what they said:
An incredible 22 out of 30 wanted to attend another workshop

29 out of 30 said they'd recommend the workshop to a friend

Quite a few wanted to attend an intensive course

There was a lot of interest in sugar addiction and overeating

A lot of people wanted help with anxiety, self-esteem and confidence issues

And a few people said they'd come again to the same workshop!

And EVERYONE who came said they got enough from the learning to make real and lasting change in their lives!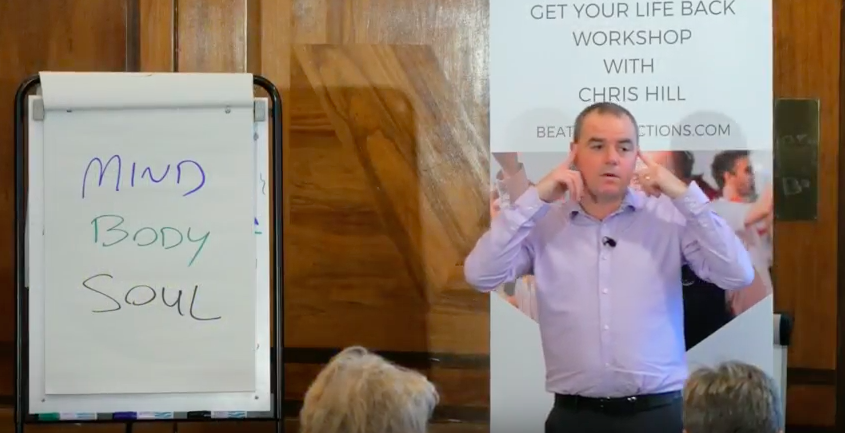 Chris Hill is author of the bestselling book 'Get Your Life Back: The Road to Freedom from Addiction'. Chris has run successful addiction recovery workshops and sees clients on a one-to-one basis. His teaching focuses on the subconscious mind and the role it plays in addiction and habitual behaviour. During this one-day workshop Chris will teach you all you need to know to reprogram your mind to achieve lasting change.