Description
Welcome to the GetSet For Growth program for trading businesses in Poole, Christchurch and Bournemouth, looking for support to grow their businesses. Our marketing and finance support is fully funded by the European Regional Development Fund.
These practical finance toolkit workshops are designed to give you the financial tools necessary to manage your business growth. Our Finance Advisor, Mike Slaughter, will work with you over these three interactive and practical workshops to give you a stronger finance foundation.
We expect clients to book onto all three workshops to get the full benefit of our finance support.
1. Costing, Pricing and Breakeven: We'll run through the different types of costs and pricing structures and how to calculate your breakeven point. 25th April 1- 4pm
Cost, Price, Value – Definitions

Types of Cost

Types of Pricing Structure

Breakeven Point
2. Profit & Loss, Balance Sheet and Cashflow: Don't know your profit and loss from your cashflow forecast? Don't panic! This hands on workshop will cover the different financial statements you need for your business, the differences between them and examples of how to use them. We'll also take you through a cashflow exercise so you can put this into practice. 9th May 1 - 4pm
Financial Statements

Profit & Loss

Balance Sheet

Cashflow exercise
3. Financial Surgery Q&A: The opportunity to talk through your individual finance questions and to put your spreadsheets to the test with Mike Slaughter. 23rd May 1 - 4pm
There is ongoing support from Mike Slaughter with one to one mentoring if necessary.
We look forward to supporting your business.
---
GetSet for Growth is a specialist service supporting businesses with the ambition and potential to grow and create jobs. It focuses on addressing the two biggest barriers to growth: access to customers and access to finance and offers a mixed programme of workshops, masterclasses, 1:1 advice and mentoring, delivered by teams of finance and marketing experts.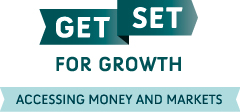 ---
If you haven't already registered to the GetSet program, we ask that you register prior to coming, you can do this online by clicking this link.
---
About the European Regional Development Fund:
The Dorset Business Growth Project is funded by the England European Regional Development Fund as part of the European Structural and Investment Funds Growth Programme 2014-2020. The Department for Communities and Local Government (and in London the intermediate body Greater London Authority) is the Managing Authority for European Regional Development Fund. Established by the European Union, the European Regional Development Fund helps local areas stimulate their economic development by investing in projects which will support innovation, businesses, create jobs and local community regenerations. For more information visit https://www.gov.uk/european-growth-funding