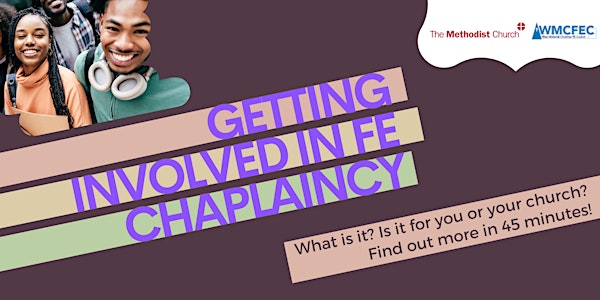 Getting involved in FE chaplaincy: What is it? Is it for you/your church?
Getting involved in FE chaplaincy. What is it? Is it for you or your church? Find out more in 45 minutes!
About this event
Join Nigel Roberts, an FE chaplain and members of the Methodist Connexional Team as we share what FE chaplaincy is all about. And all in 45 minutes. Grab yourself a cuppa, get comfortable and listen in.
This event is aimed at anyone who wants to know more about FE chaplaincy, whether from a personal perspective, or as part of exploring what churches might be able to get involved in. There's no commitment to do anything following the event - but if FE chaplaincy captures your interest, it might lead somewhere exciting.
There are two opportunities to attend this event (each one will have the same content):
Monday 11th October, 7.30pm - 8.15pm
Thursday 14th October, 11.00am - 11.45am.
This event is a collaboration between the Methodist Church and West Midlands Churches' FE Council.
Organising the event are Nigel Roberts (West Midlands Further Education Chaplaincy Ambassador), Rosie Bryant (Experienced in FE and Circuit Steward in Wolverhampton), Gary Hopkins (Chaplaincy officer for the Methodist Church) and Meg Prowting (Children, Youth and Families officer in the Methodist Connexional Team).