TLA Black Women in tech network event every 2nd Thursday of the month, full of creativity, inspiration, and passionate conversations.
About this event
Working as a non-executive director is a competitive and demanding way to contribute to a business's growth while still broadening your professional horizons, and networks. Taking a thoughtful, reliable, and strategic approach to achieving your first NED spot will improve your odds of success. During this event, these four experts will share their tips and insight on how you can excel and embark upon a portfolio career.
TLA Black Women in Tech hosts monthly events to bring together business professionals, and entrepreneurs and companies. The networking event is a great opportunity to meet other like-minded technology and digital businesses/individuals.
Please save those dates. Our events, virtual or in-house, are on the 2nd Thursday of the month from 18:00 to 20:00. Within our amazing community, we are fortunate to have many professionals willing to speak or host the events.
From 2021, our events will be featured around these 3 pillars, ensuring the subjects are relevant to tech entrepreneurs, tech companies and professionals in tech.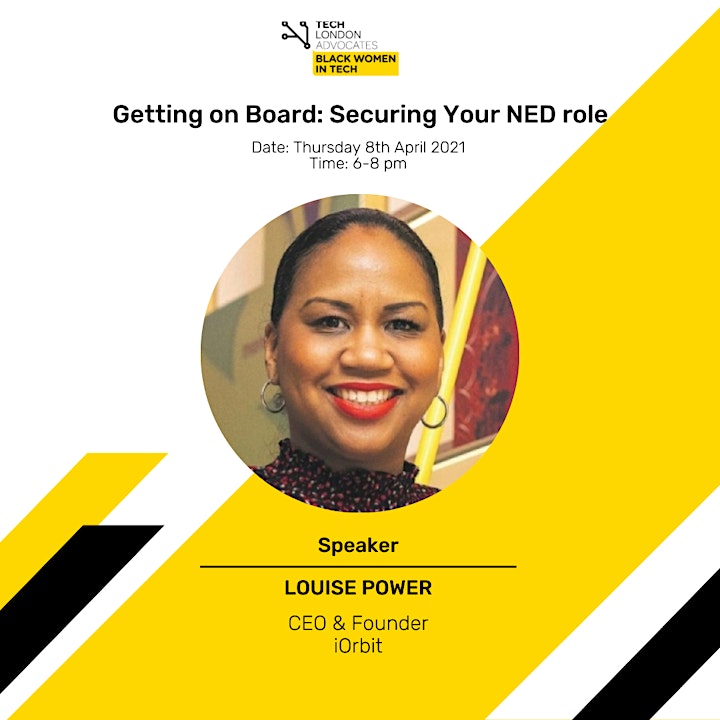 Louise Power is the CEO and Founder of iOrbit, offering business support for Start-up and Growth companies in the Tech Industry. Louise Is the Founder and CEO of The Power Hour Business and Community Social Enterprise, bridging the gap for people from black, Asian and Ethnic backgrounds. This involves corporate accountability and D&I Consultancy. Louise is also a Trustee for the Charity Changing the Chemistry focused on increasing diversity on boards.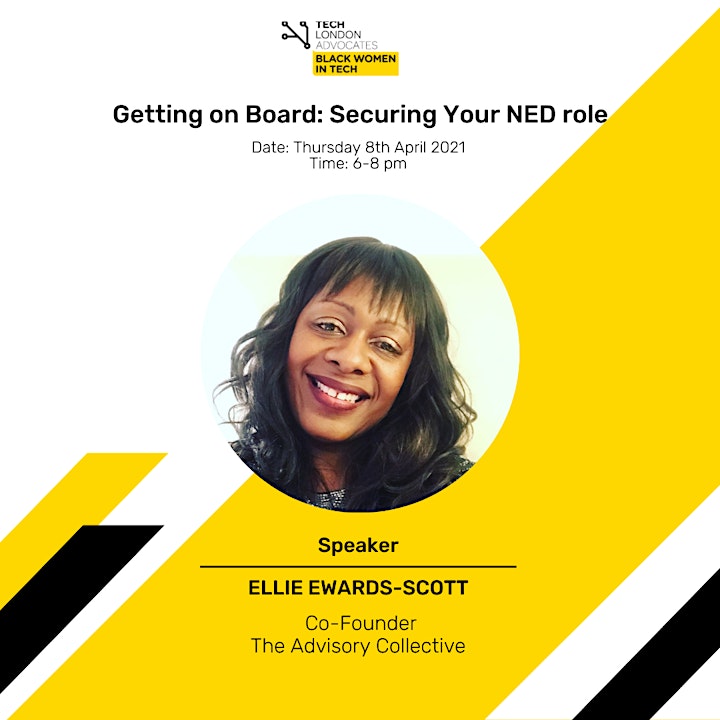 Ellie has been in the media & advertising industry for over 20 years, starting in regional press and moving to agency-side when she was approached by WPP to launch QUISMA; GroupM's leading performance marketing specialists, into the UK.
Ellie then went into consulting (co-founding The Advisory collective) and has worked with a host of businesses including media agencies, creative agencies and adtech businesses advising on go to market strategy, commercial evaluation and adtech strategy.
A champion for inclusivity, Ellie is Co-founder of Digital Leading Ladies which was created as an informal and inclusive group of industry women in 2018 and currently comprises 250+ women in the digital advertising industry. She is also a member of Media for All a group of senior leaders within the creative, advertising and AdTech communities who are seeking to recruit, encourage and promote the benefits of having a more diverse and inclusive industry.
Ellie is passionate about bringing her digital skills and commercial acumen to the charitable sector and helping businesses social causes achieve exceptional results through digital acceleration and transformation.
Since 2018 Ellie has been a NED for Look Ahead Care & Support and sits on both the Audit & Risk as well at the Diversity & Inclusivity Committees. She is also a trustee for digital skills charity Digilearning.
Ellie is also an advisor to Cocoa Magazines - the UK's first Black children's magazines. Cocoa Girl was launched in July 2020 when a gap was spotted in the children's magazine market. Cocoa Boy was launched in September 2020 and aims to eradicate the negative stereotypes often associated with Black boys. The award winning magazines help to educate and inform about Black culture.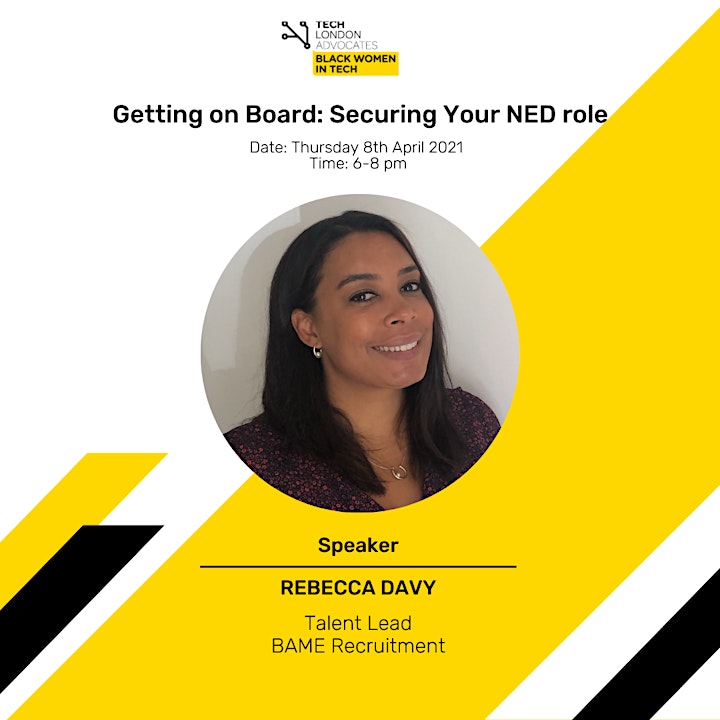 Rebecca has spent over eight years in the recruitment industry working across a variety of sectors including Finance & Accountancy, Editorial & Design, Sales, Operational Risk and most recently Legal professionals from Company Secretaries to General Counsels.
She prides herself on her ability to nurture good relationships quickly along with her strong background as a researcher in executive search, which has equipped her with a skillset that helps her to easily adapt to different assignments, as well as instilled the belief that a thorough methodology is key to ensuring the success for every mandate.
Rebecca holds a BA (Hons) History and American Studies from Plymouth University.
In her spare time, she is on the Board of Governors for her son's school where she can focus her passion for equal opportunities into ensuring that a culture of Diversity and Inclusion is instilled and promoted from an early age. She also has a keen interest in behavioural science and enjoys watching old movies and listening to Jazz.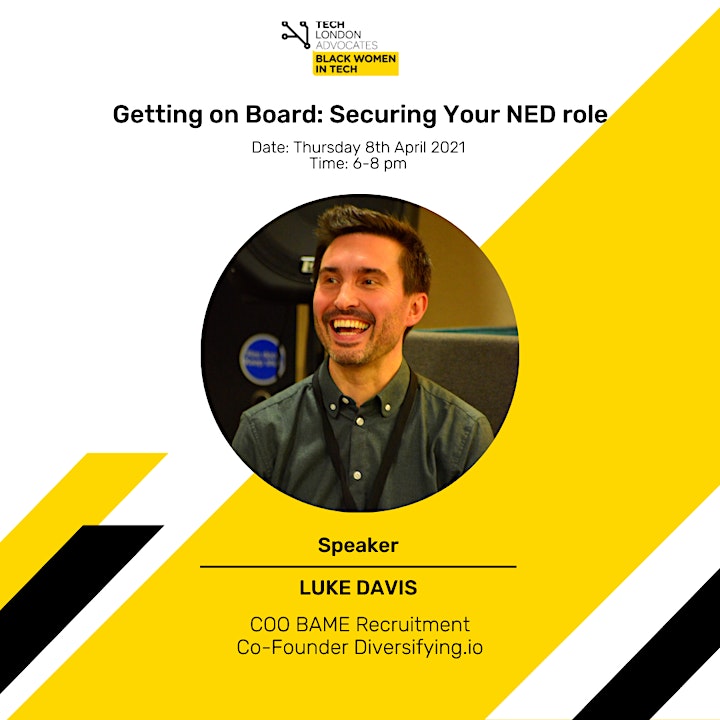 Luke is an experienced Talent Acquisition Expert who has worked in a range of agency, recruitment process outsourcing and internal recruitment roles.
Starting his career in Tech recruitment back in 2000, Luke has over 20 years' recruitment experience that includes exec hiring and running recruitment services for the likes of Apple, Booking.com, Deutsche Bank, PwC, Protiviti, Internet Watch Foundation, M&G Investments and the Financial Ombudsman Service.
Luke cares passionately about creating equal career opportunities for everyone and is committed to using his privilege to achieve this goal.
Organiser of Getting on Board: Securing Your NED role