Getting Our Act Together: Human Rights, Our Environment & Brexit
Description
The current round of UK-EU negotiations is reaching the end game. The UK has committed to ensuring a 'Green Brexit' and upholding human rights standards as the UK withdraws from the EU.
This event is designed to cut through the jargon and bring together those committed to protecting human rights and our environment to work towards identifying the best way forward.
We need to ensure that the highest human rights and environmental standards are maintained and fulfilled to reflect the particular circumstances of Northern Ireland, our peace settlement and our all-island environment.
Agenda
09:30 – 09:45: Arrival – Tea & Coffee
10:00 – 10:10: Welcome & Introductions, Kevin Hanratty (Director, Human Rights Consortium)
10:10 – 11:10: Session 1: Setting the scene Human Rights and Environmental context in NI
Dr Viviane Gravey
School of History, Anthropology, Philosophy and Politics, QUB

Dr Claire McCann
Human Rights Officer (Rights in Practice), Human Rights Consortium

Anne-Marie McDevitt
Project Manager, NIEL Brexit Coalition
11:10 – 11:25: Break
11:25 – 12:20: Session 2: Protecting what we have – a call to action
What are common issues? Where are the substantive overlaps?

How might these be addressed?

What outputs do we want?
12:20 – 12:50: Feedback to plenary
12:50 – 1:00: Concluding Comments & Way Forward, Craig McGuicken (CEO NI Environment Link)
1:00: Close & Lunch
If you have any dietary or accessibility requirements please contact connor@nienvironmentlink.org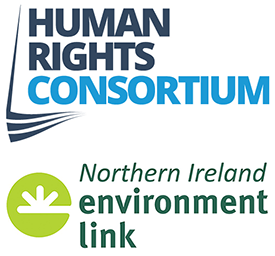 Funded by: