Getting Primary Data Management Right At Your MAT.
Description
Getting Primary Data Management right at your MAT
Perspectives from sector experts and MAT colleagues
School data can be confusing, particularly in light of recent changes to curriculum and accountability structures. The advent of Multi Academy Trusts has added even greater complexity, as central teams struggle to collate reliable data from across multiple schools.
At this event, leading industry experts and MAT colleagues will talk through some of the big issues facing MATs, and share tips and tricks for embedding good practice at your Trust.
Panelists & Speakers
Daisy Christodoulou, Director of Education at No More Marking and author of Seven Myths About Education and Making Good Progress?

James Pembroke. Director at Sig+, School Data Updates Twitter feed (@jpembroke) Author of TES Data Doctor column, a consultant for Ofsted, DfE, FFT, ASCL, and NAHT.

Lauren Thorpe, Head of Systems & Data Strategy at Ark Schools and former Head of Compass School, Southwark

Joshua Perry, Director of Assembly

Lisa Thompson, Head of Data Intelligence, Astrea Academies Trust

Dawn Haywood, Deputy CEO & Education Director, Windsor Academy Trust
Agenda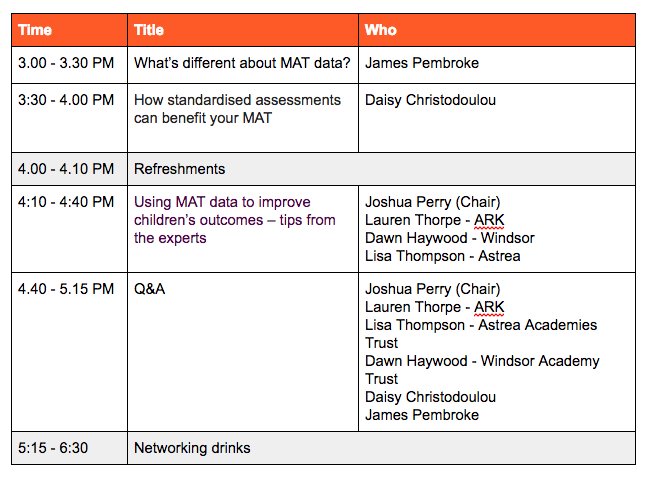 This event is designed specifically for Primary Multi Academy Trust Senior Leaders, Headteachers and those with responsibility for Primary MAT data and assessment. Registrations from private email addresses may be asked to confirm their role, prior to registration being confirmed.