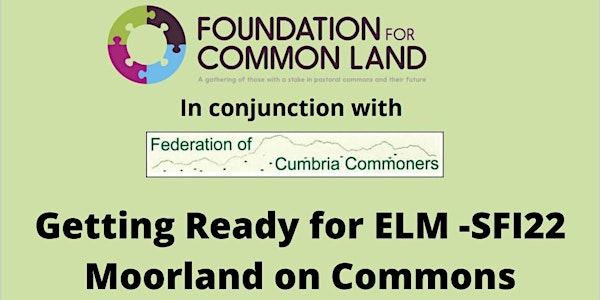 Getting Ready for ELM -SFI22 Moorland & Rough Grazing on Commons - Cumbria
Getting Ready for ELM - SFI22 Moorland and Rough Grazing Standard on Commons
About this event
** Due to the updated Covid guidance we will be moving this event to an online platform. Please sign up as normal and we will send a joining link to you 48hours before the meeting. **
A free online event covering:
Change is happening with BPS payments already reducing. Before the date of this meeting Defra are announcing their plans for Moorland and Rough Grazing Sustainable Farm Incentive for 2022 (SFI22) .
Julia Aglionby will take you through what we know at present, how you can apply and use the scheme to support a positive future for common land and commoning through the Agricultural Transition. This will include an introduction to mapping options and assessing your assets.
This will be followed by group discussion and questions facilitated by the Federation of Cumbria Commoners
An update on activities in Cumbria for the Our Upland Commons project and a brief look at what is to come in 2022.
A face to face event covering the same topics will be hosted as soon as is practical in the new year.
Find out more about our work on out website foundationforcommonland.org.uk
This talk is part of a series of Regional Events; further events are planned in Shropshire and Dartmoor, contact us for details
Organiser of Getting Ready for ELM -SFI22 Moorland & Rough Grazing on Commons - Cumbria