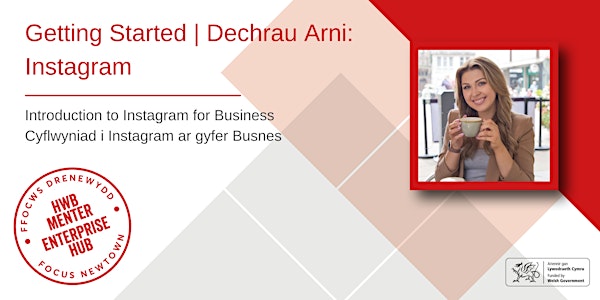 Getting Started: Instagram #1 | Dechrau Arni: Instagram #1
Introduction to Instagram for Business | Cyflwyniad i Instagram ar gyfer Busnes
About this event
THIS SESSION WILL BE DELIVERED IN ENGLISH ONLINE. Welsh documents are available upon request.
MI FYDD Y SESIWN HON YN CAEL EI GYNNAL YN SAESNEG AR-LEIN. Mae yna ddogfennau Gymraeg ar gael os oes angen.
(Please scroll down for English)
Dechrau Arni: Instagram #1
Ydych chi erioed wedi meddwl sut deimlad fyddai gallu defnyddio Instagram mor hawdd â gwneud paned o de?
Mae dros un biliwn o bobl yn defnyddio Instagram bob mis. Gallech chi ddefnyddio'r farchnad enfawr honno!
Ymunwch â'r Hwb, a'r Ymgynghorydd Marchnata Digidol, Becci Hollis, wrth i ni ddechrau ar daith bum wythnos i ddarganfod sut y gallwch ddefnyddio Instagram yn llwyddiannus ar gyfer eich busnes.
Gyda thasgau wythnosol i'w cwblhau, adnoddau i fynd adref gyda chi a'r cyfle i dderbyn adborth arbenigol wedi'i deilwra, y gweithdy rhyngweithiol hwn yw'r union beth sydd ei angen arnoch i symud ymlaen gydag Instagram.
Beth fydd dan sylw yn y digwyddiad?
Bydd y gyfres o weithdai yma yn rhoi trosolwg 360 o Instagram i chi a bydd hefyd yn ymchwilio'n ddyfnach i rai o nodweddion pwysicaf y llwyfan cyfryngau cymdeithasol hwn sy'n newid yn barhaus.
Dros y pum wythnos, byddwn yn ymdrin â:
Cyflwyniad i Instagram ar gyfer Busnes
Creu Cynnwys a Chapsiynau Gwych ((Defnyddio Instagram Reels)
Defnyddio Hashnodau i Dyfu eich Cynulleidfa
Sut i Ddefnyddio Straeon yn Llwyddiannus
Holi ac Ateb, Adborth Proffil a Nodau
Yn y sesiwn gyntaf hon, byddwch yn cael eich cyflwyno i Instagram a rhai enghreifftiau o bobl sy'n ei ddefnyddio'n eithriadol o dda i gyflawni eu nodau busnes. Byddwn hefyd yn ymdrin ag 'archwiliad Instagram' a fydd yn cwmpasu popeth sydd ei angen arnoch i wneud y gorau o'ch proffil.
Ar gyfer pwy mae'r gweithdy?
Mae'r gweithdy hwn wedi'i greu gyda phawb mewn golwg. Mae'n berffaith i bobl sy'n dechrau ar Instagram, ond hefyd i'r rhai sydd angen rhywfaint o ysbrydoliaeth, cyngor a help i wella eu perfformiad.
Cefndir y siaradwr
Sefydlodd Becci Hollis, Ymgynghorydd Marchnata Digidol, Blossom Digital y llynedd, ar ôl gweithio ar ei liwt ei hun ar gyfer gwahanol fusnesau bach am bum mlynedd. Mae hi bellach yn gweithio gydag amrywiaeth o gleientiaid ar draws gwahanol sectorau i'w helpu i hyrwyddo eu busnes yn effeithiol ar-lein. Mae'r gwasanaethau y mae'n eu cynnig yn cynnwys rheoli cyfryngau cymdeithasol, creu cynnwys, ymgyrchoedd e-bost ac ysgrifennu copi.
Mae Becci hefyd yn berchen ar ei busnes ei hun – The Blossom Academy – fel hyfforddwr ewinedd ac amrannau wedi'i hachredu a'i hyswirio'n llawn ar gyfer dechreuwyr a thechnegwyr ewinedd sydd am ddatblygu eu sgiliau.
Sut ydw i'n cofrestru ar gyfer popeth?
Mae'r gweithdy hwn yn rhan o gyfres bum rhan ac er nad yw'n orfodol, rydym yn argymell yn gryf eich bod yn mynychu'r holl sesiynau i sicrhau eich bod yn cael y gorau o'r gyfres. Cofrestrwch ar gyfer y sesiynau eraill drwy ddefnyddio'r dolenni hyn:
Rhan 2: https://www.eventbrite.co.uk/e/229260994807
Rhan 3: https://www.eventbrite.co.uk/e/229261656787
Rhan 4: https://www.eventbrite.co.uk/e/229261887477
Rhan 5: https://www.eventbrite.co.uk/e/229262489277
_____________________________________________________
Getting Started: Instagram #1
Have you ever wondered what it would feel like to be able to use Instagram as easily as you make a cup of tea?
Over one billion people use Instagram every month. You could be tapping in to that huge market!
Join the Hub, and Digital Marketing Consultant, Becci Hollis, as we embark on a five-week journey to discover how you can successfully use Instagram for your business.
With weekly tasks to complete, takeaway resources and the opportunity to receive tailored expert feedback, this interactive workshop is just what you need to move forward with Instagram.
This workshop series will give you a 360 overview of Instagram and will also delve deeper into some of the most important features of this ever changing social media platform.
What will the event cover?
Over the five weeks, we'll cover:
Introduction to Instagram for Business
Creating Great Content and Captions (along with using Instagram Reels)
Using Hashtags to Grow your Audience
How to Successfully Use Stories
Q&A, Profile Feedback and Goals
In this first session, you'll be introduced to Instagram and some examples of people who use it extremely well to achieve their business goals. We'll also run through an 'Instagram audit' which will cover everything you need to optimise your profile.
Who is this workshop for?
This workshop has been created with everyone in mind. It's perfect for people just starting out on Instagram, but also for those in need of some inspiration, advice and help enhancing their performance.
About the speaker
Becci Hollis, a Digital Marketing Consultant, set up Blossom Digital last year, after working freelance for various small businesses for five years. She now works with a range of clients across different sectors to help them effectively promote their business online. The services she offers include social media management, content creation, email campaigns and copywriting.
Becci also owns her own business – The Blossom Academy – as a fully accredited and insured nail and eyelash trainer for complete beginners and nail technicians who want to advance their skills.
How do I sign up to all of it?
This workshop is part of a five-part series and although it's not compulsory, we highly recommend attending all of the sessions to ensure you get the most out of the series. Please sign up to the other sessions by using these links:
Part 2: https://www.eventbrite.co.uk/e/229260994807
Part 3: https://www.eventbrite.co.uk/e/229261656787
Part 4: https://www.eventbrite.co.uk/e/229261887477

Mae Hybiau Menter Ffocws yn darparu gofod arloesol i ddeori a sbarduno busnesau newydd a'r rhai sy'n ehangu. Mae Hwb Menter Ffocws y Drenewydd a Hwb Menter Ffocws Caerfyrddin yn cael eu hariannu'n rhannol gan Gronfa Datblygu Rhanbarthol Ewrop trwy Lywodraeth Cymru
Mae'r digwyddiadau a ddarperir neu a gynhelir gan raglen Hybiau Menter Ffocws Llywodraeth Cymru am ddim ac yn agored i bobl o bob oedran, ond rhaid archebu lle ymlaen llaw. Mae'r niferoedd yn brin a disgwyliwn alw mawr am lefydd, felly archebwch yn gynnar i ddiogelu'ch lle.
Focus Enterprise Hubs are an innovative space to incubate and accelerate new, and growing businesses. Focus Newtown and Focus Carmarthen Enterprise Hubs are part funded by the European Regional Development Fund through the Welsh Government
Events delivered or hosted by the Focus Enterprise Hubs programme for the Welsh Government are free and open to all ages but must be booked in advance. Please be advised that numbers are limited and we expect high demand for places, so book early to secure your place.