COVID-19 and Your Business – Getting Started: YouTube | COVID-19 a'ch Busnes - Dechrau Arni: YouTube
About this event
THIS SESSION WILL BE DELIVERED IN ENGLISH ONLINE. Welsh documents are available upon request.
MI FYDD Y SESIWN HON YN CAEL EI GYNNAL YN SAESNEG AR-LEIN. Mae yna ddogfennau Gymraeg ar gael os oes angen.
(Please scroll down for English)
----------------------------------------
Dechrau Arni: YouTube
Dyma'r gweithdy YouTube pedair rhan cyntaf o'n cyfres 'Dechrau Arni', sydd â'r bwriad o ddarparu cyngor a chymorth defnyddiol i berchnogion busnes presennol ac yn y dyfodol.
O gyflwyniad i wefan rhannu fideos, i olygu, mewngludo ac uwchlwytho - ar ôl y sesiynau, byddwch yn teimlo wedi eich paratoi ac yn hyderus i gychwyn 'gweithio ar YouTube' ar gyfer busnes.
Bydd Gwyn Cole, gwneuthurwr ffilm ac adroddwr stori, yn cynnal pedair sesiwn ar ddefnyddio YouTube ar gyfer busnes. Bydd yn cysylltu â'ch ochr greadigol ac yn eich arfogi â phopeth rydych ei angen i ddechrau arni.
Beth fydd cynnwys y cwrs?
Bydd y gweithdai'n cael eu cynnal dros gyfnod o bedair wythnos. Mae pob sesiwn wedi'u dylunio i'ch cynnal chi drwy'r camau gwahanol o gynhyrchu eich cynnwys eich hun.
Sesiwn 1: Cyflwyniad - Egluro beth yw YouTube, a pham y byddwch eisiau creu sianel. Byddwn yn gwneud i chi feddwl am eich sianel a'i chynnwys.
Sesiwn 2: Ffilmio - Bydd hyn yn cychwyn drwy ddiffinio cynnwys. Byddwn yn edrych ar greu penawdau fideos, sut i ymdrin â sgriptiau, offer, meddalwedd golygu fideo, trwyddedu cerddoriaeth a dylunio cryno-lun. Byddwn yn trafod y strwythur delfrydol ar gyfer fideo, a sut allwch chi roi cychwyn arni gyda'r offer sydd gennych chi. Bydd ychydig o waith cartref i'w wneud cyn y sesiwn nesaf.
Sesiwn 3: Golygu Fideo - Bydd hyn yn ymdrin â golygu syml ar gyfrifiadur. Byddwn yn edrych ar feddalwedd golygu fideo am ddim, a rhai sydd angen talu amdanynt, a sut allwch chi fewngludo eich ffeiliau fideo, eu golygu nhw, allgludo fideo a'i uwchlwytho ar YouTube.
Sesiwn 4: Adolygu - Yn y sesiwn olaf, ceir cyfle i fyfyrio ac adolygu gyda sesiwn Holi ac Ateb i gael atebion i'ch cwestiynau.Bydd bob sesiwn gweithdy yn para oddeutu 1 i 1.5 awr.
Ar gyfer pwy mae'r digwyddiad?
Mae'r gweithdy hwn ar gyfer perchnogion busnes sy'n ystyried defnyddio YouTube fel rhan o'u strategaeth hir dymor.
Cefndir y SiaradwrMae Gwyn Cole wedi gweithio mewn amgylcheddau corfforaethol am 17 mlynedd fel peiriannydd meddalwedd cyn symud i'r maes adrodd straeon a gwneud ffilmiau. Aeth ei daith gwneud ffilmiau ag ef i California lle dysgodd sut i greu cynnwys deniadol a phwerus sydd â chysylltiad dynol. Bellach mae gan Gwyn ei fusnes cynhyrchu fideo ei hun, Still River Films, yn cynhyrchu cynnwys seiliedig ar stori ar gyfer sefydliadau ym maes gofal iechyd, amddiffyn, gweithgynhyrchu a busnesau ar-lein.
______________________________________________________________________________________
Getting Started: YouTube
This four-part YouTube workshop is the first in our 'Getting Started' series, aimed at providing useful advice and support to potential and existing business owners.
From an introduction to the video-sharing website, to editing, importing and uploading – the sessions will leave you feeling equipped and confident to start 'YouTubing' for business.
Filmmaker and storyteller, Gwyn Cole, will be holding four sessions on using YouTube for business. He'll be tapping into your creative side and arming you with everything you need to get started.
What will the event cover?
The workshops will be delivered over four weeks. Each session is designed to move you through the various stages of producing your own content.
Session 1: Introduction - This explains what YouTube is and why you might want to create a channel. We'll get you thinking about your channel and its content.
Session 2: Filming - This will start with defining content. We'll look at creating video titles, how to approach scripts, equipment, video editing software, music licensing and thumbnail design. We'll go through the ideal structure of a video and how you can get going with the equipment you have. There will be some homework to do before the next session.
Session 3: Video Editing - This will cover simple editing on a computer. We'll look at free and paid video editing software and how to import your video files, edit them, export video and upload it to YouTube.
Session 4: Review - This final session is chance to reflect and review with a Q&A to answer your questions.
Each workshop session will take approximately 1 to 1.5 hours.
Who is this workshop for?
This workshop is for business owners who are looking at using YouTube as part of a long term strategy.
About the speaker
Gwyn Cole has worked in corporate environments for 17 years as a software engineer before transitioning to storytelling and filmmaking.
His filmmaking journey took him to California where he learnt how to create engaging, human connecting and impactful content.
Gwyn now has his own video production business, Still River Films, producing story-based content for organisations in healthcare, defence, manufacturing and online businesses.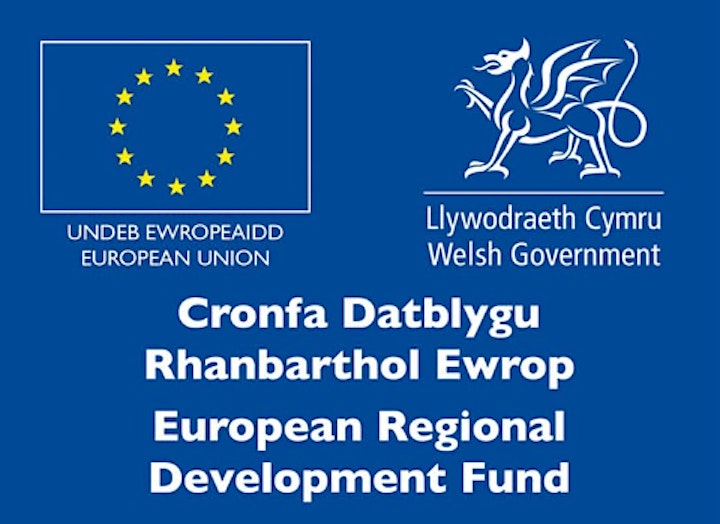 Mae Hybiau Menter Ffocws yn darparu gofod arloesol i ddeori a sbarduno busnesau newydd a'r rhai sy'n ehangu. Mae Hwb Menter Ffocws y Drenewydd a Hwb Menter Ffocws Caerfyrddin yn cael eu hariannu'n rhannol gan Gronfa Datblygu Rhanbarthol Ewrop trwy Lywodraeth Cymru
Mae'r digwyddiadau a ddarperir neu a gynhelir gan raglen Hybiau Menter Ffocws Llywodraeth Cymru am ddim ac yn agored i bobl o bob oedran, ond rhaid archebu lle ymlaen llaw. Mae'r niferoedd yn brin a disgwyliwn alw mawr am lefydd, felly archebwch yn gynnar i ddiogelu'ch lle.
Focus Enterprise Hubs are an innovative space to incubate and accelerate new, and growing businesses. Focus Newtown and Focus Carmarthen Enterprise Hubs are part funded by the European Regional Development Fund through the Welsh Government
Events delivered or hosted by the Focus Enterprise Hubs programme for the Welsh Government are free and open to all ages but must be booked in advance. Please be advised that numbers are limited and we expect high demand for places, so book early to secure your place.