Getting the UK Working

Wednesday, November 2, 2011 from 9:00 AM to 4:30 PM (GMT)
Event Details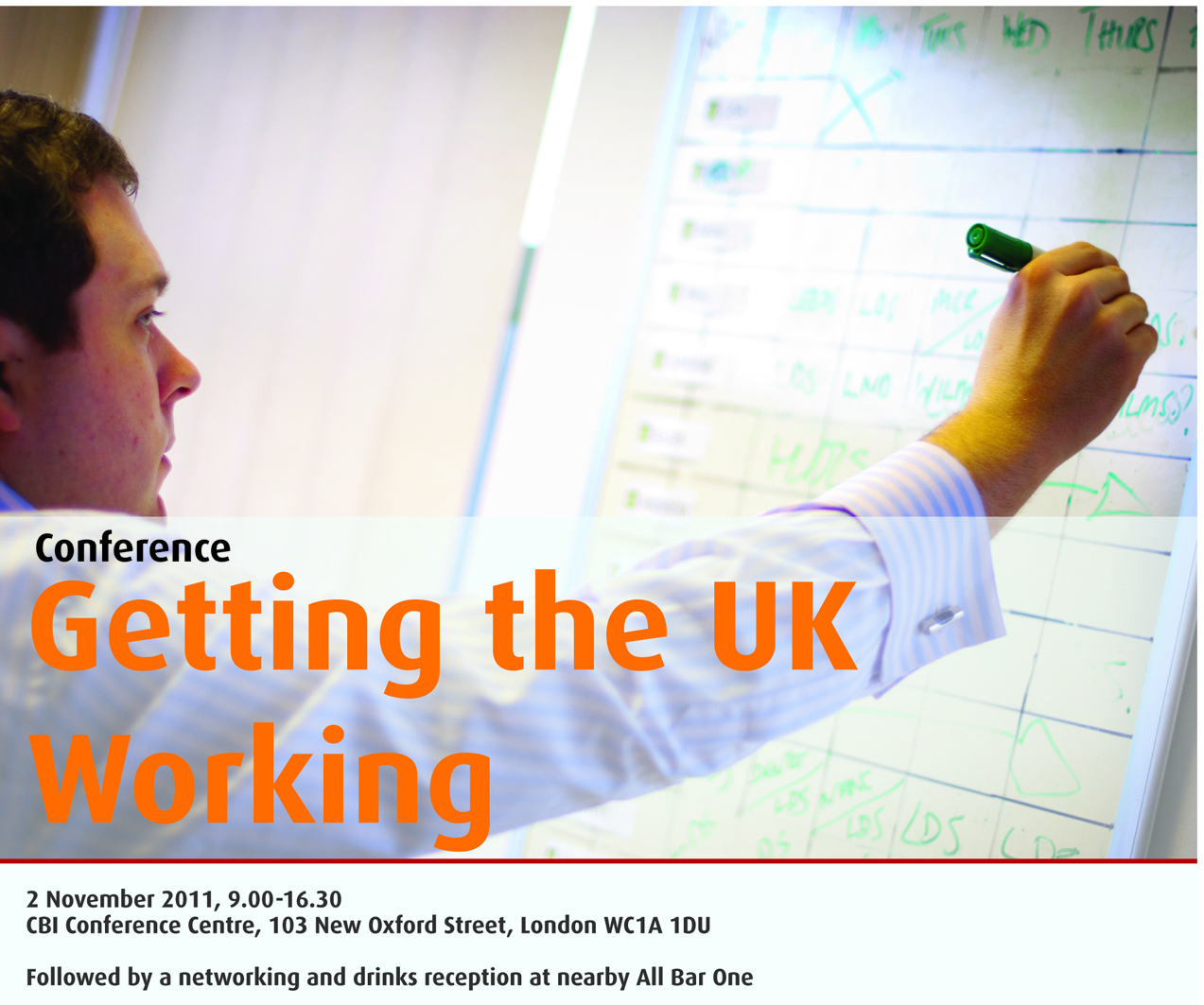 ABOUT CONFERENCE
Getting the UK Working is a unique high-level event where there will be key note addresses by leading figures from the CBI, Halifax, Rex Proctor, National Apprenticeship Service and Middlesex University. There will also be the opportunity to raise questions to a panel of business experts and to attend workshops focussing on the Financial, Creative, Construction sectors, as well as sharing of good practice in the areas of Apprenticeships and organisational accreditation.
According to John Cridland, Director General of the CBI the pressure is today on the private sector to deliver growth and create jobs. The next 12-24 months will be critical in this respect and is vital in order to get the right conditions for growth to invest in employees' skills. This conference will address the challenges ahead share existing good practices and search for the solutions available in the current climate.
The event will be thought-provoking, motivational and transformational – providing new ideas and deliberately challenging conventional wisdom. Please come with questions to ask and be prepared to share your own views.
The event will be followed by a full networking opportunity at All Bar One
Objectives
-      To inform business leaders of the latest developments on enhancing skills and learning in UK
-      To share and inform latest CBI and academic research on the UK workforce
-      To examine ways of dealing with the employment and skills mismatch
-      To suggest ideas for nurturing talent to drive business forward
-      To identify and debate how organisations are currently working to improve productivity
A must attend event for:CEO's and Senior Executives, Strategic Directors, Policy Directors, Commercial Directors, Chief Operating Officers, Consultants, HR Directors, Learning, Development & Talent specialists
Speakers 
 Michael Driscoll, Vice Chancellor Middlesex University
Jim Bligh, Principal Policy Advisor, CBI
Getting the UK working – CBI Report 
 Colin Kemp, Network Director, Halifax Community Bank
Getting the UK Working – an employers view
Paul Mackie, Chairman, Rex Proctor & Partners
The Rex Proctor approach for ROI
Jon Thorn, Employer Services Director, National Apprenticeship Service
UK Apprenticeships
Phillip Squire, CEO, Consalia
Getting the UK Working – an international perspective
Professor Jonathan Garnett, Dean, The Institute for Work Based Learning
Panel of experts:
The Employment and Skills Mis-Match
How companies are dealing with the problem
Q&A
Jon Thorn, Employer Services Director, National Apprenticeship Service
Ian Moss, Head of Leadership Academy, EDF Energy
Sharon Kelly, HR Director, Mitsibushi
Jim Bligh, Principal Policy Advisor, CBI
Jonathan Garnett, Dean, Institute for Work Based Learning
Mags Thomas, Toshiba
Workshops
Talent Management
David Williams, Director of Business & Organisational Development, IWBL
Mags Thomas, Senior HR Director, Toshiba
Leadership
Alex Mortimer, Business & Organisational Development Manager
Ian Moss, Head of Leadership Academy, EDF Energy
Apprenticeship
Darryl Bravenboer, Associate Dean Academic Development, IWBL
Anna Byers, Employer Services Manager, NAS
Growing your sales
Philip Squire, CEO, Consalia
Workforce Development (WBL & Accreditation)
Tracey White, Senior Learning Development Tutor in Accredication and WBL
Royal Mail
When & Where
103 New Oxford Street
WC1A 1DU London
United Kingdom


Wednesday, November 2, 2011 from 9:00 AM to 4:30 PM (GMT)
Add to my calendar