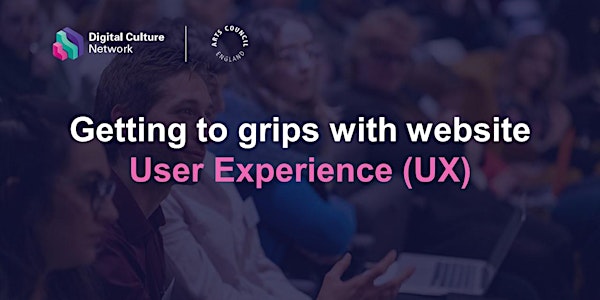 Getting to grips with website User Experience (UX)
Sales Have Ended
Registrations are closed
This event is now sold out or the date has passed. Please add yourself to the waiting list to be eligible for any last minute tickets that become available. Sign up to our newsletter at digitalculturenetwork.org.uk to be the first to find out when our next events are scheduled.
A webinar to help arts & culture organisations understand the principles of User Experience (UX) & implement them on their own websites.
About this event
In this 75-minute webinar, presented in partnership with Splitpixel, we'll introduce the principles of UX (user experience) design and why they are important for digital projects. We'll explore techniques you can use to develop and implement smooth customer journeys and make it easier for people to learn about your programs online, access digital content, buy tickets, and donate.
The session will begin with an introduction to the principles of UX, followed by a diagnostic tour of a website and some time for a live Q+A.
It will be presented by Ren James, Head of Content and Web Projects at Splitpixel Creative - a creative website development agency - and hosted by Digital Culture Network Tech Champion for Websites, Roberta Beattie.
In this session, you will learn:
The difference between user experience (UX), user interface (UI) and website user journeys
Best practices for UX, UI and user journeys - and how to plan them
How to create a great user experience on your own website
If you are interested in your website being reviewed live during the session, please indicate during the sign-up process.
Ren James is the Head of Content and Web Projects at Splitpixel Creative. She is a copywriter, content strategist and project manager. Originally from a journalism background, Ren has 15 years of experience creating content, with seven of those spent with creative agencies, where she focuses on UX, UI, SEO, accessibility and inclusivity for the web. She lives in Huddersfield, England. Her favourite pizza topping is any sort of vegan sausage, really - she's not fussy.
What level is it?
Beginner to Intermediate – This webinar will help you understand the basics of UX and give you some ideas to make changes to your site or help you plan when creating a new site.
What type of webinar is it?
Instructional format with presentation slides. You will be able to ask questions using the Q+A function and engage with the presenters using the chat. This session will be hosted as a Zoom Webinar.
Can I book a place?
This webinar is presented as part of a funded programme for arts and cultural organisations. Free places are available for anyone who works with or for a publicly funded arts and cultural organisation and for those currently in receipt of or usually eligible for Arts Council funding.
This webinar will be live captioned. If you have any other access needs, please get in touch at digitalnetwork@artscouncil.org.uk. We ask you give a minimum of 10 days' notice where possible.
Can I ask questions?
Yes and we actively encourage it to shape the content. You can ask in advance on Twitter using the hashtag #DigitalCultureNetwork or message @ace_dcn.
You can also ask questions on the day using the Zoom live stream chat facility.
Can I receive 1-2-1 support?
The Digital Culture Network is part of a funded programme for arts and cultural organisations. We have a team of nine Tech Champions across the country, who can provide free 1-2-1 support in a range of areas including digital strategy development, websites, social media, data analytics, digital content creation, SEO and paid marketing, CRM, box office and ticketing systems and email marketing. This support is available for those currently funded by or usually eligible for Arts Council England funding. You can indicate whether you would like to be contacted by a Tech Champion as part of the sign-up process.
Please get in touch if you have any questions about your eligibility.
Date not convenient or you didn't get a ticket?
Don't worry! We regularly add new webinars to our event schedule. Visit the Digital Culture Network website to sign up to our newsletter and be the first to hear when we announce new events and head to our Knowledge Hub to watch recordings of previous webinars.
Questions?
Please email us on digitalnetwork@artscouncil.org.uk or for more information about the Digital Culture Network. To request free 1-2-1 support from a Tech Champion visit digitalculturenetwork.org.uk/ask-a-tech-champion/ or find us on Twitter @ace_dcn.
Privacy
When you register for an event, please refer to Arts Council England's privacy notice to see how we use your personal data. Please note that in line with this policy, we may share your basic data (name, job title and organisation) with other participants and event partners. We will only share your contact details with partners should you opt-in to do so during the registration process.
IMAGE CREDIT
Photograph © Chris Webb: Facebook @Chriswebbphotography, Instagram @chrispicasso, Twitter @chriswebbphoto