Event Information
Location
Provided to via email after booking only
London, E1
Description
GUILT FREE GIRLS GB PARTIES

We host parties for a small number of ladies that like to meet many guys! We are Greedy Girls. That is to say we like to have a good time with more than one hot, hunky, hung guy at the same time.
Before you jump to conclusions, we are not working girls, we are a group of city professionals, bored housewives and mothers (or as one wag put it, milfs, gilfs and hotwifes!) who just know what we want.
To join our parties, you need to be either an approved Le Boudoir Member, or have signed up for parties on our own website www.guiltfreegirls.com
Within the unique and chic surroundings of Le Boudoir, coupled with a small group of lustful ladies, GFG evenings are fun from start to finish.
Set aside your dates and book early to reserve your ticket
Please note: Payments simply appear as EBGFG on a bank statement. Also note, the balance of event payments at the venue must be paid in CASH. EU Regulatory changes on card processing menas the venue can no longer offer the option for card payments.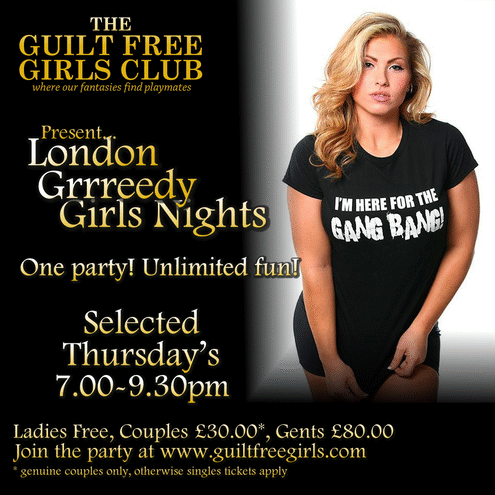 PRIORITY GUEST LISTING IS GIVEN TO ALL MEMBERS WHO PRE-PAY THROUGH THIS WEBSITE.
NB: Tickets are on sale up to 1 hours before an event commences. After this time, you may still be able pay on the door subject to availability. For all members' privacy, the club's address is only provided on the membership approval email that you will have received. Please check your spam folder if you can't locate this in your inbox.
FAQS
Are there ID requirements or an age limit to enter the event?
You must 18yrs or older to attend an event and photographic ID (Driver's license, Passport or a Government issued ID card are accepted) MUST be produced at the front desk on each visit.
What does the payment look like on my card statement
Bookings appear as EBGFG on a card statement
We have two singles accounts with the club, Can we come as a couple?
You can certainly attend together, but, unless you have applied and been approved as a couple, admission is according to the membership category you fall under. Some events offer discount admission to registered couples to make it more attractive to attend when single males are also in attendance. Merely 'hooking up via apps and websites or even at our front door (we see it on the camera) does not make you a couple. When singles attend together, we expect them to play together and stay together at all times. If one of the other is found on their own within the club for a protracted period of time, or raises complaints from couples for behaving as a single, both may be asked to leave.
What can/can't I bring to the event?
You should bring your ID and your own alcohol should you wish to consume it because the club does not sell alcohol. A selection of soft drinks, water and tea/coffee are available on the house. Because this is an adult event where sexual interaction may occur, we always advocate that you should bring condoms and practice safe sex, but in the event that you forget, these may be purchased at the front desk.
You MUST NOT bring drugs to the club. We do not condone the use of drugs under any circumstances and we may confiscate any suspicious substances, ask you to leave the club immediately and report such incidents to the police.
You must not bring chewing gum to the club.
What are my transport/parking options getting to/from the event?
By London transport, we suggest Aldgate, Aldgate East or Liverpool Street as the nearest TFL stations. we are within a few minutes' walk from each. The Night Tube runs from Liverpool Street on the Central Line, connecting to the Victoria, Jubilee and Piccadilly Lines.
The 25, N15, N205 & N253, N550 & N551 Night Buses all run from stops within Aldgate and Aldgate East, just 2 minutes' walk away.
By car, there is nearby street parking which is free after 7pm. Please contact us for more information once your membership has been accepted.
Is my deposit / ticket transferrable?
I am afraid that all deposits and tickets are non-refundable and non-transferable.
Where can I contact the organiser with any questions?
You can reach us via the 'CONTACT US' page on our website www.guiltfreegirls.com or by email at info@guiltfreegirls.com
Date and Time
Location
Provided to via email after booking only
London, E1
Refund Policy