Location
Craneware PLC
1 Tanfield
Edinburgh
EH3 5DA
United Kingdom
Description
Girl Geek Scotland Mentoring Community: Crossing The Great Divide
Tuesday 5 September 2017
Almost half of womwn in the digital technology sector come from non-tech backgrounds such as creative arts, business studies and natural/ social sciences. (Tackling The Technology Gender Gap Together).
Whether you you are looking for a proven initiative to help recruit and retain women in digital tech, or whether you are planning on professional training, going back to work or enrolling on a graduate scheme, our workshops can help you. This event uses a range of case studies from industry, showcasing proven initiatives designed to equipt women with the skills they need for a digital technology career. Please come along to meet likeminded people and engage in lively discussion and action planning!
Partners and sponsors are invited to make announcements near the close of the event. This is the perfect time to let others know about your own Graduate Schemes or iother training initiatives.
Pre-register on Eventbrite
Please pre-register for the event as there are limited spaces and fire regulations mean that only people who register on Eventbrite can be admitted.


Workshops
1. Professional Training Schemes: Transitioning to a career in digital tech
Claire Hilditch, Craneware

2. Back to Work: Inclusivity and Diversity at Sky Technology
Ronnie Corse, Sky

3. Graduate Schemes: DXC's initiative to get students' into tech
Jane Ballantine, Girl Geek Scotland

Agenda
6:30pm-6:45pm - Registration and networking
6:45pm-7:00pm - Welcome and introductions
7:00pm-7:25pm - Presentations
7:25pm-7:50pm - Networking and refreshments
7:50pm-9:00pm - Workshops led by speakers
9:00pm-9:15pm - Wrap up & Partner Announcements
9:15pm-9:45pm - Networking and refreshments
Refreshments
Wine/soft drinks and nibbles provided.
Directions and Parking
Here is a GOOGLE MAP LINK and excerpt below for the location of Craneware offices: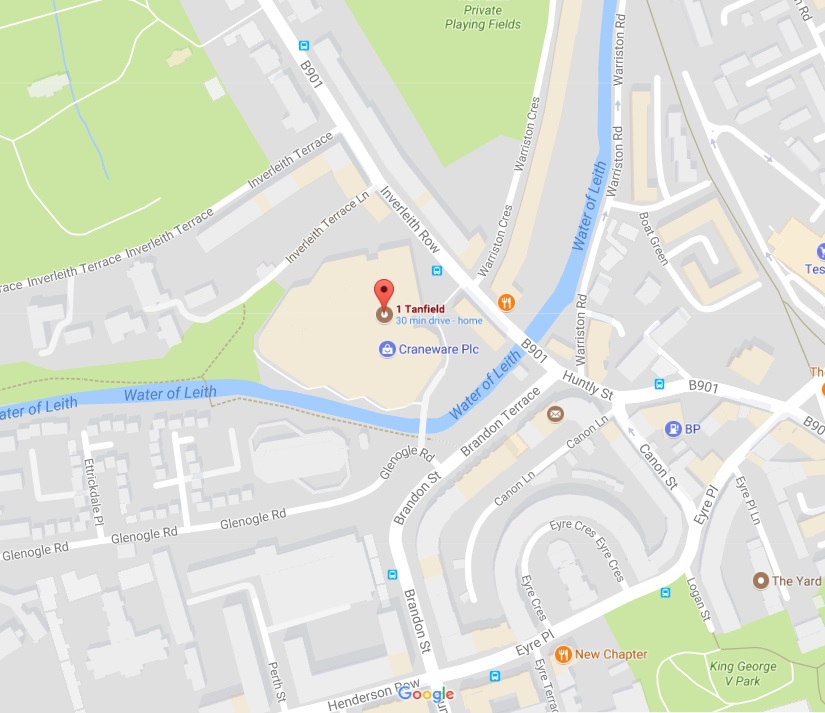 Please ensure you are pre-registered on Eventbrite so we can easily check you in. No private parking is available, if arriving by vehicle please forward plan your parking options. On street parking is available in some areas nearby. Here are some parking options via Parkopedia.com (you can filter on Street, Car Parks, or Private to view different options).
Workshop Details
All our workshops use selected case studies from industry and academia to help you develop your career and business. These are hands-on workshops, so please come prepared to engage in lively discussions and bring a notepad for action planning. Workshops are usually limited to around 20 participants and depend on the size of breakout spaces.


1. Professional Training Scheme: Transitioning to a career in digital tech
Claire Hilditch, Craneware
Workshop led by Claire Hilditch of Craneware PLC. Claire will present her journey from an arts education background to a career as a developer in digital tech.
This is an ideal workshop for anyone considering a return to study or going on a professional training course in order to make a sideways move into a digital technology career.
More details will follow
2. Back to Work: Inclusivity and Diversity at Sky Technology
Ronnie Corse, Sky
Thanks to the Get Into Tech programme, Sky is now a recognised leader in supporting returners and families through workplace initiatives. It won the 'overall top employer' and the 'top employer award for career progression' at the 2016 Workingmums.co.uk awards. Sky also won the 'best employer' award at the 2016 WISE awards for its Get Into Tech programme. This is the perfect workshop for anyone wanting to find out more about this initiative, thinking of a sideways move into a tech career or return to work after maternity or a period of absence. Also see Sky's Early Careers.

The case study was originally published in "Case Study, Sky (P34), Tackling the Technology Gender Gap Together: A Best Practice Guide for Employers" by Equate Scotland's and Skills Development Scotland, © 2017 CC-BY-SA
Synopsis:
This workshop will give you an insight into how Sky are encouraging more women into careers in Technology. The discussion will cover what Sky are doing as part of their Early Career outreach program at schools , colleges and universities as well as an overview of the award winning "Get into Tech" program.


3. Graduate Schemes: DXC's initiative to get students' into tech
Jane Ballantine, Girl Geek Scotland
DXC Technology (a spin out from Hewlett Packard Enterprises) developed a well-structred two-year Graduate Scheme but realised this was too late to get school students to consider careers in technology. So, in conjunction with their graduates, they created a work experience programme and a schools initiative, which is having an impact in getting more girls into technology and onto their Graduate Scheme.
This workshop looks at the needs of students and employers at different stages of career development and the barriers facing young women entering IT at school and in the workplace, and how these can be overcome. Based on a case study from Emma MacRitchie of DXC Technology, we will look at successful strategies that can be adopted and lessons that can be leaned.
Girl Geek Scotland's Mentoring Community
Girl Geek Scotland (GGS) has been developing world-class educational and networking experiences for women in Digital Technologies since 2008. We see the engagement of women in technology as being critical to the competitiveness of this sector, and to the development of our economy.
We are working to build a fantastic community and make it as easy as we can for interested people to find mentors in their area. Find out more information on our website.


Sign up for our Online Community
Register for the GGS online community and be the first to find out about new events, the latest new or strike up a conversation with others: http://www.girlgeekscotland.com/join
GGS Event Policies
Please refer to our Anti-Harassment Policy and Event Photography / Videography Policy as set out on our website. Your acceptance of which is assumed should you register to attend one of our events.


With enormous thanks to our Parent Organisation and Main Partners:

Now home to over 18,000 students from over 100 countries, we first welcomed 800 students as Napier Technical College in 1964. However our story goes back to the time of John Napier, the brilliant sixteenth century mathematician and philosopher from whom we take our name. When you come to Edinburgh Napier University, you'll study at one of our six specialist schools. Each of our schools is an impressive institution in its own right, with world-class facilities, academics, researchers and international links.

Bright Red Triangle (BRT) offers a comprehensive set of professional/personal development activities for students and graduates in partnership with key stakeholders within and beyond Edinburgh Napier. Our focus is on improving the enterprise skills and employability of our students and graduates while instilling them with an entrepreneurial mindset. We offer business incubation services, paid consultancy experience as well as design thinking and design your future courses to our current and past students.

LINC Scotland is the national association for business angels in Scotland, with a membership which includes many active individual investors and most of the main angel groups or syndicates. We represent our members at government level in Edinburgh, London and Brussels and were founding members of both the European Business Angels Association (EBAN) and the World Business angels Association (WBAA). Since 1993, we have played a significant and active part in changing the business culture in Scotland and the Scottish business angel marketplace is now recognised as amongst the most developed in Europe.


In continued gratitude to our Subscribers who help to achieve our four key aims of: Sharing Best Practice, Profiling Women, Supporting the Delivery of Training, and Being Visible Allies by signing our Declaration of Support for Women in Technology:












With hearty thanks to our Event Sponsors: