Ghana/UK Trade and Investment Opportunity Growth Forum – AfCFTA in Focus.
To showcase and discuss the Trade and Investment opportunities between Ghana and the UK and highlight the potential opportunities
About this event
MODERATORS:
Rubby Golo, Executive Director -Global Chamber® Accra
Rubby Golo is Executive Director for Global Chamber® Accra... In addition Rubby is Founder/CEO of Global Trade Consult, a firm that helps companies understand access and manage business opportunities by helping foreign companies grow their business in Ghana.
Rubby grew up in Germany but now based in Accra, Ghana and she is an experienced Trade & Investment expert with a demonstrated history of working in the International Trade & Investment space for more than two decades with UK Trade and Investment (UKTI) and now Department for International Trade (DIT) before setting up her business.
Global Chamber® is a growing and collaborating community of CEOs, executives and leaders in 525 metro regions around the world... connecting member businesses to new opportunities and advancing growth and success. It's the only chamber of commerce in the world operating in hundreds of locations that helps exporting, importing and investing members to connect through warm introductions to clients, partners, projects and resources.
Kathleen Keith, Executive Director -Global Chamber® London
Meet Katie Keith, a British / Australia Citizen, originally from a small colonial town on the outskirts of Sydney, Australia. Katie moved to the UK in 2016 to pursue international career exposure, and to complete her master's degree at Henley Business School. Katie is now pleased to call the UK home.
As a Thought Leader with 20 years' experience within the Institutional and Retail Banking space, Katie has extensive exposure to corporate leadership, business growth and change management strategies within the corporate and finance sector.
Katie operates her Executive Coaching & Business Consultancy practice and works closely with companies such as Equals Group Plc, and Business Networking International (BNI), focused on developing and managing business growth and corporate partnership opportunities.
Katie also works very closely with prominent business networks in the UK focused on connecting decision makers and business owners into her global network. Having recently been appointed as the Executive Director within the Global Chamber, Katie's mission is 'to make a big world small' one genuine and authentic business connection at a time.
Hon. Patricia Kenneth Divine
Principal Consultant and International Trade Specialist for Synergy Systems Consults (UK) Ltd. With over 15 years experience on International trade advisory & business development, Patricia Kenneth-Divine has worked extensively with several foreign and local SMEs, mid–sized and global corporate UK & overseas businesses, fund aided projects, Government Departments etc. With extensive Industry knowledge of the business environment within emerging economies, with her expertise has applied practical business methodologies that has transformed global opportunities for change and success in Business.
She is also very passionate about Increasing and promoting partnerships and Investments into Africa and had led on the implementation processes for high value opportunities within the UK and Africa/Sub-Saharan Africa, with a diverse approach to the engagements with Public, Private sector and Government Department. Her previous engagements at the Department of International Trade and as an International Trade Adviser for the Energy & Sustainability sectors in West-Africa has also accelerated her performances in promoting and developing new strategic business methodologies. Even within the disruptive environment, she is still being able to influence and develop dynamic approach to maximize multi sector opportunities through research, high level advisory, partnerships, project management, policy dynamics etc to increase export performance and turn around global opportunities.
She has dynamic expertise and interest for Africa/ Sub-Saharan Africa. Providing expertise for emerging economies through a potential Business Growth Network aimed at powering opportunities through partnerships. Her passion for Business Improvement and continuous process improvement has led her to demonstrate her success stories within the Business Community. She has been instrumental in the successes of potential and dynamic projects across Africa from Energy, Oil and gas, Renewable, Agriculture, Infrastructure etc She is also promoting trade and investments opportunities with the African Continental Free Trade Agreement AcFTA within the United Kingdom.
She is also a Champion for Diversity and inclusion, promoting a transformation and Innovation agenda through ethnic and minority business engagements. She has also been driving a global, strategic initiative in protocol and diplomacy.
Currently the Principal Consultant for Synergy Systems Consults (UK) Limited and Director of the International Centre for Protocol and Diplomacy.
SPEAKERS
Antonio Tombanane - Managing Director at GBIT Recruitment Ltd. I am very passionate about technology and skills. I am the founder of Tech Expo Humber (Tech Week Humber). An international event held in the region to recognise local tech talent and businesses. We want to encourage more young people into tech. Promote our region as a place to do business with and showcase the best tech coming out of the region to the world. As MD of GBIT Recruitment Ltd my team and I work tirelessly to help our clients find the best talent for their businesses. We work in partnership with many businesses across the UK and internationally. Named in the 50 most inspiring, prominent, and influential black voices in UK tech. Voted in the 20 most inspirational business leaders in Hull and East Yorkshire X2. Member of Forbes Business
Louis Yaw Afful - Trade Practitioner and the Executive Director of AfCFTA. Policy Network with a strong private sector development skill, former finance director for a large Retail Group for over a decade and he helped grow profits over 100%. A former Country Director of M.I.P Ghana, a management and exchange program firm based in the UK. He also was the CEO of commodity trading firm called LOBI Enterprise. Louis has worked closely with international agencies like African Union CFTA, a Board Member of Globe Chamber of Commerce, A Board Member of Ghana Chamber of SMES. He is a team Member of SEEDS DUBAI a Multinational group firm in UAE.
Louis has featured in many international conferences and international media interviews, a member of the Technical working group on the AfCFTA of Ghana, Ministry of Trade and Industry. He was a member and a Rappoteur on private sector consultative team who worked on the CFTA agreement now called the African Continental Free Trade. He has sound economic understanding currently, the largest international free trade NGO focused on the implementation of the African Continental Free Trade and Women of Africa Network.
Louis was given a citation recently by the CFTA unit of Department of Trade and Industry of the African Union for lead championing of Afcfta, and also commended to have started the AfCFTA international stakeholders made up of AfCFTA, experts, chief Negotiators, ambassadors, etc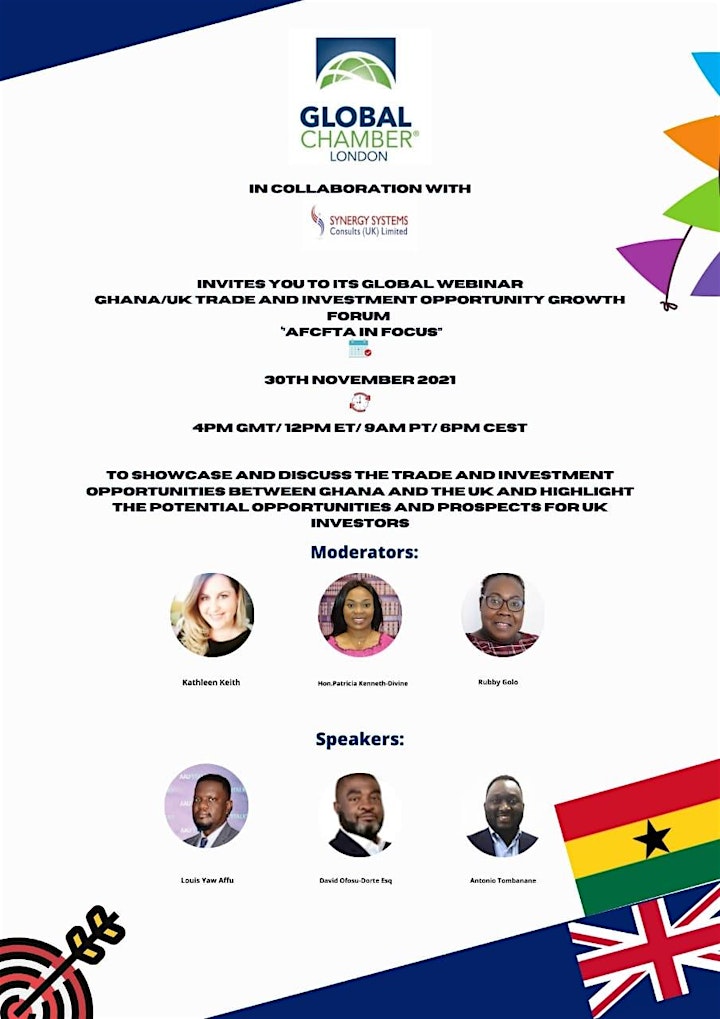 Organiser of Ghana/UK Trade and Investment Opportunity Growth Forum – AfCFTA in Focus.