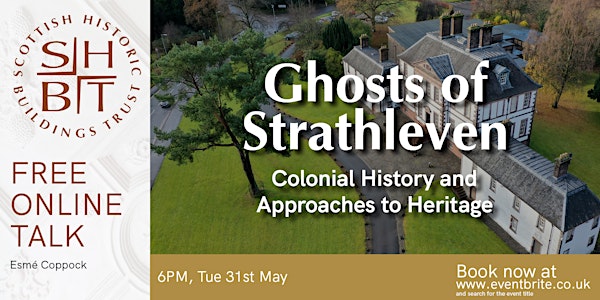 Ghosts of Strathleven: Colonial History and Approaches to Heritage
Esmé Coppock investigates stories of colonial exploitation, and searches for approaches to heritage which recognise this past.
About this event
Thomas F. Gieryn eloquently wrote that buildings 'are forever objects of (re)interpretation, narration and representation'; their walls hold stories of our past. Strathleven House was owned by James Ewing, enslaver and MP for Glasgow, and his heirs, and contains histories of colonial exploitation and the legacies of slavery.
This talk investigates some of these stories, challenges accepted narratives, and searches for approaches to heritage which recognise this past. As part of this, the talk will look at approaches taken by other organisations and consider how these can be applied to Strathleven House and other projects more broadly.
Esmé Coppock is a fourth year Architectural History and Heritage MA student at the University of Edinburgh, with an interest in innovative approaches to architectural heritage and conservation.
I am passionate about twentieth-century architecture and I'm using my dissertation to investigate the architecture of Seely & Paget, exploring their approach to Modernity and, more broadly, how society values twentieth-century heritage.
I have also used my studies to explore approaches to heritage and conservation, questioning why certain buildings are conserved and how these structures are presented to the public.