GIFTS OF THE HOLY SPIRIT MENTORSHIP
Description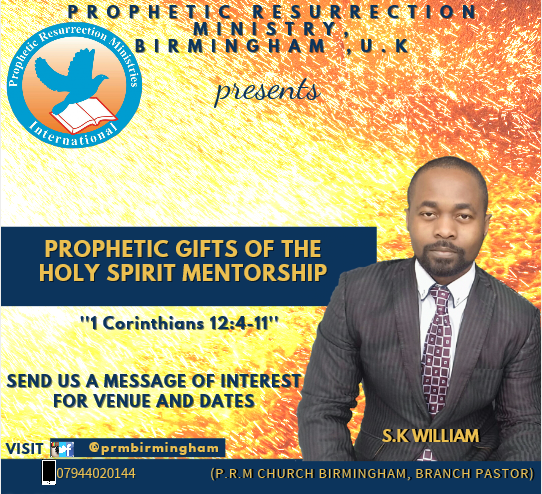 CHILD OF GOD,
DO YOU LIVE IN BIRMINGHAM OR OTHER PARTS OF THE WEST MIDLANDS?
DO YOU SENSE YOU HAVE THE PROPHETIC SPIRITUAL GIFTS OF THE HOLY SPIRIT?
DO YOU WANT TO UNLOCK AND OPERATE THE SPIRITUAL GIFTS OF GOD FOR YOUR LIFE?
DO YOU FIND IT DIFFICULT TO UNDERSTAND SPIRITUAL HAPPENINGS IN YOUR LIFE?
DO YOU WANT TO KNOW ABOUT THE SPITUAL GIFTS FROM GOD?
DO YOU HAVE AN APOSTOLIC OR PROPHETIC CALLING?
IF YOU WANT ANSWERS TO SIMILAR QUESTIONS OR THE ABOVE,WE CAN ASSIST YOU. IT IS FREE!!!
GET IN TOUCH BY SENDING A MESSAGE OF INTEREST AND WE WILL SEND YOU THE TIME AND DATES FOR OUR MENTORSHIP MEETINGS. SHARE THIS OPPORTUNITY WITH LOVED ONES.
GOD BLESS YOU