About this Event
Our Gin & Jazz Charity Gala Evening will be hosted at the stunning London Hilton Terminal 5 Hotel in Slough, London. Guests will enjoy a welcome drinks reception followed by a fine dining three-course meal with live music and entertainment throughout the evening provided by the fantastic jazz band – 'Hot Shoes' with an opportunity to learn some popular Jazz moves. Exotic Gin drinks by Gin Wala will also be on offer on the night.
The aim of the night is to raise much needed awareness and funds for the charity Duchenne UK to help fight a horrible, life limiting muscle wasting condition - Duchenne Muscular Dystrophy for which there is currently no effective treatment or cure for all that suffer.
We encourage guests to dress up in 1920's attire to enjoy the Jazz theme but smart evening dress and black tie will also help you look the part.
The evening will include:
A welcome drink
A beautifully prepared three-course meal
Complimentary bottles of red and white wine on each table (limited - more can be purchased at the bar)
Tea / Coffee for afters
Live Jazz, Swing and modern music entertainment throughout the evening by 'Hot Shoes'
Jazz dance entertainment with the opportunity to learn some popular jazz moves for yourselves
Caricaturist sketching some great memories of the evening
One complimentary unique bespoke Gin drink served up by the special mixologist and 'Gin Wala' (more can be purchased at the Gin Bar)
A live auction for you to bid for some amazing items
A bar for you to purchase drinks throughout the night
A soiree of fun dancing to end the night
Please note that this event is for guests 16+ years only.
For further information on tickets or to help sponsor the event, please contact us:
Sejal Thakrar: 07931 303 954 Manoj Thakrar: 07801 397 617
Aarti Sawhney: 07872 063 111 Aman Sawhney: 07958 511 379
Email: gala@smilewithshiv.org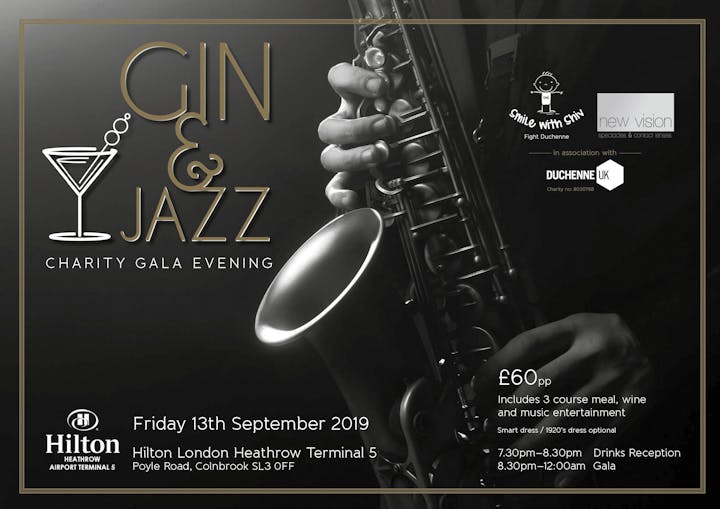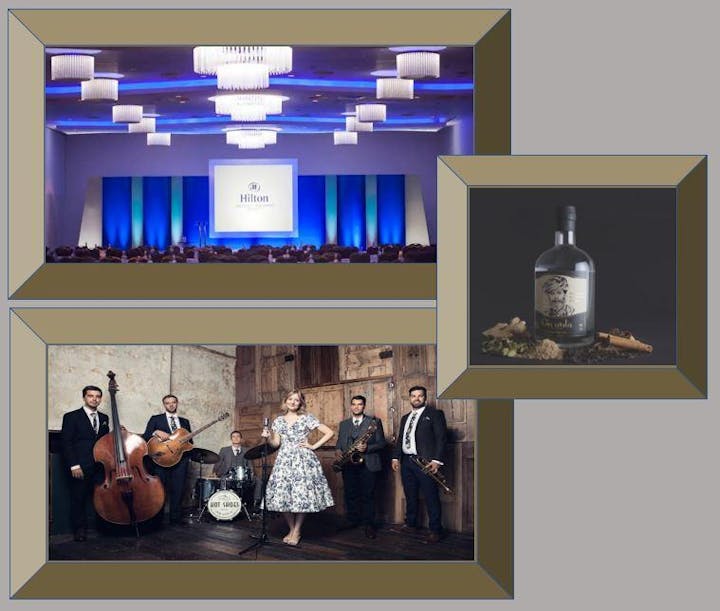 About Smile with Shiv
Smile with Shiv is a family fund that was set up by Sejal & Manoj Thakrar when their 8 year old son, Shiv was diagnosed with Duchenne Muscular Dystrophy (DMD) in April 2014.
DMD is a horrible progressive life limiting muscle wasting condition of which there is currently no effective treatment or cure for all who live with it.
Sejal & Manoj found themselves in a race against time. Deciding not to sit back and wait for a treatment or cure to materialise but to act to and do what was possible to speed up the process. For this reason they have set up the 'Smile with Shiv' and the goals are simple:
Raise awareness of Duchenne Muscular Dystrophy
Raise as much money as possible so it can be given to those working to save Shiv's life and thousands of other children with this horrific condition
Work with the Duchenne community to ensure we have access to potential treatments as early as possible
Smile with Shiv are working closely with 'Duchenne UK', a leading UK charity , to raise as much money for the Duchenne Research to help find an effective treatment and a cure for this horrible progressive condition - We are helping the World's Strongest Boys!
Please visit the web site for more details.
About New Vision Opticians
New Vision Opticians are a friendly, helpful & professional opticians providing a personal eye care service located in Rayners Lane, Harrow.
in 2018 New Vision Opticians won the Small Asian Business Awards. This year, they celebrate 10 years in business serving so many in their local area.
For many years, New Vision have been supporting Smile with Shiv as a charity partner and helping them with their mission and goal to Fight Duchenne. An annual charity open day is held at the branch showcasing many designer sunglasses and raising funds involving customers and the local community.
Please visit the web site for more details.
About Duchenne UK
Duchenne UK is a lean, ambitious and highly focused charity with a clear vision: to fund and accelerate treatments and a cure for Duchenne Muscular Dystrophy (DMD), and to do so in a decade.
The charity was co-founded by Alex Johnson and Emily Crossley whose sons are also affected by Duchenne Muscular Dystrophy.
DMD is a devastating muscle wasting disease and is the most common genetic killer of children worldwide. Duchenne UK aim to eradicate it in 10 years: TO END DUCHENNE IN TEN.
They have an innovative approach to funding. Not only do they fund basic research, but they fund clinical trials. They fund the doctors and nurses in the UK to deliver those trials: and they look at where ever possible, they can accelerate research and work with industry and regulators to get drugs approved for this generation of boys with DMD.
Please visit the web site for more details/