Description

'Round here, we believe it's tradition that drives Christmas. It's about seeing all of the people you love gathered in one place, laughing and feasting and enjoying each other's company, free from the confines of Real Life for just a couple of days. It's about watching Macaulay Culkin run through the streets of New York on a murderous rampage while the dog tries to eat all the chocolates on the tree. December is a month for nostalgia and for the past 5 years, Ginvent.
Our little calendar is an inclusive affair and a shared experience, giving you the opportunity to try 24 new spirits and join an online community of gin fans doing the exact same thing. We've upped the ante this year, creating a Ginvent experience you can actually climb inside…
For one weekend only, Gin Foundry will be decking the halls with boughs of holly and playing host to a pop-up Gin Bar, which will serve all 24 Ginvent gins alongside masterclasses and tasting sessions.
We'll be doing speed tastings, cocktail slurping and a '12 Days of Christmas' Ginvent Odyssey, chucking quite a bit of booze your way for a very wallet-friendly price. 'Tis the season, after all…
What's more… Fever-Tree will be on hand to meet your mixing needs at the Ginvent Pop-Up, topping up your tasting glasses with their award winning tonics. Those of you who haven't yet had a chance to try their brand new Aromatic Tonic Water are in luck; the light pink, historically inspired drink will be served alongside their full range, so prepare yourselves for 2016's answer to an ancient Navy staple – the Pink Gin.
Speed Tastings Saturday 17th December & Sunday 18th December. £15.
This fast paced and fun event is based on the concept of speed dating, though we've swapped out all of the usual anxiety for gin… After a welcome G&T, you'll be seated at your table (meaning yes - you can attend as a group and no, there's no need for awkward chat) and visited by six brands who will swap over every 8 minutes, all trying to woo you with their gins. You'll be invited to try them neat and in a mini G&T as you hear about how the spirits are made and best served. Sure, you may not find your future spouse, but you're bound to find a gin that'll keep you warm through the winter.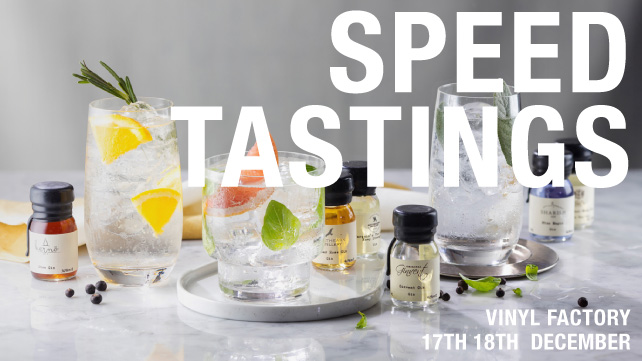 An Evening With… Friday 16th December & Saturday 17th December. £20.
Three Gins will play host to this evening event, each giving you a chance to try their spirits in the form of a festively elaborate cocktail. After a welcome G&T, you can rock around our Christmas tree while, in half hour intervals, three superbly boozy cocktails make their way to you. Three cocktails (plus a G&T) for £20? What's not to love?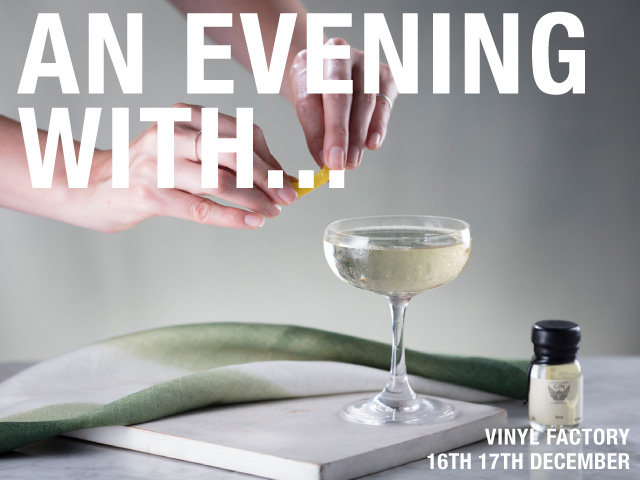 12 Days of Christmas Sunday 18th December – 2 hours. £20.
In this uber geek session, Gin Foundry's Olivier Ward will talk you through 12 of the 24 Ginvent gins, teaching you how to articulate the flavours you're experiencing while he shows you which garnishes best suit which gins. After an initial six-gin tasting, you'll be given a half-hour intermission to get your senses back before trying the final six. We know that gin wouldn't be nearly as appealing with its fizzy little friend, so there will be a handy supply of tonics on the table for you to stir in with your samples.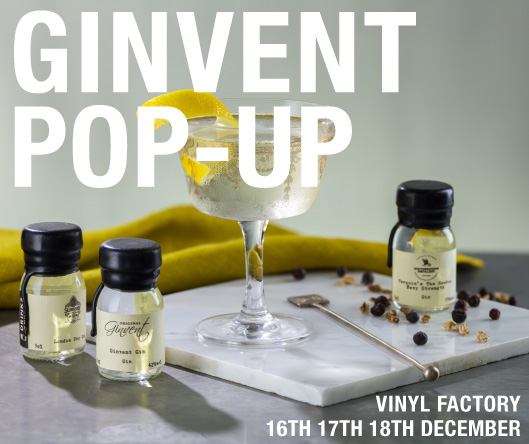 The Ginvent Pop-Up is proudly sponsored by: