Location
Medallia Ltd.
80 Cheapside
London
EC2V 6EE
United Kingdom
Description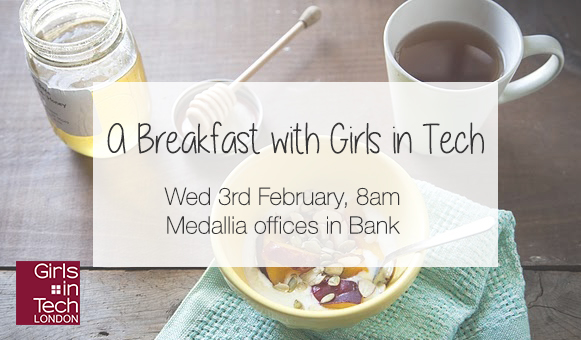 As part of our Girls in Tech breakfast series, we've teamed up with Medallia (again!) to bring you "Managing a Growing Team".

Join us bright & early for a scrumptious breakfast in the Medallia offices, conveniently located in Bank, including networking and an inspiring talk with Q&A.

Special thanks to Medallia (a disruptive tech unicorn) for hosting & sponsoring us!
About the speakers:


Karen Law, Director, Medallia
Karen has worked at the intersection of people and technology for over a decade, constantly seeking ways for technology to enable a smarter future. Seeing Medallia's EMEA operations through 4x growth, she spent the past 2 years building out a sustainable framework for SaaS professional services in the evolving space of customer experience management. Applying the engineering principles of operational efficiency and design thinking to both internal and external organisations, she established and currently leads one of Medallia's largest Customer Solutions teams.
Prior to joining Medallia in London, Karen worked for various technical consulting and research organisations in the U.S. She was recognised by the American Society of Mechanical Engineers as the "New Face of Engineering," for her interdisciplinary work on societal impact through technology. She holds bachelor's and master's degrees from the Stanford School of Engineering.

Eric Sun, Engineering Manager, Facebook
Eric is an industry leader in using big data and analytics to build consumer-facing products. Since 2008, he and his teams have been building out the Facebook Entities Graph, which continues to serve as the backbone of Facebook's ads business and various social experiences. In addition, over the past 2 years he has overseen the technical and cultural onboarding of 80% of the engineering team at Facebook London during its 6x growth from 80 to 450 engineers.
Before Facebook, Eric worked for Cornerstone Research, using data analytics for economic consulting. He holds 4 U.S. patents and has published numerous papers on various data science topics. Eric earned bachelor's degrees in Computer Science and Economics and a master's degree in Statistics from Stanford University.