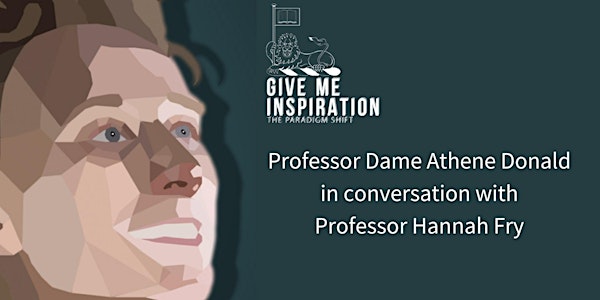 Give me Inspiration! The Paradigm Shift with Professor Hannah Fry
A series of conversations with distinguished academics hosted by Professor Dame Athene Donald.
About this event
The event featuring Professor Dame Athene Donald and Professor Hannah Fry this Thursday, 3 February at 5.00 pm (GMT). Please find below the joining details for the Zoom webinar. Please note that your camera and microphone will be turned off throughout however questions can be submitted through the Zoom Q&A function on screen. We hope you enjoy the discussion.
Please click the link below to join the webinar:
https://chucamacuk.zoom.us/j/82808974816
Webinar ID: 828 0897 4816
Passcode: Bxnn613Mx9
What do academics actually do? What motivates them to get out of bed each morning and to deliver what is — or in many cases what isn't - expected of them?
For a student setting out, the life of senior academics may seem very mysterious, particularly as many may end up taking on responsibilities and activities far removed from where an individual started. The trajectory from student to senior academic is rarely a straight line, with twists, setbacks, time out and/or opportunities (taken or declined) all to be combined with a personal life.
This series of conversations aims to explore the individual paths of some eminent academics who have made it to the top in their own particular ways. How have they found their own solutions to 'life', what tips do they wish they'd been given earlier on, and what might they view, retrospectively, with most pleasure or regret?
The next in this series of conversations will be with Professor Hannah Fry, Professor in the Mathematics of Cities at University College London
This is an online event held via Zoom. Places are free but bookings are essential.
Professor Hannah Fry
Professor Hannah Fry is a Professor in the Mathematics of Cities at University College London. In her day job she uses mathematical models to study patterns in human behaviour, and has worked with governments, police forces, health analysts and supermarkets. Winner of the prestigious Zeeman Medal recognising her work in engaging the UK public with mathematics, Hannah is also a trusted and well-recognised presenter. Her expertise is regularly called upon to develop and host documentaries, present radio shows and podcasts, and give talks to a range of audiences. Her ability to engage and enthuse people with even the most complicated topics is equally evident on the page and her books delight readers around the globe.
*Photo of Hannah by Charlie Clift