Description
Description
The GivingForum was launched to bring individuals from GivingForce's wider network together to discuss important topics in-depth and share best practice. This first GivingForum North will be on the topic of "Beyond CSR: Moving to a mutually beneficial shared value approach"
This session will explore how companies can go beyond traditional CSR programmes by influencing business strategy within their organisation so it aligns both commercial and social objectives. More specifically, taking a step back from where companies are now (and the 'tactics' of existing programmes) and focusing or re-focusing on the WHY (i.e. what is the BIG goal or objective, and what are the drivers). It will look at how adopting a shared value approach can not only tackle social issues on a much deeper level, but also increase competitive advantage and gain stronger economic success.
Integrated in the right way, a shared value approach will enable the development of mutually beneficial cross-sector partnerships that will increase social impact and deliver tangible business benefits, including increased brand awareness and loyalty.
Guests can arrive from 2:30pm for a prompt 3:00pm start. A detailed schedule will be shared closer to the time.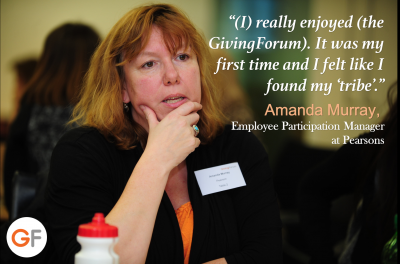 Further Information
We're inviting pioneering individuals to come together to discuss how to nurture CR leadership in themselves, their teams and their employees. The gathering will be an intimate, open and interactive opportunity to discuss important topics in-depth, explore how your peers are implementing best practices, and contribute your own ideas to the sector.
About our speakers
Crystal Hicks

Crystal is Director of Development for Oasis Community Housing, and sits on the board for Women in Social Housing (WISH) NE and the Chartered Institute of Housing. She is also a Director for Society Matters CiC. She has managed small and large scale corporate partnerships with the VCS in the North East and London and has an MA in Cultural Management.
Leigh Thompson
Leigh is the Founder of gotPurpose, a consultancy company that works with business leaders to develop responsible business and purpose led strategies aligned to business goals. She has 22 years' experience in a leading FTSE 100 company (Sage Group plc), with 13 years in corporate responsibility roles. She was responsible for setting up and leading their CSR function, and later their global charitable foundation.
Ejaz Rashid
Ejaz is the CEO and Founder of GivingForce and has been one of the early advocates of using technology for social good. He created the GivingForce Portal to enable companies of all sizes, such as YBS, to manage all of their CSR programmes. The Portal and support services enable organisations to focus on strategy, delivery and engagement and takes care of processes, compliance and reporting.
RSVP
Please RSVP by clicking the 'register' button. If you know someone else who may be interested in attending, please do forward this invite to them. If you have any queries related to the GivingForum, please contact events@givingforce.com
We look forward to seeing you in September!
We would like to thank YBS Group for kindly hosting the event.
"Every firm should look at decisions and opportunities through the lens of shared value. This will lead to new approaches that generate greater innovation and growth for companies—and also greater benefits for society." – Creating Shared Value, Michael E. Porter and Mark R. Kramer
Organiser of GivingForum North: Beyond CSR: "Moving to a mutually beneficial shared value approach"

GivingForce provides enterprise software to help corporations around the world manage their charitable giving programmes. Designed to make workplace giving easier and more efficient for corporations and their employees, the GivingForce Portal includes modules on Payroll Giving, employee volunteering, matched fundraising and more...