Author Maggie Ritchie talks about her latest novel, a story of independence, art and female friendship in early 20th century Scotland.
About this event
Join author Maggie Ritchie in conversation about her latest novel, Daisy Chain, a story of independence, women's art and female friendship from the early 1900s to the mid-1920s, ranging from Kirkcudbright to Shanghai via Glasgow and back again.
Inspired by the eventful and colourful lives of the pioneering women artists the 'Glasgow Girls', Maggie Ritchie has crafted a fascinating novel about two young girls who set off on different paths – one to the Glasgow School of Art and then to China, and the other on an uncertain path as a dancer.
Lily Crawford and Jeanie Taylor are from very different backgrounds in Kirkcudbright. They share their ambitions for their futures but they lose touch when Jeanie flees domestic abuse and joins a dance company, while Lily attends The Mack, Glasgow's school of art designed by Charles Rennie Mackintosh.
A chance meeting brings them back together and on to the glamour of 1920s Shanghai, where they must resort to desperate measures to ensure their safety.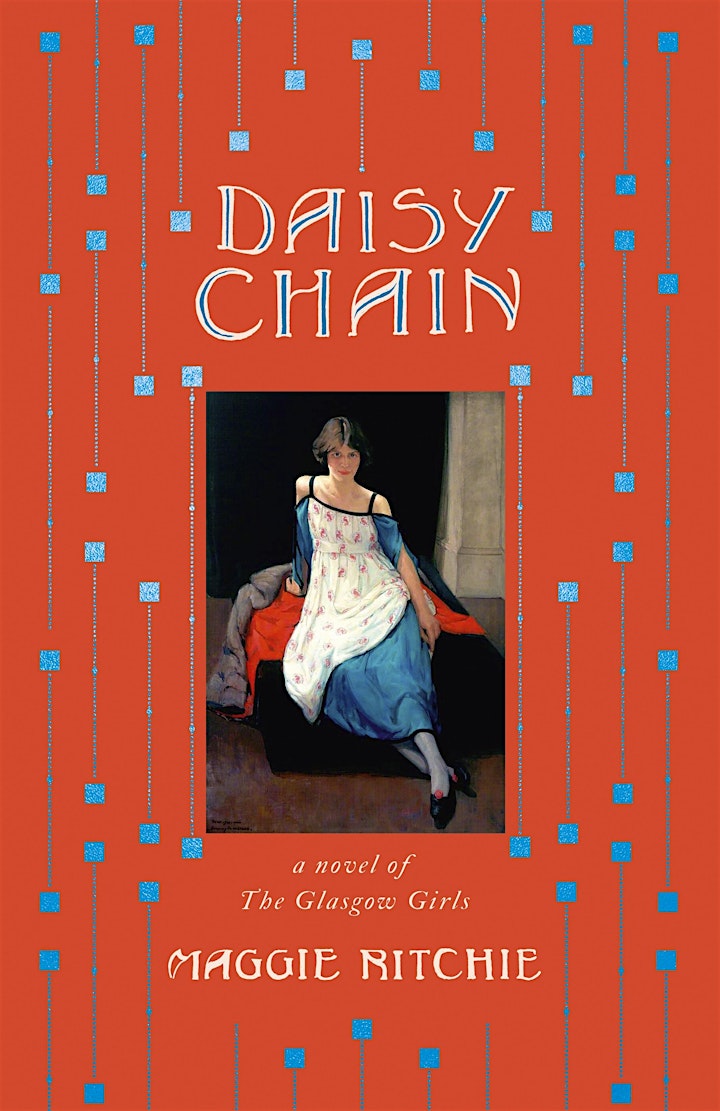 About the author
Maggie Ritchie is a journalist who was awarded a grant to do her research for Daisy Chain in Shanghai. Her debut novel, Paris Kiss (2015), won the Curtis Brown Prize, was runner up for the Sceptre Prize and longlisted for the Mslexia First Novel Competition. The German edition has appeared on bestseller charts, and the novel has also been translated into Czech. Her second novel, Looking for Evelyn, (2017), was shortlisted for the Wilbur Smith Adventure Writing Prize for Best Published Novel 2018. Maggie graduated with Distinction from the University of Glasgow's MLitt in Creative Writing. She grew up in India, Zambia, Spain and Venezuela before settling in Scotland, where she lives with her husband and son.
About the event
There are a few steps to the front door of the building.
It is intended to hold the event in a room on the ground floor, but depending on the physical distancing restrictions at the time it may be moved to a larger room on the first floor. Attendees will be advised beforehand if this is the case.
Organiser of Glasgow to Shanghai: the world of two Glasgow girls
The Arlington Baths Club is an historic Victorian bathing complex, owned and run by members for members on a not-for-profit basis. Founded in 1870, this community club is the oldest of its kind in the world.
Our 'A' listed building is home to a 21 metre sky-lit swimming pool with trapezes and travelling rings, a unique and beautiful Turkish suite, saunas, a steam room, free-standing slipper baths and hot tubs, a gymnasium in an airy Victorian loft, a spacious and elegant old Reading Room and a members' lounge. Every member of the club has a personal peg for their swimming costume so they can pop in any time for a swim. Costumes are then cleaned and dried, ready for their next visit.
 We're a community with rich memories. Many members joined as children to swim with their parents; they're now bringing their own children to the Baths. From learning to swim, to swinging across the pool on the rings, to relaxing in the warmth under the star-studded dome of the Turkish suite, the Arlington Baths is a special place with a colourful history and strong sense of community and heritage.