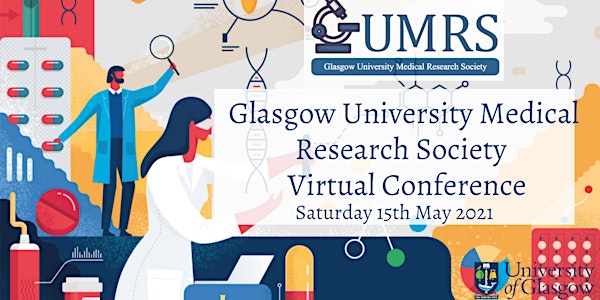 Glasgow University Medical Research Society Virtual Conference 2021
Glasgow University Medical Research Society is excited to announce that this year's Conference will be held on Saturday the 15th of May 2021
About this event
We are excited to be hosting this conference virtually and have invited doctors leading their fields to deliver a series of talks and workshops on topics at the cutting-edge of research a, hoping to engage even more students in academic medicine. It's also a prime opportunity for those interested in presenting original research of their own to an audience - with cash prizes to be won!
We welcome medical students and early year trainees (FY1 + 2) with an interest in evidence based medicine.
Oral Presentation and Poster Competition
We welcome abstracts from all aspects of medicine and surgery. This will be a great opportunity to present any research, audits or reviews at a conference.
Abstracts
Abstract submission is via the google form: https://forms.gle/BCgCuNonYuBD8jjS7 . Please make sure you adhere to the guidelines.
The top three abstracts will be offered the chance to give a 7-minute oral presentation followed by 3 minutes for questions at the conference itself. All other accepted abstracts will be entered into our poster presentation competition. The winner of the both the oral and poster competitions will receive prizes.
Workshops
A series of workshops will be running in the afternoon focused on introducing and building the skills necessary for a career in research.
1. Developing an Academic CV
2. How to present a research paper/project
3. Guide to Audits
4. Guide to Literature Reviews
If there are any queries regarding abstract submission or the conference itself feel free to contact the organising committee at glasgowmedicalresearchsociety@gmail.com