Description
Glastonbury FM's Fourth songwriting competition. We are giving listeners from the South West a great opportunity to play some of the best festivals in the area and some other great prizes.
To enter pay your entry fee by clicking the Get Ticket link on this page and pay for your entry/entries then email your entry to livers3@yahoo.co.uk
How to enter
1] Click the Get Tickets Link on this page
2] Buy the ticket that represents your entry
One Song Adult £10
Two Song Adult £15
One Song Concession £7
Two Song Concession £10
3] Email your song/ songs to livers3@yahoo.co.uk
Concessions are for all in full time education, the unwaged or over 65's
You can also post your entry to
Glastonbury FM Songwriting Contest
The Red Brick Building Centre
Morlands Enterprise Park
Morlands Road
Glastonbury
Somerset
BA6 9FT
These are prizes that a national competition would offer and entries are limited to a 25 mile radius of Glastonbury, the span of acts we have on Thursday Live. We as a radio station are proud of our local music scene and pleased to be a part of it. All entries get played on the radio station and a large number of the acts end up with a live session on Glastonbury FM.
Entries for the contest close on 16th April 2017 at 2300. Finalists will be announced on 19th April 2017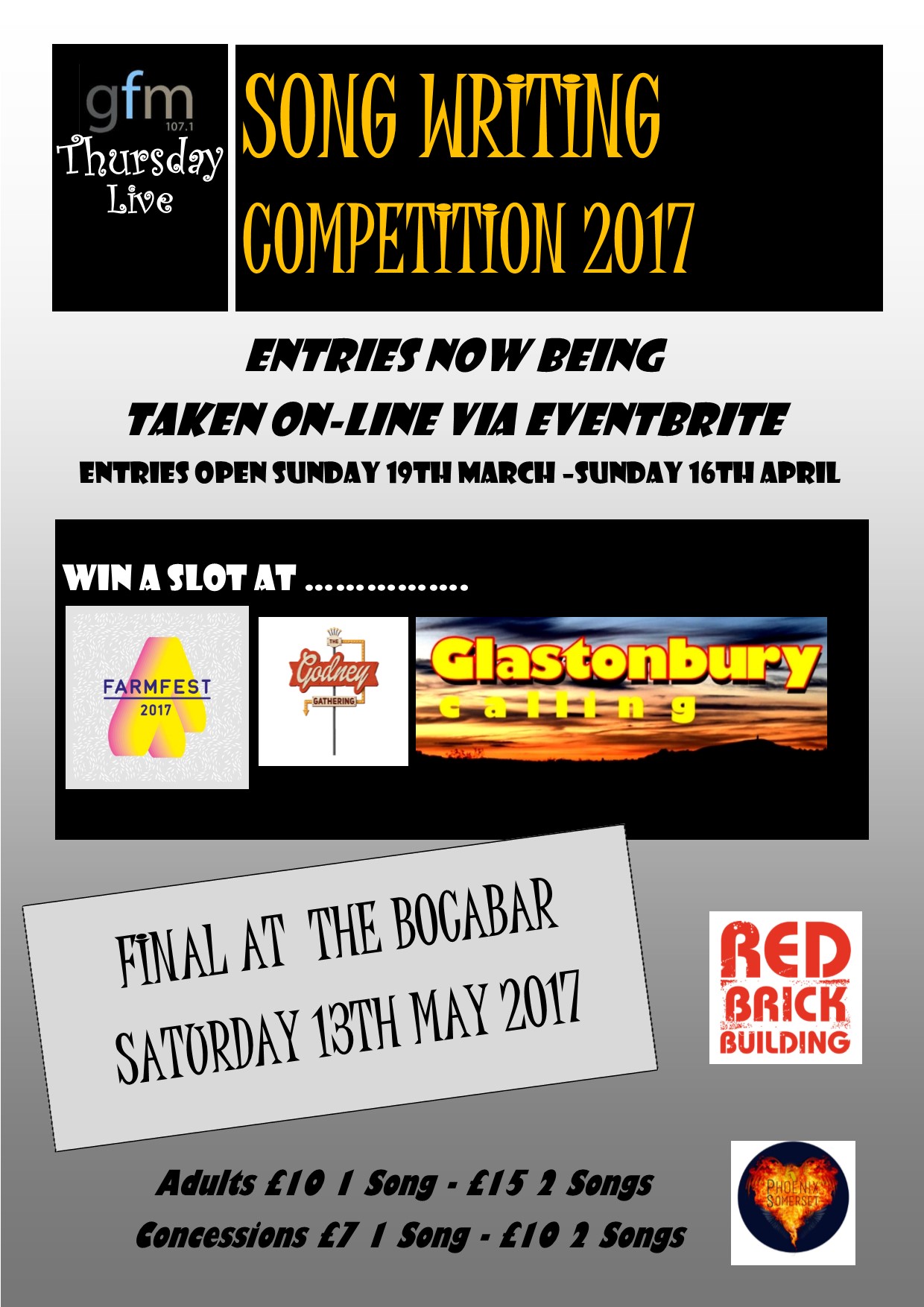 The prizes are:
For the bands to play on the GFM Stage at this years Godney Gathering amongst a stella line up of acts in this widely aclaimed one day music festival on a prime slot and a festival which will sell out
For acoustic/ solo acts to play on the main acoustic Stage at the Farmfestival near Bruton alongside some great up and coming acts. The Farmfestival has a great reputation and sells out every year. You will have a great weekend and be part of a brilliant occasion.
to play at Glastonbury Calling 2018 a great multievent festival which sold out in 2017 across the great venues in town.
On all of the above festival prizes they include event passes for the acts.
http://www.thegodneygathering.com/
http://www.farmfestival.co.uk/home/
http://www.efestivals.co.uk/festivals/glastocalling/2016/review20
We will have a finals night for the top selected entries at the amazing Bocabar Venue in Glastonbury on Saturday 13th May for you to peform your entry a great chance for all our finalists and they will also get a chance to play a session on Thursday Live our show which covers the local music scene presented by Ian Liversidge.
Concession fees are for all people in full time education, the unemployed and over 65's.