About this Event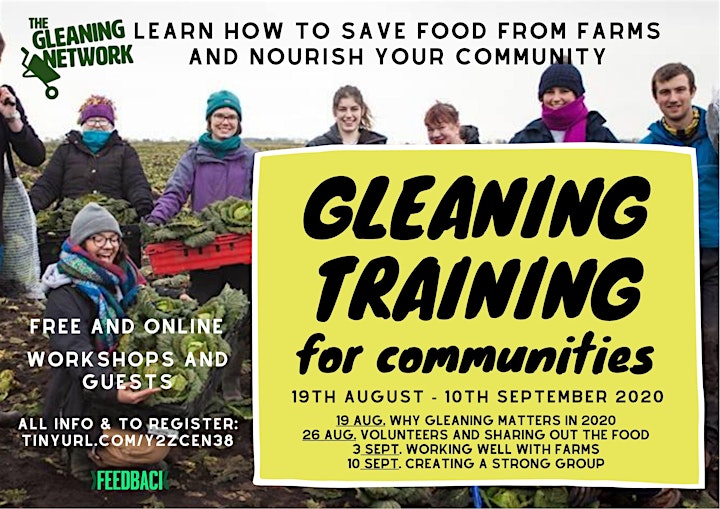 Why Glean in 2020?
Communities are leading the way in gleaning food from local farms across the UK.
2020 could be the year farm level food waste peaks due to the huge disruption to the food system from the Covid-19 pandemic. Meanwhile demand for food banks and emergency food distribution has hit a level of need that signifies a crisis.
Gleaning offers an opportunity for straightforward environmental and social wins- food waste on farms is reduced and supply of fresh food to those in need is increased.
In an effort to spread gleaning nationwide (see map of existing gleaners), Feedback will be hosting these weekly training webinars for community groups who are interested in starting, or are at the early stages of setting up, a local gleaning group. The weekly webinars begin on 19th of August and will run through to 10th of September - if your organisation is interested in taking part then we'd love to hear from you!
We particularly encourage those working in or with rural communities who have seen issues around access to fresh produce exacerbated by COVID-19.
**All training has been updated to comply with Covid-19 guidelines**
Who is this for?
The training is targeted at members of community groups or organisations who are interested in leading gleaning projects in their local area. You may have already started gleaning or recently had the idea that it's something you'd like to do; it may be that gleaning is new to you, and you would like to find out how it could work in the context of your local community food response. This training course aims to propel your project forward to being a better equipped and more knowledgeable gleaning machine.
The Webinar Content
1) Wednesday 19th of August 10am-11.30am - Why Gleaning Matters in 2020
The first webinar is for anyone who's curious about gleaning and wants to find out more. If you're not sure whether you're ready to do the full training, this is for you. It will introduce you to the necessity and the fun of gleaning and the role it can play in reducing farm level food waste, supplying wholesale volumes of fresh produce to organisations supporting people in food insecurity in 2020. It will also give an overview of the training.
Webinars 2, 3 and 4 together make up the full training for the gleaning toolkit. If you want to lead and organise gleaning this year we recommend that you attend all three (you'll need to book each separately)
2) Wednesday 26th of August 10am-12.30am - Working with Volunteers and Sharing Out The Food
The 'how to's of gleaning, including recruiting, managing and safe supervising of volunteers, and the practical and logistical aspects of distributing the food.
3) Thursday 3rd of September 10am-12.30am - Working Well with Farms
How to build trusting relationships with farmers, including how to introduce your group to commercial growers, and some insights into the pressures farms currently face and how gleaning fits with that.
4) Thursday 10th of September, time tbc - Creating a Strong Group and Network
Supporting your organisation to get its gleaning operation established and ready to rock, including ways that you can build your volunteer network, obtain funding and strengthen your group.
What will the webinars be like?
To keep the webinars participatory, inclusive and open to as many groups as possible, two members from each group/community will be welcome to attend. This enables you to discuss the content and apply it to your local scenario each week.
These webinars build on the Gleaning Toolkit, published last year, along with stories of success and lessons from failures. The webinars will be led by Phil Holtam and James Turner, who are experienced Feedback gleaning coordinators. We will also have guest gleaners to hear from their experiences and commercial growers who have hosted the Gleaning Network in the past. We intend for sessions to be dynamic and there will be the chance for discussions, small group working through scenarios, Q&As and getting to hear about the projects and challenges of other participants.
Follow up support
Following the webinars, financial support is able to be provided to help groups with the cost of getting off the ground, including for travel and equipment expenses.
Register here and if you have any questions about the webinars get in touch with phil@Feedbackglobal.org or james@feedbackglobal.org
We look forward to seeing you!