Description
Get your tickets for Global 12 Festival Summer 2019! 500+ guests confirmed.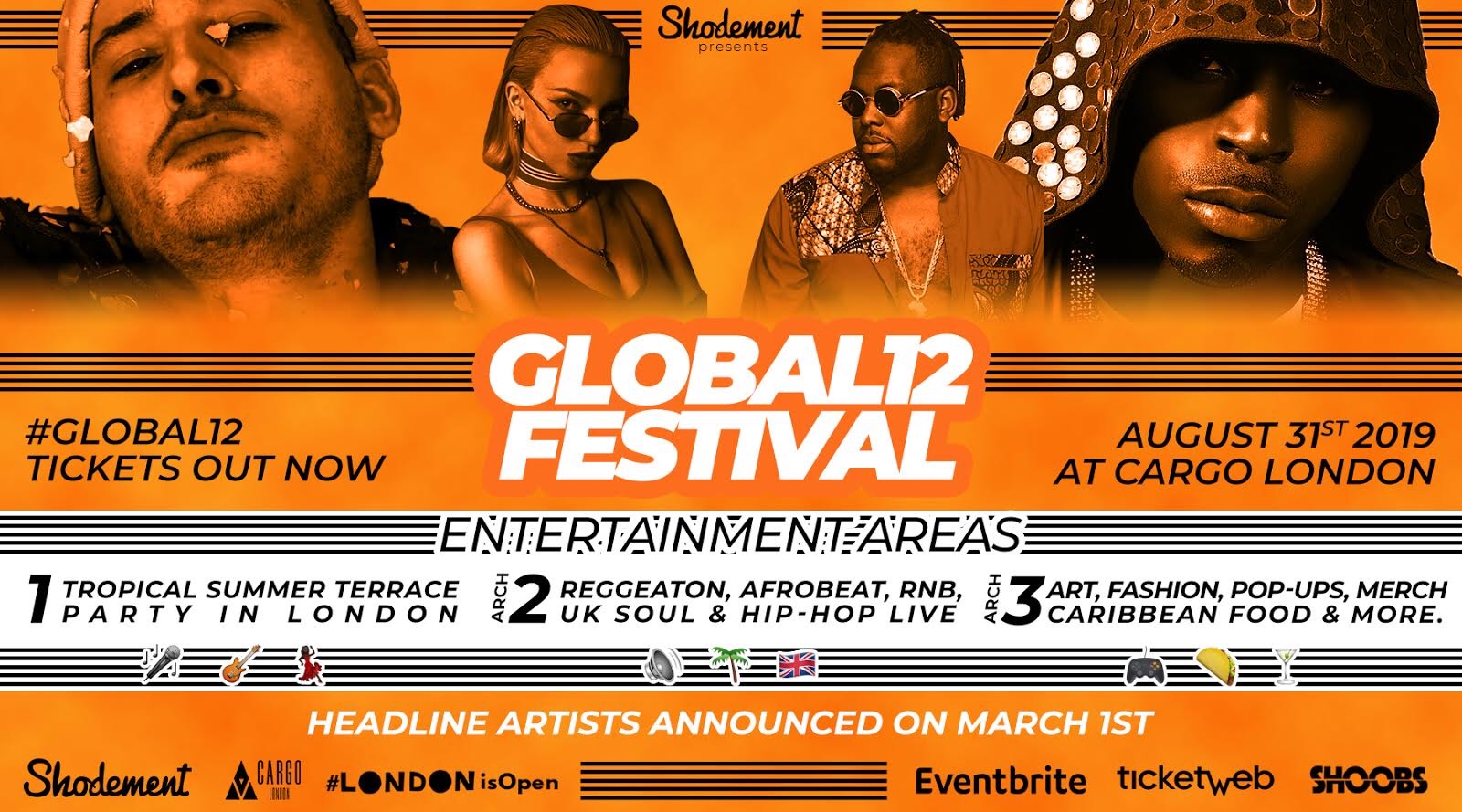 #Global12Festival - 12 Countries in one venue.
The Global 12 Festival, one of the most exciting weekends in the UK music calendar where artists and creators from around the world perform live in London, has confirmed the date of of the 3rd installment as Saturday August 31st 2019.
Event attractions consist of red carpet entrance, live music, pop-up stands, food vendors, interactive experiences across 12 countries within one venue with artistic decor, fashion, art, culture, sports, games, special guests and more!
HEADLINE ARTIST ANNOUNCED ON JUNE 31ST!
Already with 25 million views on one song and a host of collaborations under his belt so far such as Stylo G, Wiley, JME and AlunaGeorge, the name of headline artist will be announced on June 31st.

---
Shodement presents Global 12 Festival Summer 2019
in association with Creative Access, Kol Social, Purply, Unitone Collective Arts, Tribe London, Pulse 88 Radio, Mnrchy, Beatz London, Lonely Star Magazine, Sigrun, Fashion Inspired by London and Cargo London.
* Afrobeats, Reggeaton, UK Soul, Hip Hop, R&B, Party.
* Summer Cocktails.
* BBQ.
* Open-air dance floor.
* New iconic artists from London, Madrid, Paris, Amsterdam, New York, Milan, Shanghai, Lagos, Sao Paulo and more performing throughout the day!
* Dance crews performing across the venue!
* Red carpet entrance from 12pm
* Summer vibes with friends, connections and Industry guests from around the world.
* Global 12 City decorated with an Aquatic - Bubble gum style design inspired by the award winning Art Director Matt Crump.
* Surprise headline artist performing the most exciting live set of the event! (NEW)
* Pop ups and Interactive experiences from Fashion, Art, Culture and Sport (NEW)
International Line up: Silvastone (Ghana), Killtime (Spain), Nelick (France) and more.
UK Line Up: Talitha, Jay-Rico, July Jones, Savanna & more.
Headline act: Announced on June 31st.

---
LOCATION:
Cargo London.
18+ only.
Food & Drinks available to purchase on the day.
DATE:
Saturday, August 31st 2018.
ENTERTAINMENT AREAS: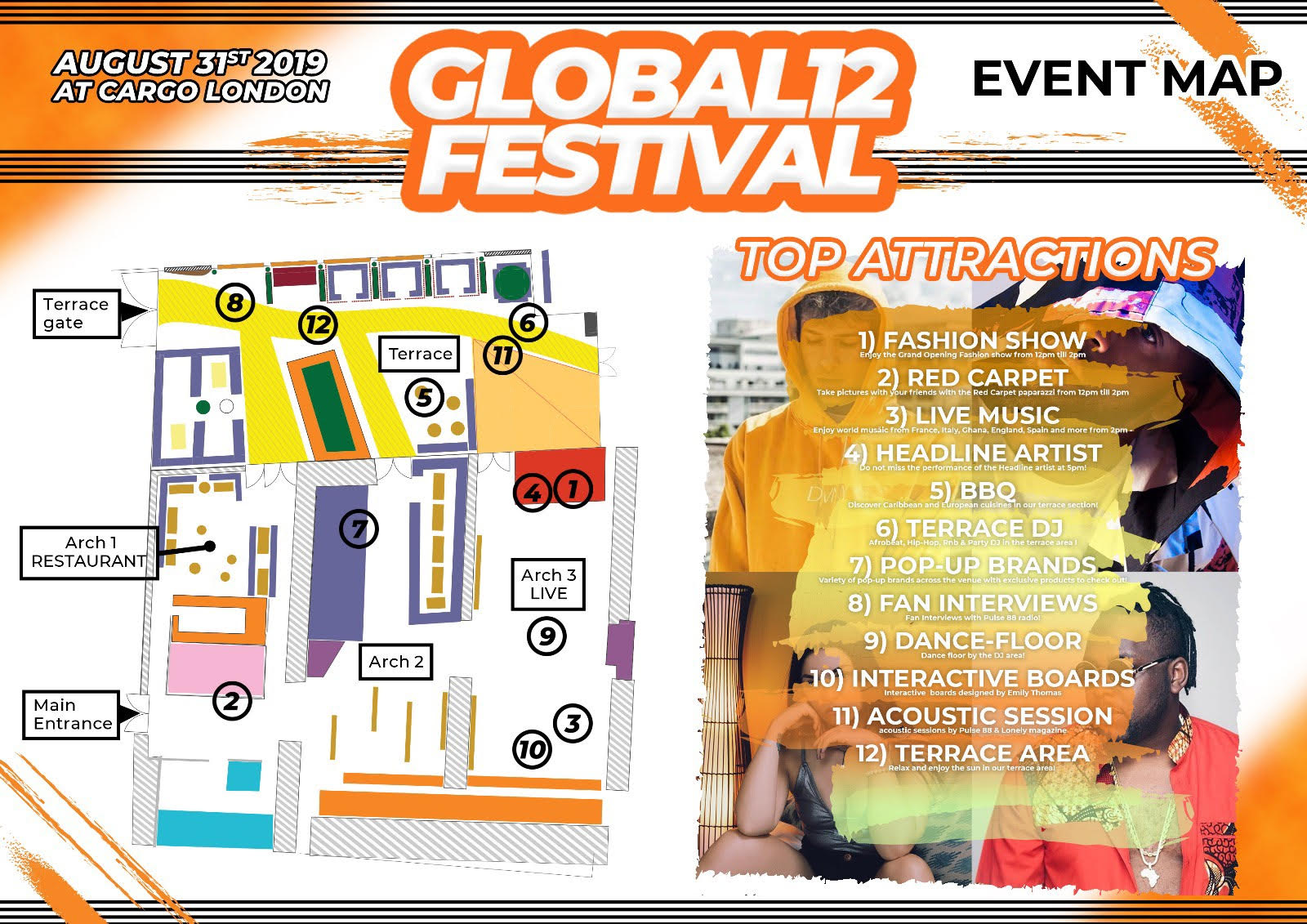 ---
IMPORTANT INFO:
Get your tickets now for the opportunity to experience Global 12 Festival 2019 this summer - snap them up now while you can!
How do I get my tickets?
1. Simply choose either one or five tickets (no more allowed per person), and hit the 'request tickets' button. Registration is required. Please bring your email confirmation along with you on the day.
Tickets also available on Ticketweb & Shobbs.

2. You did it! Now you have access to Global 12, and officially joining us on August 31st. The stage times of each artist are going to be announced nearer the date.
About the organiser:

Shodement focuses on the creation of the future music industry and development of artists emerging in the current space. Since launching, the talent network has grown to over 3 million combined views around the world and its creative agency arm has executive on the platform that delivered campaigns for major brands including Vogue, Adidas, Universal Music, Sony Music and SBTV. Read more at shodement.com