Global and UK Energy Challenges and Opportunities for Young Members
About this Event
Global and UK Energy Challenges and Opportunities for Young Members
The event will be delivered as a webinar. Details can be found in the confirmation email from eventbrite once registered. Please keep an eye on your mailbox.
Abstract
Decarbonisation and the current pandemic has created challenges to power industry, but they have also created opportunities. Here in the UK, the carbon intensity of the electricity system has halved over the last five years. We have seen the longest period of coal-free operation in Britain (67 days) and an impressive 83.77% share of zero carbon sources on the afternoon of June 21. These are underpinned by new technologies and more intelligent ways of using energy to tackle the challenges that decarbonisation brings. These are the exciting areas where young engineers and professionals can get involve and contribute to the global effort of decarbonisation.
We are excited and honoured to have the President of CIGRE and the Chair of CIGRE UK to share their insights.
This event is organised by CIGRE UK NGN and will be hosted by the University of Birmingham. It is also the first webinar of the Birmingham Power Systems Young Professional Seminar Series. The series invite leading experts worldwide to share their technical expertise and career advice with young professionals in the energy sector. It provides a platform for young professionals to learn and engage with peers around the globe.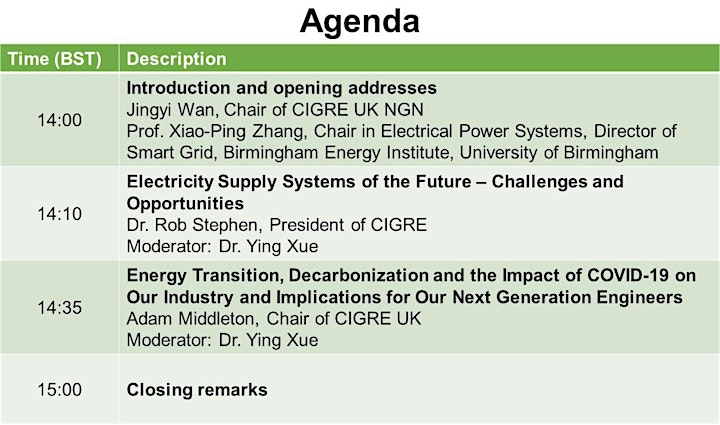 Dr. Rob Stephen was born in Johannesburg South Africa. He holds BSc MSc, MBA degrees as well as a PhD in overhead line design. He retired from Eskom on 31 January 24, 2020 where he held the position of Master Specialist in the Technology Group responsible for distribution and transmission technologies of all voltages covering both AC and DC. He was responsible for the smart grid strategy for Eskom. He is past chairman of Cigre Study Committee B2 on overhead lines and has held positions in Cigre of Special reporter and working group chairman and has authored over 100 technical papers. He was elected International President of Cigre in 2016. He is a Fellow of the South African Institute of Electrical Engineers and was awarded the President's award in 2016.

Adam Middleton has spent more than 35 years in the electrical transmission and distribution, energy and oil & gas industries.
Originally from the UK, he spent 21 years with GEC / GEC ALSTOM / ALSTOM Group companies in the UK and France as an engineer, Project Manager, General Manager, Operations Director and finally Managing Director of their UK Substation Projects business. He subsequently spent six years with GE Energy in Europe and North America, a further two years with CG Power based in Belgium and three years with Laing O'Rourke in the UK, responsible for both their electrical substations and new nuclear power plant construction business.
In 2016, Adam joined Siemens Energy Management as Divisional Vice President of their Energy Management activities in Belgium, France and Africa, covering projects, products, systems and services delivery. Starting in April 2019, Adam took over as Senior Vice President of the new Gas and Power Operating Company of Siemens in the Netherlands, integrating eight business units in anticipation of the flotation of the Gas and Power company in September 2020. He became the CEO of the newly formed Siemens Energy company in The Netherlands in March 2020.
Adam holds a First Class Honours Degree from the University of Bradford (UK) and an MBA from Warwick Business School (UK). He is a Chartered Engineer (C.Eng).
Chair of CIGRE UK since 2016, he was elected to the CIGRE Global Executive Steering Committee (SteerCo) in 2019, where he coaches the Women in Engineering and Next Generation Network groups.
Adam has a strong interest in the development of new and diverse talent within the engineering industry, the application of digitalization to improve business operations and project delivery, and has a passion for improving health and safety at work. He has a firm commitment to the Energy Transition and the delivery of decarbonization, specifically in the context of cross-sector management of the change process. He is based in The Hague, Netherlands.
Further Information
1. All delegates will be muted when joining the session. We ask all delegates to join with their cameras turned off.
2. Questions: Delegates will be invited to ask questions during the presentation. Please use the chat function in zoom (either to the 'Host' or to 'Everybody')