Global Benchmark 2015 - Early Insights of MENA Business Incubators

Wednesday, 3 June 2015 from 14:00 to 15:00 (Arabian Standard Time Saudi Arabia Time)
Event Details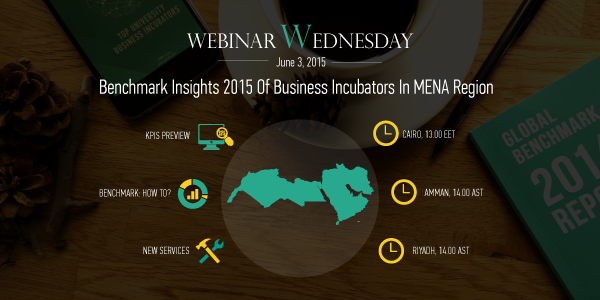 10 Region Specific Webinars in 7 languages over 1 day.
UBI Global would like to invite you to join us for our most ambitious and informative webinar event we have held to date as we present 10 webinars over 1 day in 7 languages.
Each of the 10 webinars will concentrate on a specific geographic region allowing you to select and view the country or region you belong to or the one you are most interested in gaining knowledge about.
Our international team of research operatives will present our findings and Benchmark results in languages corresponding to the region they worked with during the research process. Webinars will be available in English, Spanish, Portuguese, German, Russian, Arabic and Mandarin giving you an in depth look at your specific market and gain a sneak peek of this year's Global Benchmark.
Webinar Wednesday will be specifically interesting for those incubators that took part in this year's Global Benchmark but we would also like to invite incubator managers, aspiring universities, public organizations, policy makers, private corporations and those who are genuinely interested in incubation to join us on June 3rd for what will be a truly insightful analysis on incubation from around the globe.
During the webinar we will also take the opportunity to talk about how to become a member of UBI Global. Your University Business Incubator might be eligible to become a member of UBI Global and receive information, support, access to future and past benchmarks and much more. So whether this is your first time taking part in a Global Benchmark or you are a current member who is interested in taking the next step and upgrading your membership.
Due to your interest and involvement in incubation we would like to extend an invite to join us for UBI's WEBINAR WEDNESDAY on the 3rd of June. It will give you the opportunity to gain an exclusive live preview on some of our findings on each of the 10 regions we Benchmarked this year before they are fully published in UBI's Global Benchmark 2015 later this summer.
Do you have questions about Global Benchmark 2015 - Early Insights of MENA Business Incubators?
Contact UBI Global
When
Wednesday, 3 June 2015 from 14:00 to 15:00 (Arabian Standard Time Saudi Arabia Time)
Add to my calendar
Organiser
UBI Global is a Swedish-based research and advisory firm. Our unique partnership with incubators and accelerators produces the data to drive international business incubation related insights and networks. 

This data-driven approach, with the participation of more than 600 incubators in over 70 countries, enables us to help business incubators & accelerators become more efficient and competitive through a comprehensive global benchmark.