Event Information
Refund policy
Contact the organizer to request a refund.
Eventbrite's fee is nonrefundable.
About this event
The Global Business Conference is to educate others about various topics regarding Business.
Hosted by Regeline Sabbat also known as Gigi, is a Motivational Keynote Speaker, 2x Best Selling Author of the " Walk With Me" and " God First" books that have been endorsed by Les Brown, and Life Coach and Confidence Coach. First generation Haitian American, Financial Expert, Florida Chapter Leader for World Women Conference & Awards, the host of Walk With Me Podcast on JRQTV, Domestic Violence Advocate, Sexual Assault Advocate, Breast Cancer Advocate, Human Trafficking Advocate, and Mental Health Advocate, etc.
Meet The Speakers:
(Master of Ceremonies) Melahni Qualls Ake- Melahni Ake, is the founder of Everyday Leaders Professional Coaching and Consulting, a Certified John Maxwell Team leadership coach, speaker and trainer, and as a Certified WHY Institute Agent she helps others Discover their own WHY, Melahni professional influence began at Walt Disney World and carried into financial services, fundraising and medical device sales and leadership. She believes in the power of our mindset to design our life with purpose. She is a popular Event Master of Ceremonies, Voice Actor, Leadership Podcast Host of Everyday Leaders 50in50, best selling author, motivational speaker and life strategy coach who challenges her clients to dream beyond their limiting beliefs and create better strategic ways to make sense out of the possibilities in front of them to change the world. What she knows is that When you know your WHY, and START with WHY, What You Do has more Impact.
(Keynote Speaker) Raimonda Jan - Founder @WomenInBusinessClub - Empowering Women to Get Visible Leaders Online http://bit.ly/WIB-Group
Lakisha James- Corporate event planner, Set Designer, Mentor, Author, and Atlanta Chapter Leader for World Women Conference & Awards
Ragne Sinikas - Founder of World Women Conference & Awards (WWCA), Women
Entrepreneurs TV, Change Makers Coach, Public Speaker
Michael D. Butler -CEO of Beyond Publishing, Book Publisher, Global Speaker, Media Coach
Daniel Gomez-Keynote Speaker, Corporate Trainer, Executive Coach, Confidence Architect, and Author
Emma-Jane Taylor -Author, Keynote Speaker, Child Sex Abuse Activist & CEO of The Works Company
Jesse Cruz- Motivational Speaker, Certified Personal Development Coach, Grief Coach, and Author
Joy Brown- Razor Sharp Prophetess, Author of Amazon #1 International Bestseller. Award Winning Toastmaster, Vice President of Public Relations for The President's Distinguished Ladera Heights Toastmaster Club, Keynote Motivational Speaker and a member of the Les Brown Unlimited Team.
Veronica Sopher- Award-Winning Visibility Strategist With Over 20 Years of Public Releations Experience
Rene Michele- International Speaker, Author and Consultant at René Michele Speaker Author Consultant and Director at Renemichele.com
"Helping Child Abuse Survivors Find Hope & Healing To Build Confident Lives & Turn Pain Into Purpose"
Dr. Tania Simmons- Best known as a respected Apostle equipping and empowering others, Global Humanitarian, Professor of Academia, Teacher, Global Entrepreneur, The CEO of Global Empowerment Firm, Founder of Healing For The Nations INC, recognized and invited to be a part of P.O.W.E.R for Women and Strathmore's Whose Who Worldwide for Top Leaders in Business, a member of The Nurses Business Association 1st place in The National Shark Tank competition in 2015 in Las Vegas Nevada, is also a voice to help empower women and men globally. She also has her own thriving business in International Currency Trading isuccessbrand.com/profit4purpose where she helps men and women learn how to grow their wealth through education and cutting edge strategies in a 6 trillion dollar market.
Munira Zahabi- The Niche Navigator, An Author, Speaker, Influencer and Entrepreneur
Tess Tims- International Best Selling Author, Trainer and Coach
Chip Baker- Best Selling Author, Speaker, and Podcaster. Live. Learn. Serve. Inspire. Go get it!
Ntsiki David- CEO at Othilla Global Consultancy
Annie Koshy - Creative/Art Director at Pixels Multimedia, Radio Talk Show Host at Sauga 960 AM, Actor / Model / Voice Artist at Carolyn's Model and Talent Agency, and Owner/Photographer at Annie J
Darren M. Palmer - Founder of Self Publish -N- 30 Days, #1 Self-Publishing Company in the World, 10x Author, and Host of Multiple Podcasts: Self Publish -N- 30 Days Podcast, The Power of Story Podcast; award-winning, Author Spotlight and Market Leader Live.
Dr. Anastacia Lewis - Platinum President at Platinum President With Ardyss International
Molika Gupta - Patent Licensing Consultant, Entrepreneur, Expat Coach, Speaker, Podcast Host, and Co-Author of "ReDesign Your 9 to 5"
Mark Villareal - Business Coach, Consultant, Speaker, and Best-Selling Author of 8 Published Books, 35-Year Veteran in Corporate America, Expert Guest on ABC, CBS, NBC, FOX, Sandy & Friends, and Most Recently Hollywood Live with Jack Canfield
Chris Salem - World-Class Speaker, Life & Business Strategist, Award Winning Int'l Best Seller Author, and Radio Show Host at Christopher Salem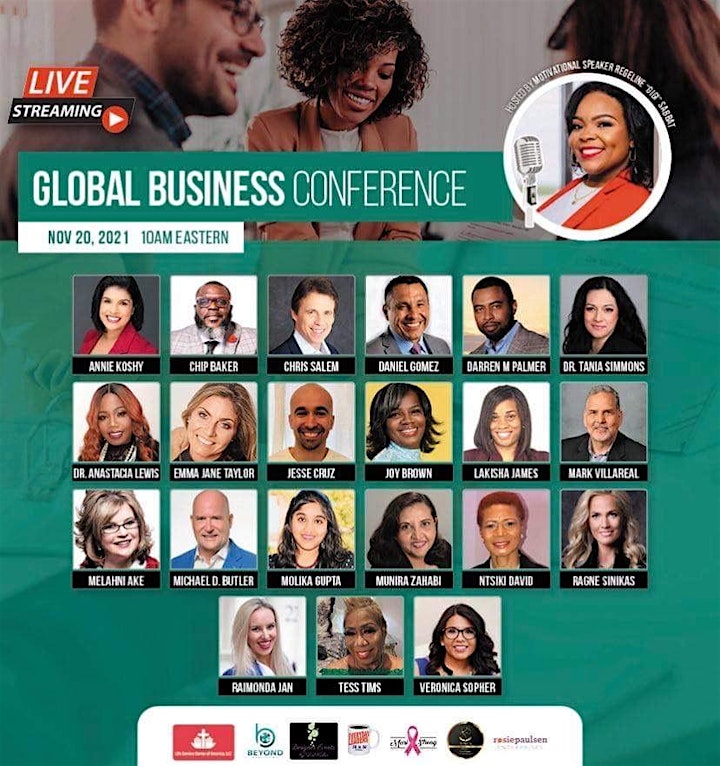 Date and time
Location
Refund policy
Contact the organizer to request a refund.
Eventbrite's fee is nonrefundable.