Refund policy
Contact the organiser to request a refund.
Eventbrite's fee is nonrefundable.
Let's take care of ourselves and businesses post C-19... Two , high impact, virtual sessions over two days..
About this event
About this Event...
Welcome to the start of something incredibly SPECIAL..
This is your chance to join a connected community in the WORLD'S FIRST 'Global Business Wellness Movement'!
The GBWM is a change wave designed to inspire and guide ambitious C-Suite Directors, Business Leaders and Entrepreneurs towards creating businesses that are equipped for a stronger future, with a happier, highly productive workforce and a healthier planet!
There is no doubt that 2020 has been a challenging year for most of our Global population. The not for profit 'Global Business Wellness Movement' is being brought to you by several entrepreneurs, leaders and companies collaborating to bring positivism, inspiration and actionable advice to a global community of business leaders and their teams to boost life happiness and business success with top hacks from experts in mind, body and business success.
With limited spaces available, secure your 'early bird' ticket now to be a part of a motivational game changing movement, connect with other like minds and learn from experts on must-know topics including personal wellness, work-life balance, mindset, positive organisation change, business financial health, revenue growth, employee wellness and productivity.
'All of the above whilst taking better care of our planet with thousands of trees being planted and thousands of plastic waste items removed from our oceans with net ticket* revenues'.
TREES AND PLANTS ARE BEING BURNED, DEGRADED AND LOGGED AT ASTONISHING RATES. 46% of the world's forests are already destroyed.
The ocean is said to be Earth's life support, with 97% of the world's water held by the ocean. We rely on it to regulate our climate, absorb CO2 and it is the number one source for protein for over a billion people.
However, at the rate we are polluting the ocean with around 12.7 million tonnes of plastic a year, the damage we are doing to marine life and our ecosystem is becoming irreparable. Our actions over the 10 years will determine the state of the ocean for the next 10,000 years to come. (Source: https://www.condorferries.co.uk/plastic-in-the-ocean-statistics)
Let us do more to ensure our planet is healthy for future generations whilst growing our work success and life happiness.
*All purchased tickets are non-refundable.
The founders of GBWM are change makers who know how to put on great events and build community. We are c.500,000 businesses and leaders strong from businesses and sectors of all shapes and sizes, having delivered over 4000 successful personal and business events in this millennium.
You have three calls to action!
1. Block out your diary for the November 2020 launch
2. Book your tickets & follow the confirmation email instructions to join the private online community
3. Tell your friends, help the world
The big virtual launch happens over Tuesday 24th November 2020 and Wednesday 25th November 2020.
We are in negotiation with further fantastic change makers to be announced soon, and in the meantime speakers and panelists include:
Day ONE - Personal Wellbeing and Business Health.
1000 hrs GMT until 1230hrs GMT and then repeated at 1400 hrs GMT until 1230hrs GMT to allow for different time zones
Daryl Woodhouse – Business Growth Strategy, Productivity and Wellness Change Maker
Daryl is a 26-time award-winning business growth strategist and entrepreneur, mental health campaigner, mental fitness & productivity keynote speaker, author, business school lecturer, coach, and investor. When Daryl is not working hard with his love of helping others, you will find him enjoying being a hands-on Dad to his three children, listening to music, socialising with friends, and embracing the outdoors!
Billy Schwer - Ex world champion boxer, author 'Man Up' , Mental Toughness and Mental Boxing, Box Clever
Billy believes that to produce world-class results in all areas our lives require a balance of mental, physical and nutritional fitness.A Certified Master Practitioner of NLP (ABNLP), Certified Master Practitioner of Time Line Therapy, a Certified Master Practitioner of Hypnosis and Certified master NLP coach.Billy spent 20 years at the top of his field in arguably the most gruelling and demanding sport there is. During his professional career, he won British, Commonwealth, European and IBO World Boxing Titles.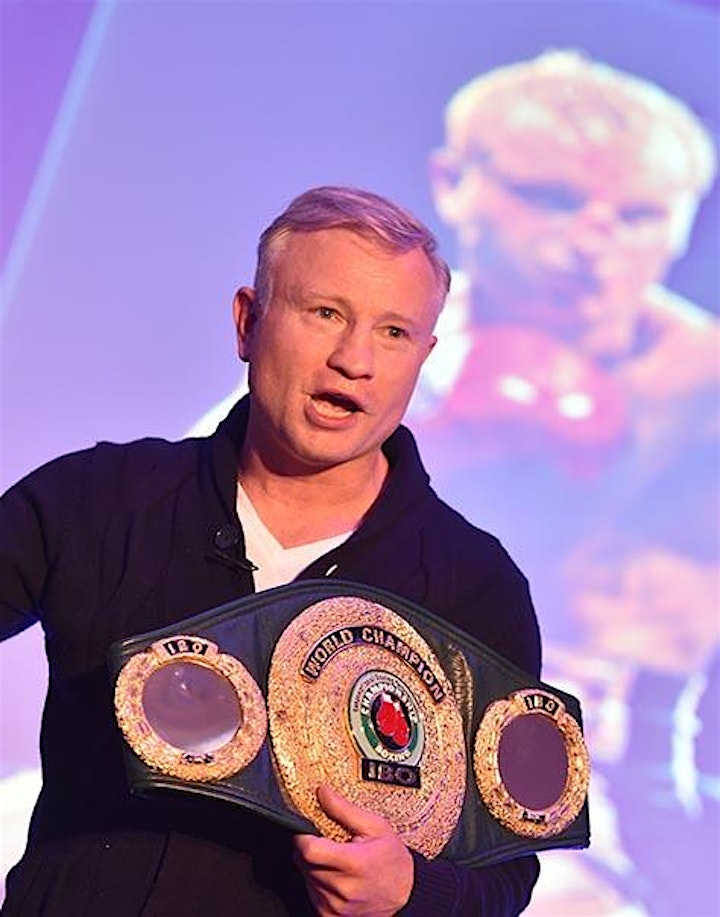 Wednesday 25th November 2020
Session TWO - Fit for Funding and Growth post Covid-19 - 1000hrs GMT until 1230 hrs GMT and then repeated at 1400 hrs GMT until 1630hrs GMT to allow for different global time zones.
Christian Kumar - CEO, Investment Director - Founder and Investor
Christian 's career over 30 years in corporate finance, investment banking and wealth management. He has created a "demand based" deployment model that allows rapid commercialization of ideas, a method of valuation and funding to motivate the stakeholders whilst minimizing risks to the investors. We rigorously mentor companies with a 3-5 year vision of strategic growth. Christian is supported by a highly skilled international advisory team to meet the needs of today's Corporate Finance and Investment Banking sector. With a portfolio of 6 companies and over 22 investments, in Leisure, Med Tech, Construction and Energy, Christian has been able to build a modern private equity house with a twist.

More speakers to be confirmed soon....
Contact: victoria@bright-starsgroup.com for further detail, press and sponsorship opportunities.