About this Event
In 2018, the University received funding from Research England to support research into challenges faced by low and middle income countries. 18 out of 47 applicants received grants of up to £50,000. This is the first of a series of seminars to give investigators the opportunity to share both research findings and what they learnt about the process of doing collaborative research.
Location:
Chancellor's Building, room 4.16
Schedule: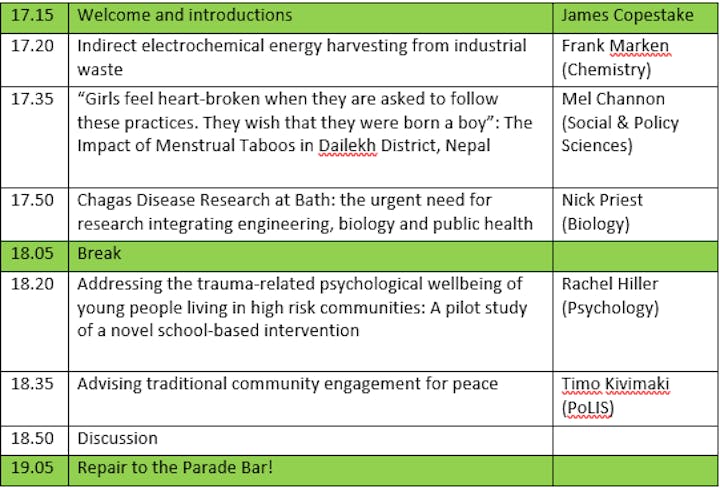 Abstracts
Indirect Electrochemical Energy Harvesting From Industrial Waste
This project was an opportunity to initiate a collaboration between researchers in Bath (UK), Owerri (Nigeria), and Johannesburg (South Africa) into electrical energy provision and recovery. The project allowed us to establish contact to the African Centre of Excellence for Catalysis, explore opportunities for cooperation and impact, and to exchange research ideas in the area of catalysis and energy, in particular on energy-harvesting membranes. As a result, GCRF research proposals (as well as other proposals) are envisaged for the future. In nature, energy is stored in chemical bonds and the transformation of "chemical energy" to "electrochemical or electrical energy" is the key to harvesting and storing energy in modern society (as well as in biology e.g. in photosynthesis). Freeing-up this energy from chemical bonds is part of the evolutionary struggle (e.g. for the digestion of nutritious elements of cellulose from grasses and trees) as well as part of the current technological struggle in human societies (e.g. converting waste plant materials and waste industrial streams directly into electricity). At the heart of this struggle is the choice of catalysis (the controlled breaking bonds at catalyst surfaces and under ambient conditions) as opposed to activation (the uncontrolled breaking bonds for example at high temperature; e.g. incineration). Only catalysis offers realistic opportunities to the ambient harvesting of residual energy from waste streams when technologies need to be mobile or operational in remote places. Our approach is based on a novel "indirect fuel cell" technology developed at Bath. The indirect fuel cell is based on a palladium membrane that allows energy released from carbohydrates to be converted to/captured as electricity. During the project know-how was exchanged, a new 3D-printed fuel cell was build and tested, and new applications in sensing were discussed.
"Girls feel heart-broken when they are asked to follow these practices. They wish that they were born a boy": The Impact of Menstrual Taboos in Dailekh District, Nepal
Menstrual taboos – which can include diktats on where to sleep, what to eat, social interaction, and religious participation – can have a direct negative effect on physical health and hygiene, as well as psychosocial and mental health. Despite the clear importance of dignified menstruation for satisfying basic human rights, as well as the negative health impacts associated with poor menstrual management, this remains a neglected area of research. In Nepal, the practice of chhaupadi, where women and girls are secluded in an outbuilding during their menstrual period, is a particularly severe menstrual restriction. At least five people have died as a result of this practice in 2019. Chhaupadi was criminalized last year, but our research shows that this is having little effect. This paper uses mixed methods to look at the multifaceted impacts of menstrual taboos in a remote, mid-Western district, where we find that chhaupadi is practiced by more than three-quarters of adolescent girls.
Chagas Disease Research at Bath: the urgent need for research integrating engineering, biology and public health.
Efforts are underway at the University to develop a multidisciplinary programme for the control of Chagas disease, a neglected tropical disease affecting an estimated 10 million people in Latin America. Though it is possible to treat it before the common outcome of heart failure, control of Chagas Disease is complicated by a lack of understanding of how blood-sucking insects spread disease, ineffective bug traps, and extreme poverty and lack of educational attainment of the people it afflicts. Thus far, we have developed an assay to assess the probability of disease transmission by bugs, we have built a collaborative network throughout Latin America and we are currently engineering better bug traps (through a collaboration between the Milner Centre for Evolution and C3Bio). We have identified suitable locations in Mexico for public heath interventions. Now, we want to develop a public information campaign and a strategy for engaging with local health authorities.
Addressing the trauma-related psychological wellbeing of young people living in high risk communities: A pilot study of a novel school-based intervention
South Africa is a LMIC where a significant portion of the population live with inequality and economic hardship, particularly in the large Townships. One such Township is Khayelitsha, in Cape Town, with an estimated population of 1 million, 40% of whom are under 19yo. As with other Townships, rates of trauma-exposure in Khayelitsha are extremely high but access to mental health support is very limited. This project involved a large screening study, to understand the trauma experiences and related emotional difficulties, for young people living in the Khayelitsha Township in South Africa. It also involved a feasibility randomised controlled trial of a group-based trauma-focused psychological intervention for young people identified as experiencing elevated posttraumatic stress difficulties.
Advising traditional community engagement for peace
The project offered capacity building in conflict resolution for conflicting parties in West Kalimantan, Indonesia and in Southern Thailand. It utilized a concept that the PI had built with a local professor in West Kalimantan, utilising an educational platform to launch peace dialogue among the leaders of the conflicting communities (http://www.asiaportal.info/januaryuniversity-class-turned-peace-process-senior-reseacher-timo-kivimaki-nias/). The intention was to emulate the concept in Southern Thailand and continue its implementation in West Kalimantan. The GCRF project managed to initiate the necessary contacts and create the interest of conflicting parties in Thailand. The Southern Thai military command, for the first time, accepted to participate in conflict resolution education together with some of the Southern Thai separatist rebels. However, our application for funding for the continuation of the project was unsuccessful, and thus the project team is still trying to find funding for the continuation of the work that was successfully launched with the GCRF funding.