Join CEOs, Start Ups and Entrepreneurs from around the world to increase your income and become financially and professionally empowered.
About this event
Camilita here!
Founder of Event of Champions® and Global Champions Summit. Are you at a place in life where you're wondering 'where is my life going'?
Am I making the right decisions for financial and time freedom and living a life of purpose?
Trust me, I know how you feel because I have been there.
Fearing my OWN success so much that when opportunities came about I just retreated in myself with overwhelm!
Whether you want to admit it or not, money is the byproduct of your mindset and you giving value.
Purpose on the other hand is something that can be achieved by making a difference in someone else's life as you create the life you deserve. You can watch any amount of videos and read any amount of books, but unless you are ready to take action, nothing happens…..do you agree?
So let's get cracking on teaching you how to build the life and business of your dreams.

MY PERSONAL STORY & WHY I WANT YOU TO WIN!
I went from the Public Dump in Trinidad to Building 2 Global Businesses, became a Property Investor and have done Millions in Sales around the World!
If you have ever achieved anything BIG, you know that it requires a clearly defined strategy that is attainable within a period of time. It takes complete focus, dedication to what you're doing, a strong team, a Customer Plan v Business Plan, a Solid Sales System, focus only on Income Generating Work, Getting to Level 5! quickly, managing expectations and YES getting a Clear Plan of Execution.

Join CEOs, Start Ups as well as Seasoned Entrepreneurs from around the world and learn how to increase your income, become financially and professionally empowered and have more productivity throughout the year!
On this Global Champions Summit, you're going to discover how all of our Champion Speakers have started from the ground up and transformed their OWN lives and the lives of many others around the world. Listen in as they share real world knowledge with an opportunity for Q&A relevant to your success.
MEET OUR GLOBAL CHAMPIONS SUMMIT SPEAKERS!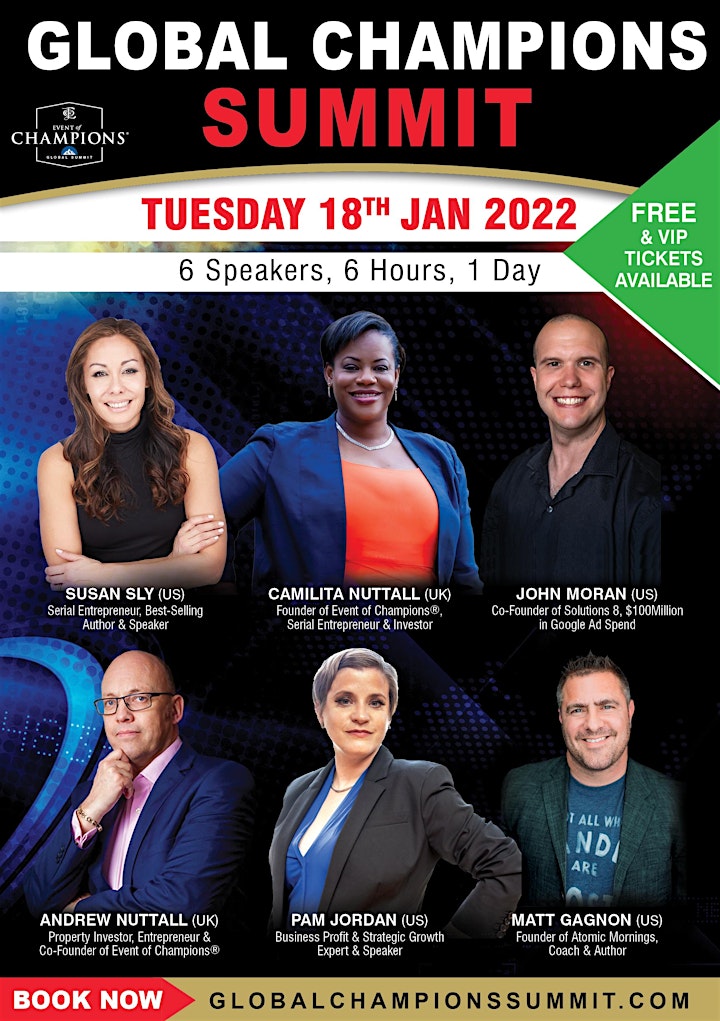 Create Multiple Incomes & Achieve Your BIG Goals in 2022!
What It Takes To Do $1.5 Billion in Sales
How One eCommerce Store Spent $12,604 and Made $2,098,036
Three Steps to Increase Profit in Your Company
Know Your Numbers
Rediscover Your Life's Core Values
AND MUCH MORE....
'LIVE YOUR CHAMPION LIFE'…
Every year millions of people set goals however, 92% of them never hit their goals and only 8% do, yes just 8%. If you want to be in that 8% and WIN IN BUSINESS IN 2022, then then you need the correct tools and a clear system to do so!
With a clear system and the right tools, I have Created Multiple Streams of Residual Income, build 3 businesses, and coached tonnes of others to do exactly the same.
After doing $20 Million in sales, investing & having $Millions net worth in property, and running 2 global businesses, I know first-hand what it takes to live your champion life NOW.
All our speakers have all done the same and we want to show you on this summit how to set your goals, take action, execute with precision and Live Like a Champion!
Building or Rebuilding after COVID-19
Things are slowly getting back to normality, but in the wake of COVID-19 so many people have had to learn how to change and adapt in order to maintain success in their businesses. Some people changed careers altogether. If you feel out of control and unsure how to reach your goals coming into the New Year, it might be time to change!
Not only has this situation taught us we need to be prepared for the unexpected global changes, but that as business owners we need to stay ahead of the game, be accepting of change and adapt to any given situation!
New technologies, AI, the Metaverse, BIG Data, evolving customer demands and social shifts are rapidly changing the business landscape. It's time to stop fearing the change and learn how to use it to your advantage. Throughout the Summit, you'll discover tools and strategies from our speakers to take control and stay ahead of the game.


CAMILITA NUTTALL
#1: Create Multiple Incomes & Achieve Your BIG Goals in 2022!
Are you ready to Create Multiple Incomes and Achieve Your BIG Goals in 2022? In this session, Camilita will show you how she quadrupled her goals and sales in 2021 and how you can do it too in 2022. Multiple Incomes now is not an option especially the changes in today's economy – you now have to learn how to Create Your OWN Economy! Get ready to have HUGE success and be more profitable in 2022!
SUSAN SLY
#2: What It Takes To Do $1.5 Billion in Sales
Sales – the thing that businesses need to thrive, but can also be the thing a lot of entrepreneurs are afraid of. The main reason most businesses fail in their first 5 years is because they are focused on everything except what generates money in the business. Selling is one of the most important parts of your business so during this session Susan will be sharing what your sales system should look like, from generating leads through your marketing to closing the sale!
JOHN MORAN
#3: How One eCommerce Store Spent $12,604 and Made $2,098,036
Technology and advertising are evolving and now is the time to use it to your advantage. Using Google Smart Shopping Campaigns, you can leverage machine learning to proactively identify who in your targeted areas are actively researching or planning a purchase of a product like yours and place a shopping ad in front of them, on all 6 channels of Google, in one campaign. During this session John is going to share how you can leverage advertising for your business success.
PAM JORDAN
#4: Three Steps to Increase Profit in Your Company
As business owners we have to wear a lot of hats and play a number of roles. We work long hours trying to build our own legacy, all while hoping that there will be money for us at the end of the day. These 3 steps will help you ensure there is a profit at the end of the day. The 3 steps are easy and can be implemented today in your company. If you want to be rewarded for your hard work as the business owner, your company's profits are the prize. Join us as we discuss these 3 steps.
ANDREW NUTTALL
#5: Know Your Numbers
Here at Event of Champions, Andrew is in charge of all the numbers and everything money related. In this segment, Andrew will be sharing the importance of knowing your numbers in business. At the end of the day, in business "If It's Not Making Money, It's Not Making Sense". We will be exploring the Do's and Don'ts and how to create harmony, encourage profitability and maintain your sanity at the same time.
MATT GAGNON
#6: Rediscover Your Life's Core Values
Life is busy – managing family, business, health, time – it's easy to lose track of a few things along the way. Perhaps it's time to rediscover your reason why, your beliefs, your core values. What are your core values? Have your core values changed over the years? It might just be time to re-evaluate and rediscover your core values, in this session we'll be talking about how you can do just that.

SO WHY REGISTER FOR THIS SUMMIT?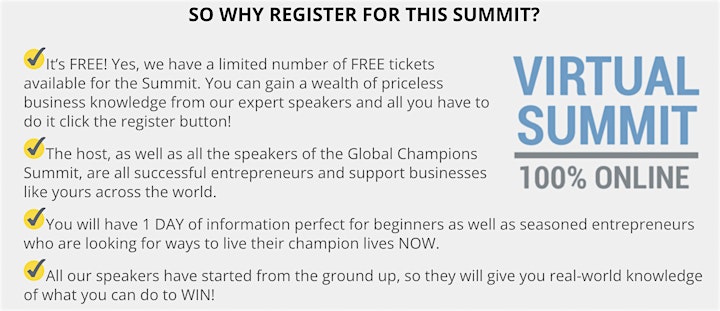 Why Global Champions Summit is so POWERFUL
FREE TICKETS AVAILABLE: We have tickets to suit everyone! Whether you want to register for a FREE ticket or invest in our VIP bundle, we have something to suit you and your business.
100% VIRTUAL: You don't have any hard-costs, travel or hotels!
Join Easy: From anywhere in the world and from any device…simple!
Excuse-Free: We remove ALL your excuses because we want you to WIN today and everyday so you NOW have no choice, but to take action. I am your NEW accountability partner!
Eliminate Risk: Sometimes, we all just need an opportunity to try first. THIS IS FREE!! Free feels great so you can experience the online business world and feel safe!
I'm inviting you to learn from Industry Experts, Global Successful Entrepreneurs, Radio Show Hosts, Hall of Fame Speakers, Property Investors and more who are focused on building wealth in their respective fields and changing lives around the world.
Go ahead…take action!

Frequently Asked Questions
I don't know enough about business or entrepreneurship but I would love to learn. Is this Summit for me?
YES!!! Our experts have all been where you are right now, today they travel the world changing lives. The amazing thing is, you don't have to even leave your house or office to make money, let alone build a brand.
If you need to get going, all our speakers are giving away a FREE Gift to help you take action and stay on track.
It's time for you to learn how to Fast Track Your Success and Live Your Champion Life NOW with the skills to do so. Simple.
Organiser of Global Champions Summit
The World's #1 'Rock Star' International Speaker, Camilita Nuttall is the Founder & President of Event of Championsâ, she is a 7-Time Award Winning Corporate Sales & Business Growth Expert, Executive Business Coach, Entrepreneur, Author, Property Investor and Radio Show Host at The Camilita® Podcast. She helps businesses of all sizes increase their sales, launch new businesses, products and services and be the expert in their field. 
Mentioned in FORBES and Quoted in Think & Grow Rich for Women, Camilita has appeared on SKY TV, Celebrate Business Magazine, BBC Business News, Canada's B2B News Network, Pursuit Men's Magazine and many others. Dr. J. B. Hill, Napoleon Hill's grandson quoted Camilita in front of 20,000 people as saying, 'There is no better time than the present to take action to Succeed'.
Camilita is the author of two EBooks – How to Fast Track Your Success & Camilita's Quotes, Inspirational Messages and Success Secrets to Live Like a Champion.
As Radio Show Host of The Camilita® Podcast – Live Like a Champion, Camilita interviews experts who inspires her audience to stay on target as they navigate through life's ever-changing landscape, whether they listen, sponsor, get featured or co-host The Camilita® Podcast. 
Camilita is Wealth and Business Coach to 6 & 7 figure business owners. She partners with clients in a thought-provoking and creative process that inspires them to maximise their personal and professional potential, set BIG goals with a clear plan to achieving them, realise WHO they are, earn more money and work less by automating their businesses processes.
As a Sales Trainer and Strategic Business Growth Expert, Camilita works with business owners to increase their PR & profit, launch globally and create workable systems through strategic planning, determining targets and developing innovative strategies related to the end goal.
She was a top sales expert for not only 1, but 7 consecutive years in Europe where she engineered a major sales force of thousands in 30+ countries, amassing an excess of $20 Million in sales. Camilita has lived in Spain, Germany, Trinidad, Netherlands and the UK and has travelled to over 50 countries.
At Event of Championsâ, Camilita also brings together the best in the industry to deliver valuable and quality content that promotes success, so those who attend leave armed with the tools to immediately increase their wealth, gain prestigious recognition and grow their newfound network of the best entrepreneurial minds in the world in the UK, Europe, Canada, Trinidad, USA and Australasia.
As a dynamic Keynote Speaker, Camilita's speaking topics include: The 7 Qualities of Master Achievers, How to Fast Track Your Success, If It's Not Making Money It's Not Making Sense, How Create Multiple Streams of Residual Income, Customer Plan v Business Plan, 7 Steps to 7 Figure Sales®, How to Outperform Your Competition in Sales and Getting to Level 5!
In the face of extreme adversity Camilita rose against all odds to become a dynamic powerhouse of success and inspiration. Her story alone is motivating, but it is her straight-forward advice and ability to repeatedly gather the top minds in the industry to impart real-world knowledge that is uplifting. Along with her husband Andrew, Camilita through Nuttall Foundation gives back to some of the world's underprivileged children by partnering with like-minded individuals.
Camilita is relatable. Her larger-than-life personality is genuine, as is her desire to help others reach their full potential. By giving everything to fulfilling the dreams of others, Camilita is a brand, entrepreneurs across the globe trust to take their business to the next level.
To book Camilita as your Keynote Speaker, Sales or Business Growth Trainer, hire Camilita as your Wealth and Business Coach or attend one of Camilita's upcoming events, go to www.camilita.com or phone: +44 7393 553 460. Get her FREE Ebook here: https://bit.ly/2HCh3DU