Description

Are you looking to start a business?
Do you have business?
Do you have a business idea and not sure what to do next?
Do you have a passion for business?
Look no further INCUBATE, the Enterprise Hub is collaborating with Jammoo, to bring you a fun and inspiring event that can help you take your business ideas to the next level. Get motivated and network in a fun way with our afternoon of opportunities... and if nothing else you get 2 free drinks on us, to help ease the networking experience along.

Meet likeminded people, local entrepreneurs and business support opportunities and generally have a great introduction to the weekend. Be inspired and encouraged by our ambitious local entrepreneurial speaker's and their journeys from their square one hosted at Coventry Universities' very own Square One Bar and Cinema in TheHub.
For those of you who don't want to stop there why not stay with us the following 26 hours and participate in our Hackathon. Go beyond networking and work together in this intense and exhilarating environment to create a working product and take full advantage of the free food and drinks.
Don't forget to sign up for separate tickets to get evolved with INITIATE the DAP Hackathon click here to book your tickets now.
Keynote Speaker
Adrian Maxwell - MD of multi-sward winning Fracino, the UK's only manufacturer of espresso and cappuccino machine, talks about his journey.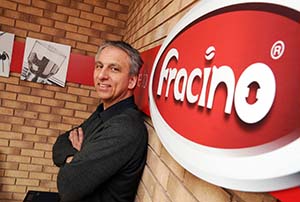 Special guests EVOLVE programme guests will also be talking in the afternoon.
Come and chat to the hosts and more about what opportunities there are:

Donna Preece – CUSE Evolve Programme Manager - CU Digital Accelerator Programme
Donna has developed the Evolve Programme off the back of her own experience as a creative entrepreneur. Through innovative and passionate teaching she has supported 85 potential entrepreneurs in the last year to take their first leap at running their own business.
James and Scott – JAMMOO
Jammoo is a digital studio specialising in crafting exciting ways to educate through embracing technology, unifying accessibility and celebrating the unique. "We want to help young creative people pursue a career they are passionate about."
Mark Tyers - Business Incubation Director Coventry University - CU Digital Accelerator Programme

Founder of the Business Incubator and Digital Accelerator at Coventry University, proudly forging links with Silicon Valley. As a result he has setup the Digital Accelerator Programme with a primary objective of speeding up startup development through a combination of financial support, guidance and training to ensure your startup is a fully fledged business that is investable ready to Silicon Valley investors.
Darren Jones – Entrepreneur in Residence – KM&T - CU Digital Accelerator Programme
Having turned his back on the corporate world Darren has operated in multiple of his own businesses, and more other businesses than you can shake a stick at. Darren fundamental belief is the more fun you have the more money you'll make!
Spaces are limited so make sure you sign up soon! If you are not able to make do let us know within so that we can make your space available for someone else. As this is a free event and your co-operation is appreciated.

"This activity forms part of the Coventry & Warwickshire Business Support Programme, is part funded by the European Regional Development Fund (ERDF)".