Description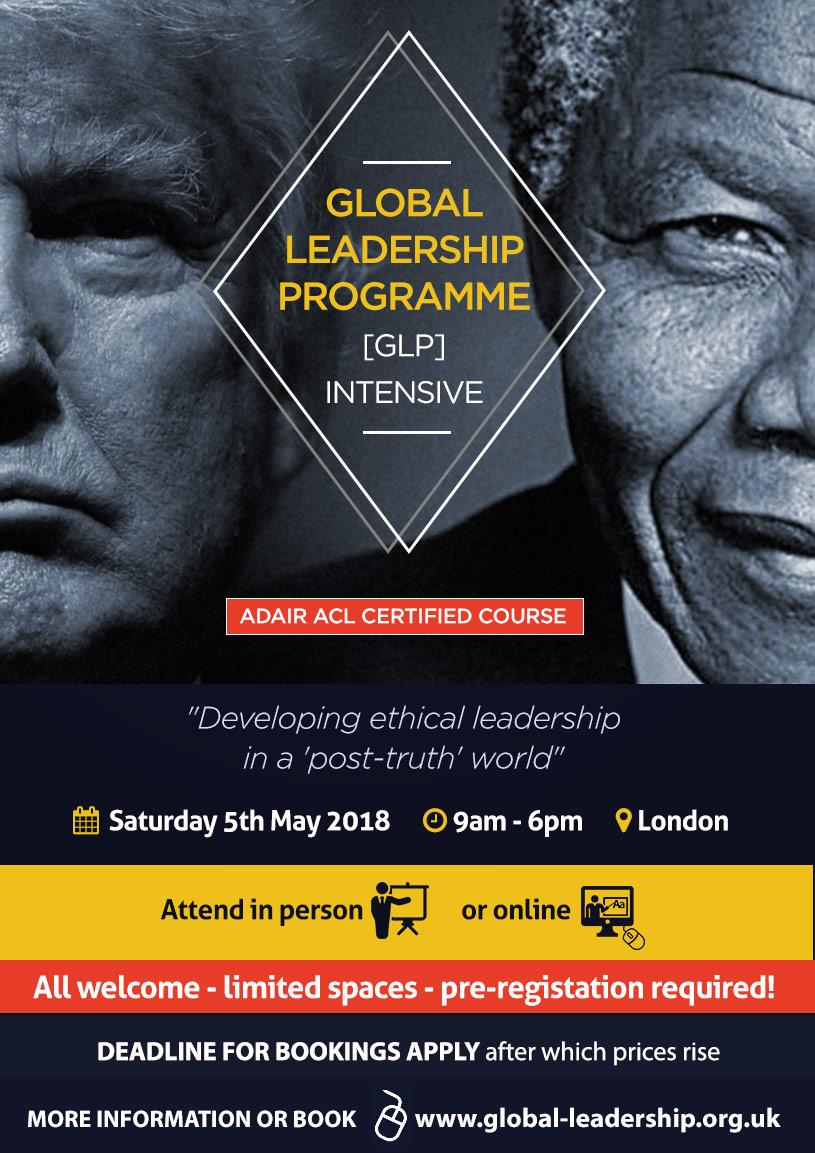 ---
GLOBAL LEADERSHIP PROGRAMME [GLP] INTENSIVE [Adair ACL certified course]
Developing ethical leadership in a 'post-Truth' world
Date: Saturday 5th May 2018
Time: 9am - 6pm
Venue: Birkbeck College, Malet St, London WC1E 7HX
Renowned leadership thinker, Professor John Adair, once asked the former British Prime Minister Jim Callaghan ('76-'79) if he studied leadership, to which he replied "I wish I had, as I might have been a better leader".

What kind of leadership do we want to see in the world today? And why are so many leaders falling short of our expectations. We clearly live in a time when the world is demanding better leadership, whether one looks in the 'East' or the 'West'. Widespread dissatisfaction with corrupt leadership and the breakdown of trust in many leaders and institutions is clearly visible through the media, and in society generally. The words of Martin Luther King Jr ring true, when he famously lamented at how our scientific (and technological) advancements have outstripped our human and spiritual advancement, hence 'we have guided missiles and misguided men'.
Everyone is a leader in one form or another. Whether you are responsible for a team or task, a junior or senior executive in an organisation, or the indeed Prime Minister, your leadership skills matter. But when was the last time you invested in your leadership skills?
If the answer concerns you, then you might want to consider our Global Leadership Programme [GLP]
WHO FOR? Designed for existing and aspiring leaders, managers, high potential professionals and senior executives this leadership programme offers a unique blend of thought leadership, practical application and personal development that equips professionals to make a significant impact in their organisations and projects.
that will strengthen your ability to lead with credibility, drive change and deliver results in increasingly competitive and complex environments.
CONTENT: In this one day intensive, critical leadership ideas are explored based on the famous works of the world leading authority of leadership training - Professor John Adair,who is Chair of Strategic Leadership at the United Nations and author of some 50 books on leadership, including 'Effective Leadership', 'How to Grow Leaders', 'The Leadership of Muhammed', 'The Leadership of Confucius' and much more. With reference to faith perspectives, this one day 'certified' course covers the following:
* Introduction to leadership
* 11 qualities of authentic leadership
* Adair's action centred leadership (ACL) approach
* Ethical leadership in a post Trump world
* Vision & Strategy
* Emotional and Spiritual intelligence
About Adair ACL certification and value and benefit:
The Adair ACL certification is designed by Professor John Adair the world's first leadership professor and most widely used leadership frameworks in the world – Action Centred Leadership (ACL) - the 3 circle ACL model which gives managers and leaders a simple yet powerful framework to run organisations and teams effectively, keeping people on side and getting the job done.
Over a million managers worldwide have been trained on the ACL program he pioneered and it is still taught at top business schools and used by leading companies and some of the world's leading military academies such as the Royal Military Academy Sandhurst where the ACL framework is still the choice for the Army, Navy and Airforce, and now includes operational and strategic functions and principles. The Austrailian military also bases its officer training on ACL. Organisations worldwide use it to develop their leadership capability and management skills is both practical and highly effective.
Benefit and outcome:
On completion of the program a certificate will be issued which is approved by Adair International, who will register the names of delegates into their certified log based in Cambridge, UK.
1. Adair International will also provide a detailed ACL manual and personalised resource pack for each participant (with their name printed on the cover, if you book on time).
2. Practical learning – this course is not lecture-orientated but interactive with many practical games and exercises to bring the learning to life. Each delegate (especially those attending in person) will be engaged in these exercises, and hence will practically experience the ACL model and it's approach to leadership, at the course.
3. Testing of learning – At the end of the course day, an exam will also be conducted to test learning and ensure the fundamental model has been understood. This is fairly straightforward, and designed to help you self-check your understanding.
The Adair ACL certification will:
1. Increase your leadership capability by giving deep insight on how to apply the 3-circle ACL model in leading people and getting things done.
2. Enhance your resume by adding professional certification to your CV
3. Give you a practical way to motivate and increase performance, motivation and impact lead people, often the hardest part of a leader's job
Adair International ensures the highest standards of training and delivery via our network of Adair Accredited Trainers who provide bespoke leadership development and management training for organisations and businesses large and small. Our trainer are licensed to train and deliver the official ACL course content to delegates worldwide.
For those joining virtually, this is also the only online ACL certified course provider in the world.
For more information concerning Adair and ACL visit www.adair-international.com
Join this globally acclaimed leadership course delivered by Adair ACL accredited trainers. All delegates will receive an Adair ACL certificate and the official ACL resource pack.
All welcome - limited spaces - pre-registation required!
Attend in person or online.
More information or book www.global-leadership.org.uk
About the trainers:

*Neil Jameson CBE, Citizens UK Founder and Executive Director
Neil Jameson is founding Director of Citizens UK and Lead Organiser of London Citizens, together these broad based organisations make up the largest community organisations in the UK. a membership network of over 350 institutions, drawn from different faith and educational establishments, trade unions and voluntary associations - all working together at a local and national level to win change for the common good.
The Guardian has identified Neil as one of the 100 leading public servants in the UK. In 2016 Neil was awarded a CBE for 'Services to Community Organising and Social Justice' in the New Year's Honours list in recognition for his pioneering contribution to public life.
**Nabeel Al-Azami is a founding director of Murabbi Consulting which specializes in values-based HR & ethical leadership development. He is a senior HR specialist, an executive coach (NLP & MBTI practitioner) and Adair Accredited Leadership trainer, who won the Chairman's Leadership award two years in a row (2007 & 2008), while working at one of the world's largest automobile firm- Ford. He has also been a finalist for the CIPD 'HR Professional of the Year 2015 and led a global department to win 'HR Team of the Year 2015'. Nabeel has been listed as a leading global leadership trainer by the OIC's International Development Bank (IDB) where he has been a regular guest leadership trainer since 2010. He has also been endorsed as a leadership protégé by Professor John Adair – the world's first and leading leadership intellectual.
In his profession his roles spanned areas such as talent management, performance, business partnering, leadership development, values alignment, conflict resolution, and employment law. He has been recognized for his strong track record of delivering results for companies like Ford and many third sector organisations, from increasing staff engagement scores even during the recession, to builing performance cultures which lead to increase financials from 90 to 180 million pounds.
A noted speaker on 'Leadership & Ethics' and has been invited to platforms such as the CHS Alliance Humanitarian HR Conference in Malaysia, the Relationship Thinking Conference at Cambridge University, and the INGO Learning Forum in London and Syracuse University in New York. Nabeel is a senior member of several community organizations, where he is engaged in HR & leadership development work. In addition he is currently authoring several forthcoming publications on Leadership and People Management, written for a global multicultural audience.
Organiser of GLOBAL LEADERSHIP PROGRAMME [GLP] INTENSIVE [Adair ACL certified course]