Description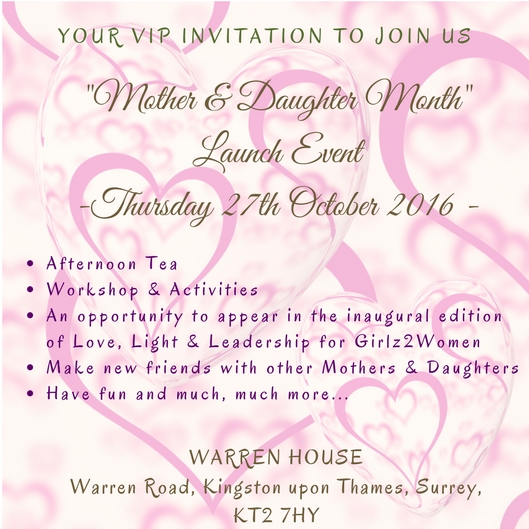 "There is no relationship more sacrosanct than that between a Mother and a Daughter. It shapes us as a Woman, a Mother and a Friend – the effects of whatever kind of relationship with have with our Mothers plays out in every single area of our lives and there is no escaping that"
Gayle Edwards, Founder & Creator of Girls2Women & Mother Daughter Month
Being the Mother of a teenage daughter has been one of my most fun, rewarding and most frightening experiences ever. Being a Daughter has also been both challenging and rewarding. However, I have learned that both relationships take time, investment, love and a strength and resolve that ensures that we all come out alive!! All joking aside, when we get it right we both become and gain a best friend, a trusted confidante and empathetic advisor all rolled into one – it's an unbeatable relationship.
To celebrate this unique relationship between Mothers & Daughters, I have created the global initiative "Mother & Daughter Month" which will be launched on Thursday 27th October 2016 in the UK. Your VIP Invitation is attached and you will see that this event will include all of the following and more:
Vision Board Activity

Afternoon Tea

"Round The Table" Discussion

The future of Mother & Daughter Month

Girlz2Women Launch - A Personal Branding Programmed designed specifically for girls aged 10 - 18
This is a day for you and your daughter (regardless of age) – or you and your Mother – to come together in Love, Light & Leadership to both learn and share, to heal, and to deepen your relationship further.
As part of the future development of both Mother & Daughter Month and the Girlz2Women launch, I will be publishing a Libretto (Italian for small book!! J ) of Love, Light & Leadership that will be given to all participants on the Girlz2Women programme. This Libretto will contain photos and interviews from our Mother & Daughter Month launch event, so please come along ready to share your experiences and, of course, dressed to impress!
This is an exciting and innovative worldwide project and I would love you to be involved from the beginning, however, spaces are limited due to us hosting this event in the beautiful and intimate setting of Warren House in Kingston-upon-Thames, Surrey. To get your Early Bird Promotion before it expires on 30th September, please click here.
Oh and by the way, no you don't have to be a Mother or a Daughter to attend so long as you are actively involved in the nurturing and raising of girls.
I truly hope that you are able to attend and look forward to seeing you and your Daughter or you and your Mother on the 27th October at 10.30am for full day of sharing our love, shining our light and expressing our personal leadership.