About this Event
The conference is divided into two parts: Strategic Asset Allocation Roundtable and our Global Economic Outlook. You are invited to join us for both or either one of the sessions.
Agenda for the Strategic Asset Allocation Roundtable:
8:15 - Registration
8:30 - Strategic Asset Allocation Roundtable: How the relentless safe asset shortage will hold down rates - Gabriel Sterne & Michiel Tukker
Our truly global study of demographic trends on saving rates reveals why global saving will remain elevated.
Our detailed mapping suggest that protracted excess demand for safe assets will suppress real rates.
We reveal potential drivers that are capable of shifting the demand/supply balance to induce higher global real rates.
Agenda for the Global Economic Outlook:
9:45 - Registration
10:00 - Global Outlook: Bumps today, demographic ditches tomorrow - Gabriel Sterne
In spite of all the bad news, our numerous simulations of the impact of trade wars, oil shocks, and the China-slowdown suggest we will probably avoid a global recession.
But negative shocks are being dampened less by policy responses and more by highly flexible goods and labour markets; a situation that only fuels global populism.
10:50 - Europe: Fiscal policy to the rescue in the low interest rate world? - Oliver Rakau
Cracks in the Eurozone's domestic armor are increasingly evident as trade tensions undermine the resilience of labour markets and firms' investment intentions.
Draghi's last hurrah underscores the limits of monetary policy putting fiscal policymakers on the spot. But legal, political and economic constraints may limit their response.
11:40 - Coffee Break
11:50 - Regional outlook: Slower global trade weighs on regional growth prospects- Mark Britton
The risk of parts of Europe falling into recession is rising amid weak foreign demand. This is causing wide growth disparities between regions with high exposure to the ailing manufacturing sector and those more reliant on service activities.
We will have a look at the regions which are most susceptible to the industrial slowdown and how some of Europe's largest cities will fare.
12:30 - Lunch (Please note, lunch will be provided)
Speakers
Gabriel Sterne| Head of Macro Research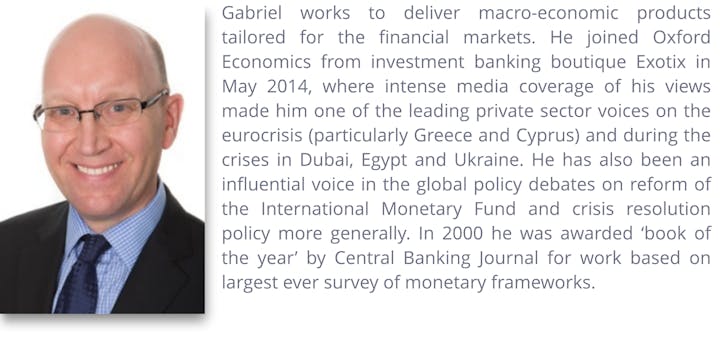 Michiel Tukker | Economist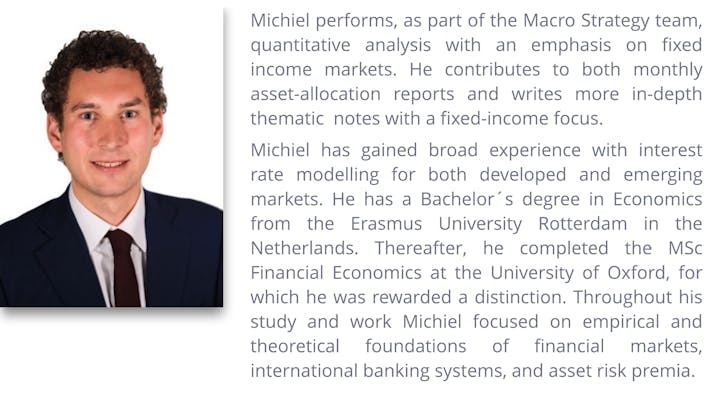 Oliver Rakau | Chief German Economist & Deputy-Head, Europe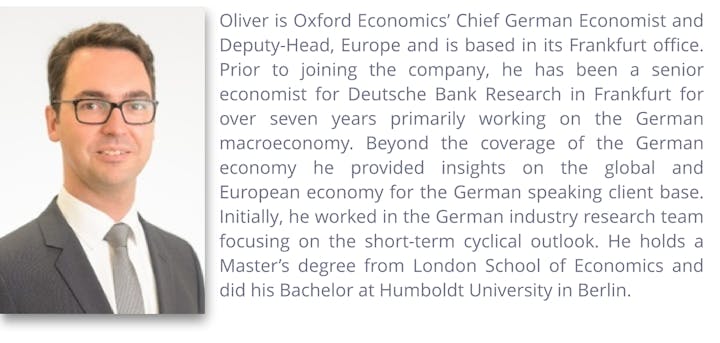 Mark Britton | Associate Director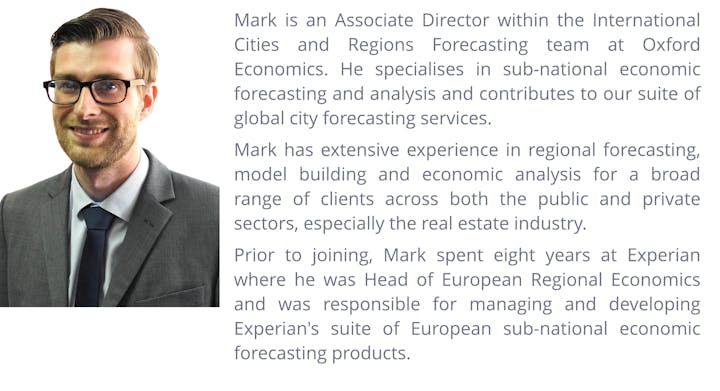 For any questions about this event, please contact:
Fabian Krug, Associate Director
+49 69 9675 8657 | fkrug@oxfordeconomics.com
Oxford Economics GmbH | Marienstr. 15 | 60329 Frankfurt am Main