Sales Have Ended
Registrations are closed
Please contact choyer@oxfordeconomics.com to request a seat
Sales Have Ended
Registrations are closed
Please contact choyer@oxfordeconomics.com to request a seat
About this Event
Agenda:
10:00 - Registration
10:25 - Introduction
10:30 - Global Outlook: Stalling global recovery amid growing downside risks - Innes McFee
2019 looks set to be the weakest year for global growth since the world emerged from the global financial crisis.
While we do not see a recession as inevitable, global growth is unlikely to match the modest pace of expansion recorded over the past decade
A lack of conventional firepower means that most central banks will need to rely on unconventional measures to kickstart the economy.
But with further unconventional policy loosening likely to be akin to pushing on a string, a greater role for fiscal policy will be essential.
11:15 - China and Asia: Coping in a turbulent world - Louis Kuijs
China and the rest of Asia are challenged by the continued weakness of global trade and the ongoing US-China trade war.
While globally central banks are cutting interest rates, China's restrained response so far to the slowdown is leading to questions and anxiety
How is the US-China conflict likely to evolve and what will be the short and long-term impact ? How low will China allow growth to be in 2020?
Are there any beneficiaries from the US-China spat in Asia and how are more domestic demand-driven Asian economies holding up? How is Asian macro policy likely to respond? Medium-term wise, how are Asian economies positioned for further sustained growth?
12:00 - Europe Outlook: Fiscal policy to the rescue in the low interest rate world - Oliver Rakau
The European economy is in a multi-front battle to sustain its growth momentum.
Trade tensions and weak global trade are weighing heavily on the region's most open economies. And the car sector's transition to its electric future and the lasting Brexit-uncertainty mark further challenges.
The domestic economy has shown an impressive resilience so far, but cracks are appearing.
With little prospects of a meaningful global pick-up will domestic policy makers act again?
How negative and big can the ECB go on rates and QE? But with the ECB against the wall, the real question is, will fiscal policy react in a meaningful way?
12:45 - Lunch break: Buffet provided
13:45 - Global Industry Outlook: Will slowdown lead to recession? - Jeremy Leonard
As Europe struggles with deep uncertainty about post-Brexit trading arrangements and a downturn in the investment cycle, while the US and China face additional headwinds from the recent escalation of their trade war, it is getting increasingly difficult to find sources of support for global industrial activity as we approach 2020.
But there are small glimmers of hope: consumer spending power remains solid in the developed world, disruptions to German automotive production and associated regional supply chains are subsiding, and monetary policy is broadly supportive of activity.
In this tug-of war, will global industry drag the rest of the economy into recession, or will the rest of the economy provide sufficient demand to pull industrial activity out of the doldrums?
14:30 - Coffee break
14:45 - Afternoon Roundtable Discussions
Sessions are held in smaller groups, enabling active participation and debate. Each topic will be discussed for ca. 20 minutes and groups will rotate, giving everyone the opportunity to participate in all roundtable discussions.
Topics:
Sectoral vulnerability to industrial weakness. – Jeremy Leonard
China and the US – decoupling or uneasy détente? – Louis Kuijs
Is a new policy mix needed to avert global recession? – Innes McFee
Uncertainty – the main headwind to business investment. - Daniel Harenberg
16:15 - Closing remarks and drinks reception
16:30 - End
Speakers
Innes McFee | Managing Director of Macro and Investor Services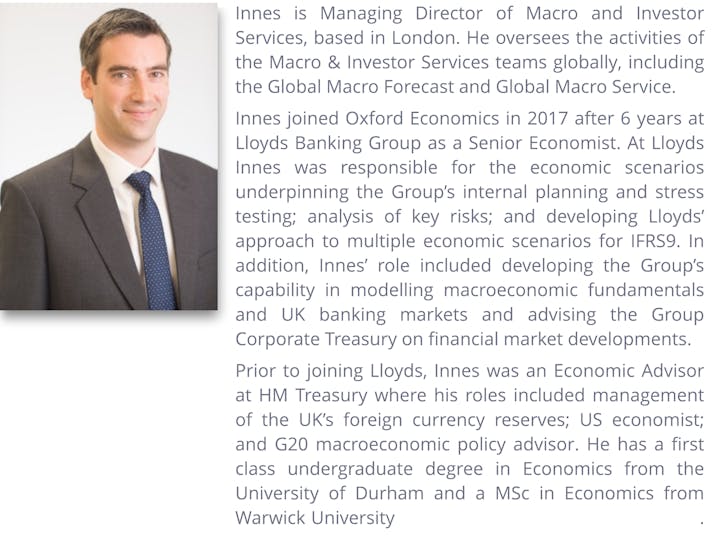 Louis Kuijs | Head of Asia Economics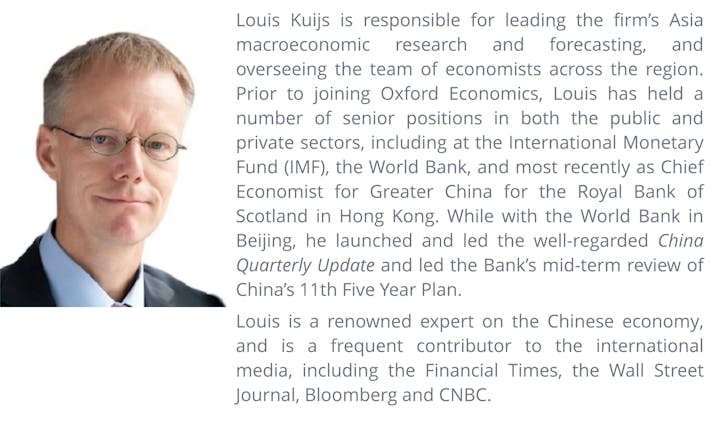 Oliver Rakau | Chief German Economist & Deputy-Head, Europe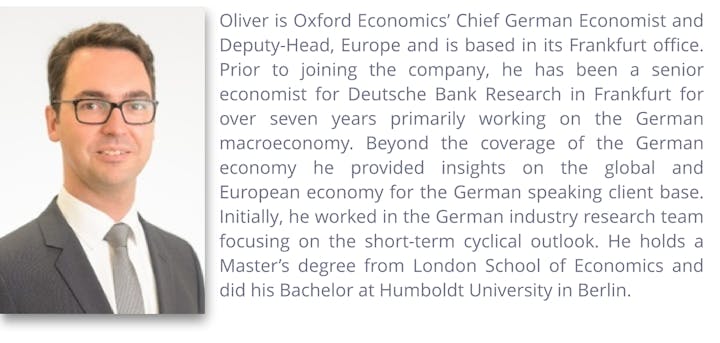 Jeremy Leonard| Director of Global Industry Services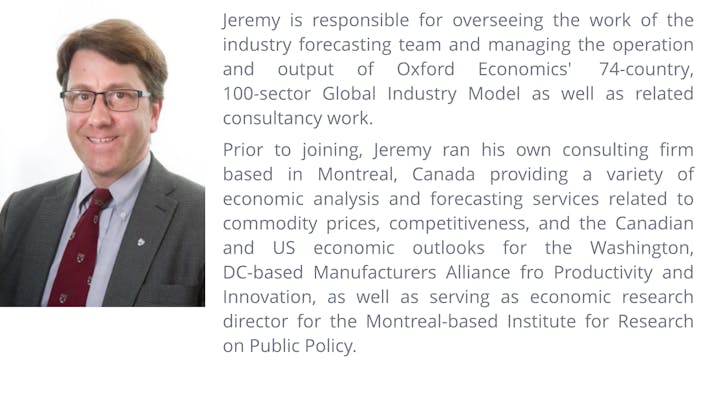 Dr. Daniel Harenberg | Senior Economist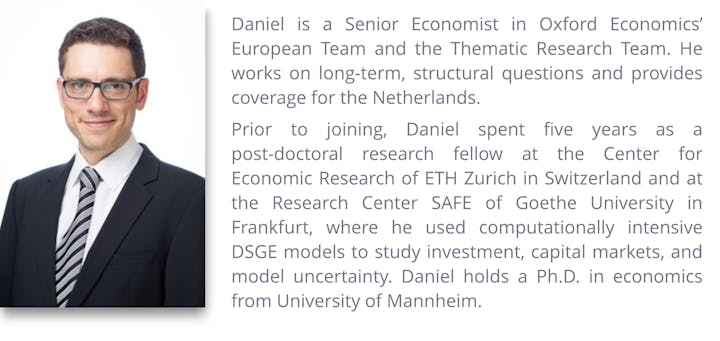 For any questions about this event, please contact:
Corinna Hoyer, Managing Director, Europe
+49 69 9675 8658 | choyer@oxfordeconomics.com
Oxford Economics GmbH | Marienstr. 15 | 60329 Frankfurt am Main