Global Service Jam: Aberdeen & National Hack the Government Day: Aberdeen

Friday, March 7, 2014 at 5:00 PM

-

Sunday, March 9, 2014 at 6:00 PM (GMT)
Event Details
We are hosting two events in the one location the weekend of 7-9 March 2014
We think the two events will feed off, and inspire each other, while providing opportunities for all to learn more about how the 'jammers' and 'hackers' play and have fun. 
The Global Service Jam focuses on developing a new service, and the National Hack the Government event focuses on developing new government services using open data. The GSJ starts on Friday evening, and its themes are wide, so we'll be able to focus on government ones, which the NHTG folks can pick up and develop further when they come on Saturday. 
The GSJ focuses on prototyping ideas quickly and learning from public feedback on the idea before they do another version.
The NHTG focuses on prototyping possible apps with open data, and learning from messing around with the data what might be possible and how ideas might be implemented.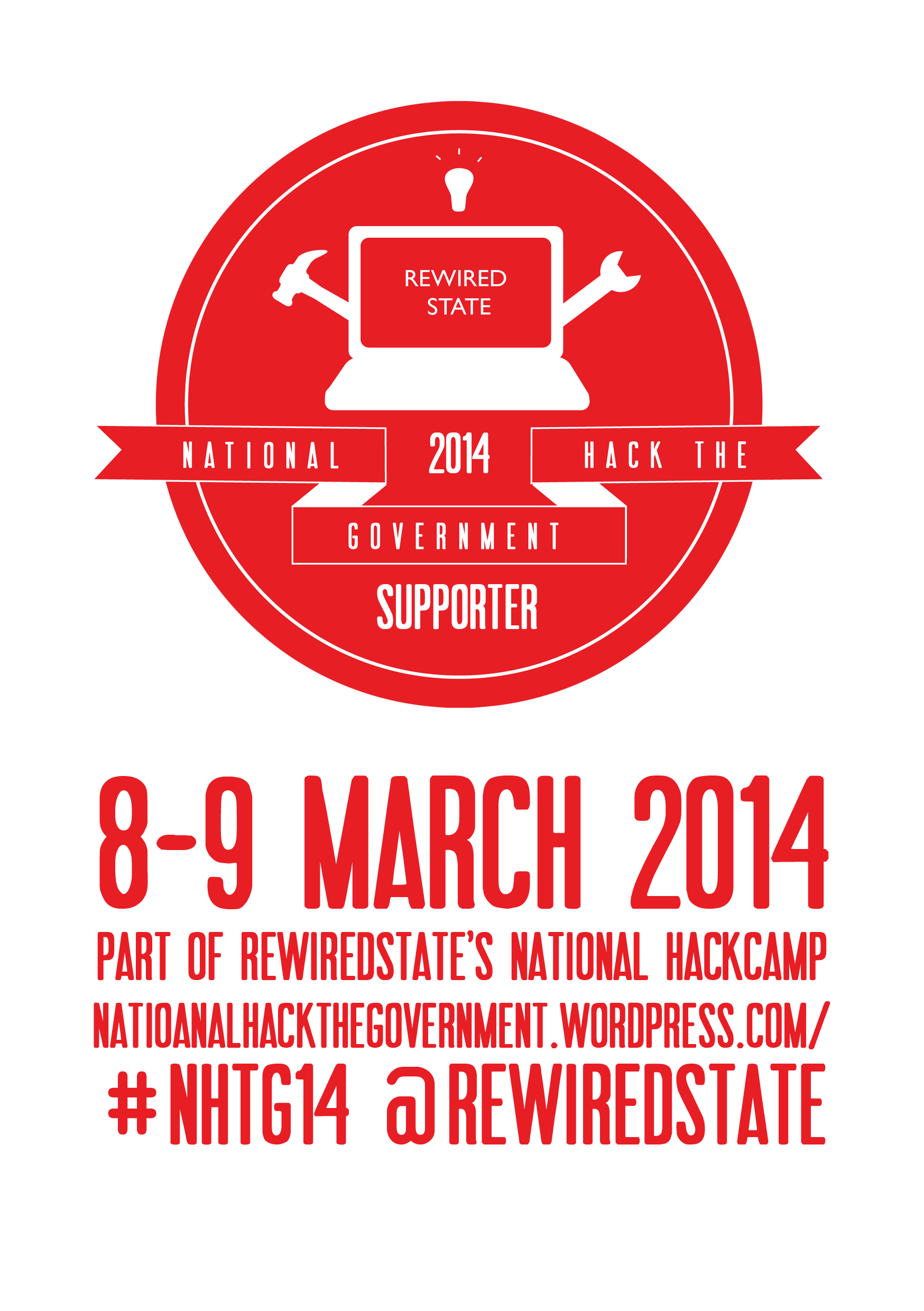 As you can see, both events should work well together whether you're a designer type, or a hacker type. We provide food and space to develop ideas to work on and you bring your enthusiasm to work with others.

The goal is not to leave with a business idea. The goal is to learn new ways to thinking and to share your ideas and skills with others. The goal is to have fun while sharing and learning.

We feel these are two events that will taste great together. Come and be a part of the experience. Come for your 'innovation training' and bring a friend.

This is the event outline. you'll find more details at
http://gsjaberdeen.org
NOTE: We've put in a placeholder location as backup, but hope to have somewhere in the city centre.
Multiple locations, worldwide, jamming to the same beat:
Fri.  at about 5 pm local
The Jam participants come together at worldwide locations prepared by local organisers (see footnote 1).
Fri, not before 6.30 pm local
The global themes and achievements (optional goals) for the Jam are presented (see footnote 2).  Discussion in informal groups.  Dinner is a good idea.
Fri., at about 8pm local
The local Jam comes together for the pitching session.  Anyone can present their basic idea, groups form, and participants join the group that interests them.
Fri., about 9pm local; until Sun., exactly 3pm local
The groups work independently, supported by Mentors and Specialist Providers in some locations.  Research or observations are performed virtually, or through short excursions. The teams develop their service design and prototype it using whatever methods they choose. Sleep is optional, but recommended.
Sat., about 9am local until Sun., 3pm local
The NHTG starts and the GSJ folks bring them up to speed with their ideas, and these are stirred about with new ideas too see what works. 
Local Jams are in contact globally through social media, wormholes, carrier pigeons or whatever else we set up. Share, exchange, inspire. But remember - it is deeply Cheesy and Uncool to communicate the themes to teams to the West of you. For a level playing field, themes are announced at LOCAL time...
Sun.

, exactly 3pm local
The GSJ teams deliver documentation of a working prototype.  This can be a film of human interaction, photos of a mock-up, a dummy website, or anything else that provides a permanent, publishable record of their idea and work. These are uploaded and published for the world under Creative Commons licensing.
Then the teams present their results to the other local teams.  Perhaps there could be some symbolic prizes...
After that, teams can sit back, kick back, enjoy a well-earned beverage and browse through the global results. Or they can get busy supporting teams further to the west...
Sun., around 6pm local 
The NHTG teams deliver their documentation and working prototypes. This still needs to be coordinated and determined.
Attendee List
Sort by:

Date

|

First Name

|

Last Name
When & Where

Meston Building
University of Aberdeen
AB24 3UE Aberdeen
United Kingdom


Friday, March 7, 2014 at 5:00 PM

-

Sunday, March 9, 2014 at 6:00 PM (GMT)
Add to my calendar
Organizer
Organised by Bruce Scharlau in the Computing Science Department of the University of Aberdeen