Location
WA039 Jerome K Jerome Building, University Of Wolverhampton, Walsall Campus
Gorway Road
Walsall
WS1 3BD
United Kingdom
Global Sport and Inclusivity Seminar Series
About this event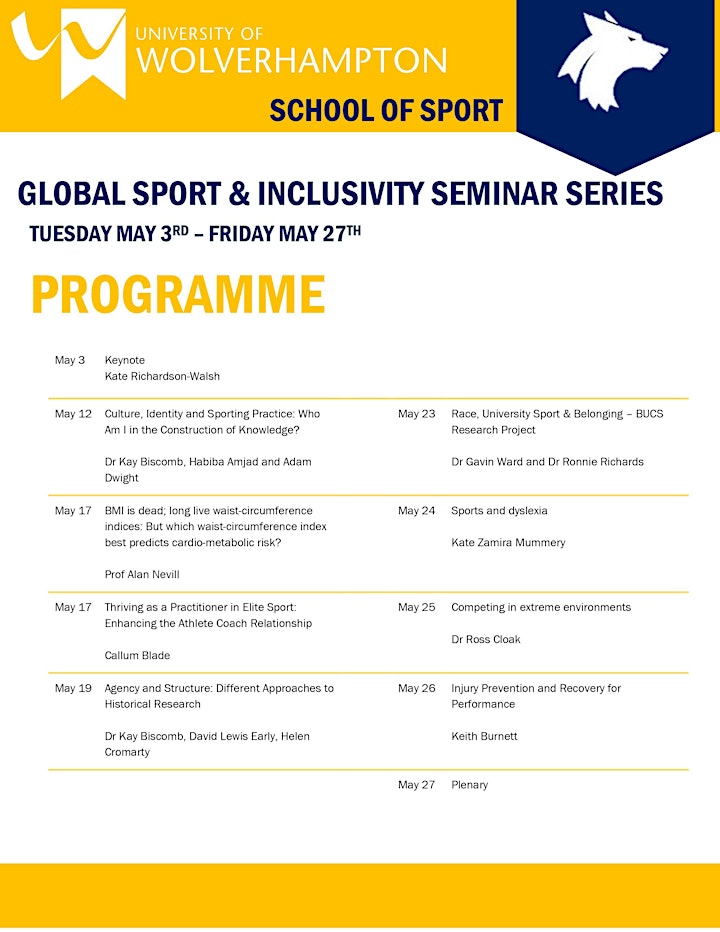 Global Sport and Inclusivity Seminar Series
Injury Prevention and Recovery for Performance
Date: Thursday 26th May
Time: 17:30pm - 18:30pm
The event will take place on Walsall Campus with an option to join the event virtually.
As part of the contemporary discussion surrounding global sporting events such as the Winter Olympics in China and the Commonwealth Games in Birmingham, the School of Sport at the University of Wolverhampton are holding a Seminar Series, which will be of particular interest to the public, educational institutions and business.
The Seminar Series will focus on the three key themes: Sport, Performance and Health; Community; Globalisation and Sustainability as linked to Inclusivity.
This session will explore the various injury prevention and recovery strategies to aid inAthlete, and Sports Performance. It intends to provide the audience with suggestedstrategies that can be implemented in order to reduce injury occurrence from training andcompeting in sports, as well as the methods to enhance recovery in order to per form at a consistent level.